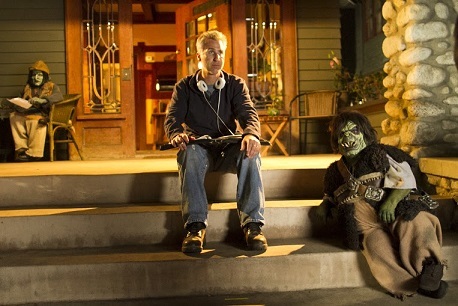 Executive Producers David & Scott Hillenbrand teamed up with Nickelodeon and writers Annette & Gina Cascone to bring one of the most remembered book series, Deadtime Stories, to the screen. Visit the website and Twitter: @DeadtimeStories . Pic: Director David Hillenbrand waiting with a couple of goblins for the next shot in episode "Revenge of the Goblins."
In Part I, we discovered how a TV series goes from being an idea into being turned into an actual series.
Here in Part II, we speak with Executive Producers David and Scott Hillenbrand about their personal lives, what to expect next for Nickelodeon's "Deadtime Stories" and what the books and series writers, the Cascone sisters, have been doing all this time.
David and Scott,
Who hires the production team?
Our production company produced "Deadtime Stories" and we have a licensing deal with Nickelodeon for the show, so we were, and are, responsible for the production team. However, we worked very closely with our executives in charge of production at Nickelodeon, Brian Banks and Jessica Brown, and they were both often on the set, in addition to providing script notes and rough cut notes. Though we've heard all kinds of different comments from other colleagues about working with their studio executive counterparts, we were extremely fortunate to have Brian and Jessica and the support of Nickelodeon for the project, as Brian and Jessica were truly creative partners with us on the series. They are on the same creative page with us every step of the way, and Brian and Jessica's input was greatly appreciated and respected.
Tell us about the special effects. Who tells the special & visual effects people how to make something look?
Whichever one of us is the Director on a particular episode, it is our vision of what the special effects should look like and be. We work closely with our visual effects supervisor Eran Barnea to achieve the desired effect and Eran and his team did a fantastic job on the series. A different visual effects designer, Jack Cloud, created the visual effects for the Grave Secrets movie and episode, and he and his team also created the animated opening of the series which we are extremely pleased with, and for which we always receive great feedback. As far as our Director vision for each episode, we also each trust the other for an additional opinion or perspective, as well as our core creative production team consisting of Annette Cascone (who also serves as an Executive Producer), the editorial team led by thrice Emmy-nominated editor Scott Boyd and Nick execs Brian Banks and Jessica Brown.
How does your family handle your long working hours and busy schedules?
Our families have handled the long working hours as best as any family can. Long, working hours are never ideal but when it's a project that everyone believes in, it's fantastic to have the love and support of our families. We don't have any great regrets as, over all, we have been able to balance the long working hours with family time as that as always been of prime importance to us from the beginning. We are a family business, after all!
When was the last time you had a good night's sleep? Do you ever have scared thoughts that you don't know when your next paycheck is coming once the show ends?
Oh dear, tough question. But great question. For anyone who works on a project by project basis, there is always a fear that each project may be your last LOL. There is a saying in the movie business that we are sure you are familiar with, "you're only as good as your last [film] project." We've said that to each other on every project - partly as a joke - but as a way to reference the truth. This is why we take so much personal care and interest in every production we do and we throw ourselves into each one with 100% commitment to make the best possible quality product, and achieve the goals we've set for the production. Whether it's to make the audience laugh, cry, scream or be thrilled, we give every ounce of ourselves to achieve those goals. With "Deadtime Stories" it has been a sheer pleasure to bring this series to its audience and the response to the show has been absolutely fantastic. Kids across the country are loving the unique mix of scares, laughs and thrills where it clearly is tremendous fun to be scared!
At what point do you find out if "Deadtime Stories" will be picked up for a second season? When did talks for a second season begin? Do the actors have a contract for upcoming seasons? How many seasons are they contracted for?
Jennifer Stone, who plays the babysitter, is the "Deadtime Stories" series regular star and her contract is in place for continuing forward past season one. We are thrilled about this because Jennifer is amazing and brings the exact right qualities to the role and the show. She's fun, quirky, great with the kids she reads to and captures the fun of being scared in a very real way that viewers can relate to. Kids everywhere just adore her and trust her to tell the a scary story. Because "Deadtime Stories" is an anthology series, we have different actors to play the characters in each new episode, however even in season one, we began to recur characters to give the show the feeling that there is a particular "Deadtime Stories" neighborhood where these scary stories are taking place. We used the same school in several episodes so that would reinforce this feeling of a town - in fact, the name of the school is Castletown Middle School. Since the series launched in October we have been in regular contact with Nickelodeon's corporate executives to ascertain everyone's desire and intent to continue the show forward. We will let you know what our plans are going forward, as soon as we know!
Anything else you'd like to say?
We are very busy with "Deadtime Stories" as well as several other projects we have on our slate including a feature film based on the incredible autobiography, Kaffir Boy, by Mark Mathabane. We are extremely passionate about this incredible story and bringing it to the big screen. We have a number of other projects in various stages of completion and will be happy to keep you posted when they will be coming to television or the theatres.
The "Deatime Stories" family of cast and crew from season one are involved in a variety of charities and events, and we look to support all of those efforts. A lot of our young cast is very active in this way and we have provided them with assets from the show. One of the greatest messages of "Deadtime Stories" is the message of literacy, and our core team has spent a lot of time to help promote this effort. We also teamed up with Scholastic and the book publisher Tor/Starscape (Macmillan) to promote the importance of reading. We recently shot a promotional spot with Jennifer Stone for Scholastic to promote the value of reading. "Deadtime Stories" has struck a chord with educators, librarians, parents and grandparents because it inspires kids to read by igniting their imagination and creativity. From the get-go with this project (several years ago) the Cascone sisters began making visits to schools and libraries with a special program we created (jointly) whereby the Cascones read sections from the "Deadtime Stories" books and then show clips from the series. They discuss the translation of the written word to the live-action, and begin discussions about what the kids imagine from reading, and what they see in the show, and how that is different or the same. The overall theme of the program is that reading is fun and you can create an adventure in your own mind by simply picking up a book and reading. We have now expanded this program and plan to make this program available for an even great number of schools, libraries, etc. In fact this week we will be visiting a school here in Los Angeles where we will be doing three assemblies for three different grade levels of students.
Please visit Part I of the interview with David & Scott Hillenbrand! Come back soon for an in-depth interview with "Deadtime Stories" writers Annette and Gina Cascone!