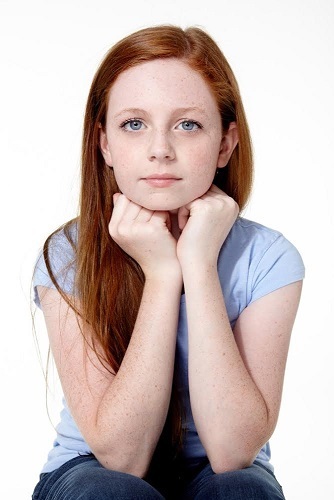 Clare Foley is a face you'll recognize from FOX's Gotham and Netflix's Orange Is the New Black. Visit Clare's Twitter: @clarefoley_ and Instagram: @ClareFoley123
Photo by Elise Gannett
I had a quick moment to speak with the ever-so-busy Clare Foley. It was hard to cut my list of 25+ questions down to under 10, but this girl is so worth it!
Currently, Clare plays Ivy Pepper, aka Poison Ivy, in FOX's Gotham. This job came about right after her stint as the young Piper Chapman in Netflix's Orange Is the New Black. Somewhere in between all of this, Clare had time to do schoolwork, be with family and friends, go to a Giants game with Gotham's David Mazouz and oh, did I mention Clare will be seen co-starring alongside Julia Stiles, Octavia Spencer, Glenn Close in the upcoming The Great Gilly Hopkins which is set for a 2015 release?
Always smiling, Clare gave me the rundown on her life to share with you.
In Gotham, you play Ivy Pepper, who becomes Poison Ivy. Besides watching the Batman movies, who did you speak with to help you develop the character? What kind of background information were you given about Ivy Pepper and Poison Ivy? From who?
I was familiar with the character of Poison Ivy before and my Mom got me the very first comic that Poison Ivy was introduced in.
What's it like growing up with four brothers? Do you have any sisters?
My brothers are 16, 14, 10 & 4 and I just turned 13! I do not have any sisters. It is great having so many brothers! I am very sporty so I hang out with them a lot.
Have you been to music concerts?
I have been to a bunch of concerts with my family: One Direction, Taylor Swift, Beyonce and Jay Z, Bon Jovi, Bruce Springsteen and Kenny Loggins!
What's the earliest memory you have?
The earliest memory I have is being on Cape Cod with my Grandparents and family when I was about three years old!
Name three things you love about the East Coast.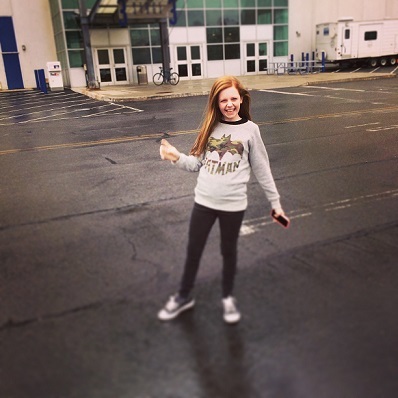 Chilling out between scenes at Steiner Studios.
Three things I love about the East Coast are the change of seasons, the history and the variety (of people and places).
What's the most important goal you want to achieve in your life?
I don't exactly have a goal in life except to be a happy and good person.
On Gotham, where do you hang out while you're waiting for your scenes to be filmed?
We hang out in trailers or dressing rooms while on set depending on if we are on location or at the studio.