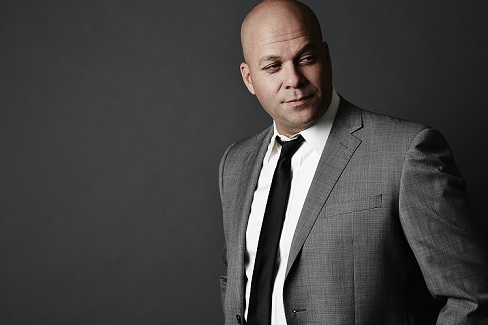 David Rodriguez is Director, Producer and Writer for film "Last I Heard" which tells
the story of a New York mafia capo and his inability to function in today's society after serving 20 plus years in prison.
AUSTIN FILM FESTIVAL OCT 24-31, 2013
Photo by Diana Ragland
Principal photography took place in Queens, NY and the film showcases heart-felt performances from its distinguished cast lead by Paul Sorvino with Michael Rapaport, Renee Props, Paul Ben-Victor, Stephen Bauer and Chazz Palminteri among others in this talented and dedicated ensemble.The film features a non-conventional, indie, modern and sincere way to portray the gap between two generations of Italian-Americans.
We chatted with David Rodriguez about the struggles he went through to make this film and the challenges he is about to endure!
Describe how your day changed from the when you came up with the concept for Last I Heard through making the rounds at the film festival circuit and securing financing. Which part of this adventure was most frustrating?
What's interesting about me specifically when it comes to securing financing and getting a film into production is that I never really allow it to all sink in. My producing partners Andrea and Kevin Kelly were solely responsible for securing the financing. Andrea saw a reading of the script and she fell in love with the idea of Last I Heard as a feature film. It took a few years but she reached out with an idea in December 2012, and in March of 2013, we were in pre-production. Finding an executive producer like Chris Kelly is a filmmaker's dream and he supported my process every step of the way. That said, that really inspired me to deliver the best film I could. Obviously, seeing my film on a big screen at a festival is wonderfully fulfilling and thank God, the film has been well received. As for writing and re-writing the script; that process took about three years but once we got on set, re-writes were done. Fortunately, I knew most of the actors in my cast so there were no auditions. I called them and they came to work. I feel like the most frustrating part has been finding a distributor that sees the potential in the film. Fortunately, we may have found the right fit. You can look for it in theaters in the next few months.
What was it like working with child actress Olivia Panepinto?
Working with Olivia was a wonderful experience for us both. I've known Olivia her whole life, so there was already a built-in comfort level. Children are very easy to direct in my opinion and being a dad gave me an absolute advantage. That said, there are definitely rules and regulations a production must adhere to specifically in the hours worked and on-set tutoring.
How did you get the HollyShorts Film Festival to open with a feature length film instead of a short?
When the guys at HollyShorts contacted me, the idea was to be the closing night film for the fest. Then it all changed when things started to evolve with the programming and they felt it would be a good idea to have a fest alumni ("The Blue Wall" - 2011) open the fest with his feature. I feel like the decision was mostly inspired by the idea that it is possible for their short filmmakers to achieve the dream of making a feature. I hope it worked.
Why did you decide to join the Directors Guild of America?
Joining the DGA for directors is similar to joining SAG-AFTRA for actors. The DGA is my union and I feel like the protections they offer their members are without question important in an ever evolving business. More importantly, the health insurance benefits, pension and residuals are a wonderful thing to have and look forward to.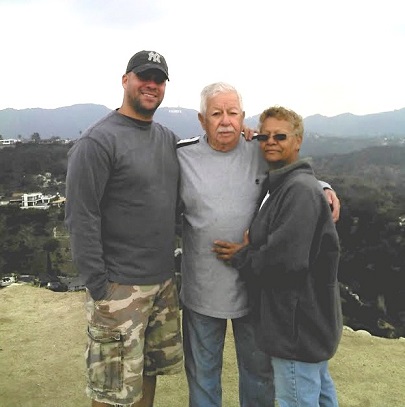 David with his parents at the top of Runyon, January 2011.
David's Twitter: #DRodinLA
Last I Heard strategically uses emotion to keep the viewer hooked. Since your dad is your inspiration and he passed away in 2011, did you put more passion into this film than your previous works?
My dad certainly inspires my every move, personally and professionally. I feel like the emotion in the film was inspired by the level of commitment the actors had for delivering my words. Since so many of Paul Sorvino's words were inspired by my dad, I feel like I memorialized him in my film.
Part of your childhood was growing up on Long Island? Do you hate LI?
I absolutely love Long Island. So much so that I got really upset when my astrologer told me that I should stay away from New York and that I belonged only in Los Angeles. I'm partially joking, but she did say that. I'm a suburban guy at heart. I love malls and strip malls and diners and manicured front lawns and streets. There's so much crazy shit going on in my head so the more organized and calm I can make my life, the better off I'll be.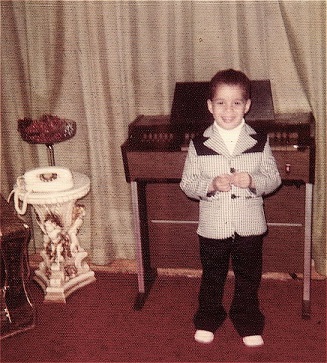 David Rodriguez, ready for showbiz! Bronx, NY, 1970s
Has anyone ever told you that you look like a mobster?
Are you talkin' to me!? Yeah, I've been told that and it makes me incredibly insecure. I'm a teddy bear. I'd like to be thought of as just a filmmaker, but I'll blame it all on my parents for making me "look like a mobster" -- if I do.
Last I Heard highlights a very poignant and touching LGBT storyline. What is the storyline and why is it relevant in this movie?
Well, I'm not quite ready to give that away, but much of "Mr. Joe's" character traits, played by Paul Sorvino, are antiquated. Those traits needed to be challenged and I felt like having some surprise information from his daughter "Rita," played by Renee Props, would move him to finding something within himself that would compel him to unconditionally love. What's important is that the older movie going generation may learn how to be more accepting of people in general and the people they love.
What technology do you use?
I'm an Apple guy, complete with an iPhone 5 and a MacBook Pro. Still no iPad though. For Last I Heard my cinematographer John Barr and I chose one Epic Red and my editor Frank Reynolds cut on Final Cut Pro.
What struggles are you going through to get Last I Heard into movie theaters?
I feel like the struggle of getting into theaters is behind us. Now the struggle becomes how to intelligently promote the film to the general public for its theatrical release. Fortunately, my executive producer Chris Kelly has many contacts in the social media space, so Last I Heard could very well break new ground and be a film which may be primarily promoted through social media for its theatrical release.
Anything else you'd like to say? Advice? Charities?
My only advice to young filmmakers is to never give up, expect nothing and be open to everything. As for future feature film projects, I'd like to see what comes as a result of Last I Heard's release. I also recently sold a series to AMC called "The Street Attorney" and with that, I'd like to start to build a formidable career in television as a director / producer and maybe even a writer. As for charities, I haven't declared, but I am most concerned with issues affecting children's health and education.