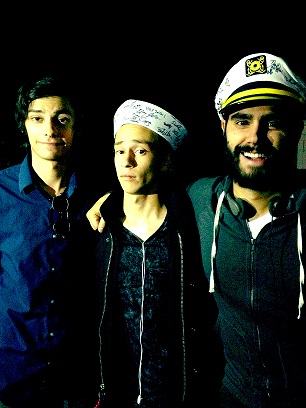 "Seasick Sailor" was written and directed by Torre Catalano.
Twitter: @SeasickSailor_
Making a short film is no easy task. Time, energy and focus are just a few things that help make a story into a successful movie. Put Director / Writer Torre Catalano at the helm, and you've got one helluva' tale!
"Seasick Sailor" is about a teenager who goes through the everyday normal humdrum of life... except he's a hitman.
This film features an amazing cast of in demand actors such as Martha MacIssac (1600 Penn, Superbad), Devon Bostick (Diary of a Wimpy Kid, CW's new show The Hundred), Emily Osment (Hannah Montana), Keir Gilchrist (It's Kind of a Funny Story, United States of Tara), Brandon Jay McLaren (Graceland, The Killing), Martin Starr (Knocked Up, Adventureland) and Fran Kranz (Much Ado About Nothing).
We talked with Torre Catalano and his leading actor, Keir Gilchrist!
What's the story behind your first name, Torre?
Torre is the Italian nickname for Salvatore. It means "Tower," which is fitting given my towering 5'8'' stature.
How did you put together such an impressive cast?
I wrote the script with Keir Gilchrist in mind specifically for the lead role of "Penna" - He's a close friend and incredible actor. Casting Martha MacIsaac opposite him was easy because she's my wife and it would be really awkward if she said no. From there, Producer Devon Bostick and I just wanted to get as many of our friends involved as possible. Devon is a mastermind when it comes to casting ideas, and also one of the most likeable guys you'll ever meet. That comes in really handy when you beg people to be a part of your short film. He took the script to everyone, and if you've ever been in a room with Devon you know that you can't say "no" to that face. The result was a really fun cast filled with friends and tremendous talent (and a lot of Canadians).
Why did you want to write such a dark story?
I wanted to write a movie that I would enjoy watching. Movies about people in organized crime fascinate me because you can totally relate to the characters and understand them in one scene, and then be terrified of them in the next scene. Our main character is a hit man, which definitely makes the overall tone of the story dark, yet he's also stuck in a job he hates and is trying to fit in with a new group of friends, which I think everyone can relate to. Creating a world for a character that walks that fine line was a lot of fun.
How did you fund the film?
The movie was made on a shoestring budget. I reached out to a few private investors that I knew would dig the script and cast, and was really upfront about the deal with short films. Most shorts aren't going to be big money-makers. The point of this project was to make a compelling story come to life while showing what our creative and production team is capable of achieving in just a couple of days.
What was your reaction when you received a Red Band Trailer rating?
The red band thing is pretty much just a warning that you might not want to play the trailer at work. Since the film is only 22 minutes long and is about some pretty shady characters, the chances of pulling out moments that don't contain "F-Bombs" are pretty low.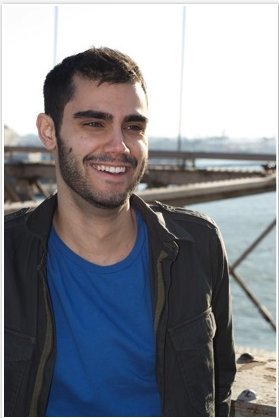 Director / Writer Torre Catalano. Twitter: @TorreCatalano
Who dresses you?
My mom used to dress me in a wide variety of sweaters, bowties and plaid pants as a child. I looked like a little country club golf hustler. These days my wife buys all my clothes because I would wear the same gray t-shirt every day if left to my own devices.
What type of budget cuts did you have to make?
We actually ended up shooting everything in about three and a half days despite our original budget. I can't brag enough about our production team and the miracles that they worked on such a small budget. We assembled the most professional group of producers and crew members that I've ever worked with. One of our Producers, Allen Kelley, is a genius at running a crew. Our Cinematographer Kit Pennebaker and his camera crew were top notch. They shot with two Canon C300s. One of them was always rigged on the dolly and the other was always rigged on the stedicam. This allowed us for quick changeovers since time and money was limited.
Which character is your favorite and why?
Penna (Keir Gilchrist) is definitely my favorite character. I've always rooted for the oddballs in movies. Keir was able to structure the character so that even though he's doing terrible things in the story, you still somehow have a soft spot for him. That is just superb acting.
What types of TV and film did you watch as a kid? Did your parents restrict you from watching any shows?
I really wasn't censored as a kid. My family watched a lot of movies and I was able to put it together at an early age that it was all make believe. That's how I fell in love with storytelling and it made my tastes pretty well balanced. I was obsessed with Disney movies and other classics like "Mrs. Doubtfire" and "The Sandlot," but also loved Gangster Movies and the old action icons of the 90's like Steven Segal and Jean Claude Van Damme. An old Segal movie came on TV the other day and I told my wife that I remembered seeing it with my dad at the theater when it came out. She did the math and realized I would have been like 10 years old. He showed me "Raging Bull" and "The Godfather" as well when I was that age. On one hand I suppose I agree that young kids shouldn't watch violence, but how could you deny a father and son sharing that magical moment when Steven Segal rips a guy's throat out on the big screen? That's why my father is one of the Executive Producers - I trust his input on making a good story. My tastes are still that balanced. I love "Harry Potter" and I love "There Will Be Blood." You can thank my irresponsible parents for that.
Anything else you'd like to say? Advice?
We've applied to many festivals, so hopefully we'll be accepted and you can see "Seasick Sailor" at one of them in 2013/2014. We recently won "Best Short" at the Los Angeles Cinema Festival, and that will screen in October in Hollywood.
There is a really exciting movement happening in independent film lately that is a throw back to the glory days of the early '90s. Amazing directors are writing really edgy material, and big name actors are choosing to be a part of those projects. Everyone loves a good studio blockbuster film, but it's refreshing to see an actor like Fran Franz, Al Sapienza or Steven Bauer taking the time out of their busy schedules to work on an indie short for no money just because they believe in it. I think we'll see a lot more of that with a variety of projects. I know that our team has many more feature projects like this in pipeline.
The best advice for young writers is advice that was passed down to me from one of my favorite writing professors, Patrick Vecchio: WRITE EVERY DAY. Don't worry about what it is, or how you'll shoot it, or if it's been done before - just write. Writing is equal parts craft and magic. Like any other craft, you need to sharpen it by practicing every day. The more you practice, the more chances you'll have for lightning to strike and the magic part will take over.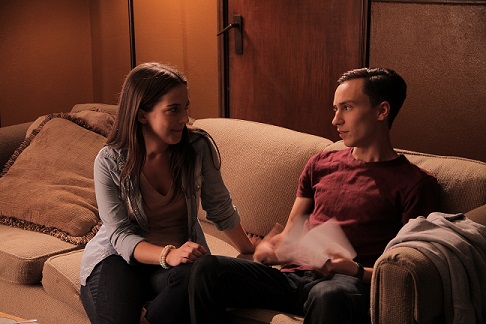 Martha MacIsaac & Keir Gilchrist in "Seasick Sailor"
Keir, how were you approached for this film?
I've known Torre for a couple years through Devon Bostick. Devon brought the script for Seasick Sailor to me and told me that Torre had written the part of Penna with me in mind. I was blown away by how different the part was from anything I had done or auditioned for. It's always flattering to be considered for a role that you haven't played before.
Did you do any research into your character in "Seasick Sailor?"
I never do much research when I prepare for a part but I always give it a lot of thought and try to relate. I think the scariest people are often hidden behind a calm exterior. I imagined Penna as a predator who calculated every move and studied his prey at all times.
For "Seasick Sailor," did you have a trailer?
We didn't have trailers on the shoot as it was low budget but it was also one of the most professional sets that I've had the privilege to work on. Everyone involved was passionate and focused from start to finish.