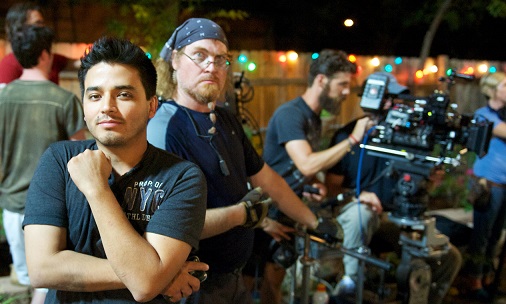 "Mission Park" is produced by Douglas Spain. Photography by Felicia Graham.
The film "Mission Park" will be released in Los Angeles, New York, Chicago and San Antonio on September 6th, other markets soon to be announced. It won the Best Narrative Feature, Best Direct and Best Acting Performance (Walter Perez) at this year's Boston International Film Festival and the Special Jury Prize at the World Fest Houston International Film Festival. The film stars Jeremy Ray Valdez (Walkout), Walter Perez (The Avengers), Fernanda Romero (Drag Me to Hell) Joseph Julian Soria (Crank: High Voltage, Filly Brown), and Wil Rothhaar (Battle Los Angeles). It also features Vivica A. Fox, Will Estes and Sean Patrick Flanery.
Actor turned producer, Douglas Spain, is a Spirit Award Nominee who took on a project with such passion that even Superman would have had trouble keeping up.
His film "Mission Park" gained limited theatrical distribution by AMC Theaters as part of AMC's Independent Platform.
But there's something else that's also very special about "Mission Park" - read the interview with Producer Douglas Spain to find out!
Is Douglas Spain your real name?
Yes, Douglas Spain is my real name. My parents are originally from Guatemala and Spain belonged to my great, great grandfather on my mother's side. We've held on to it all these years because we believed it would one day end up on the silver screen. LOL! I was named after Kirk Douglas, as he was very popular during the time I was born. My aunt loved the name and encouraged my mother name me so. My brother's name is Marlon after another famous actor. I guess they were hoping one of us would get into show business. I am a gay man; family guy, workaholic and I try my hardest to simply be a good human being.
Why did "Mission Park" writer Bryan Ramirez approach you with the script?
Writer/director Bryan Ramirez approached me with the script as an actor first. He wanted me for one of the lead roles. What he needed most was a producer and I had some experience at the time. We agreed to let me run with it and I've been running all the way to our opening weekend on September 6th!
What was the casting process like for "Mission Park?"
Walter Perez was already attached to the script prior to me. Then Jeremy Ray Valdez came on board after I was attached. I had worked with both of these guys on HBO's "Walkout." I recommended Fernanda Romero for the role of Gina and Bryan felt she was perfect for the role, and she was. We then went through the normal casting process. We wanted a lot of local San Antonio/Austin talent so we brought on board Brock/Allen Casting and they found us some really talented actors - especially the younger versions of our leads. They were also huge fans of Joseph Julian Soria and once I backed out from playing Derek they got him to put himself on tape for the role. His audition tape was phenomenal. That's all I can say. We wanted the role of Julian to reflect many of the Latinos in Texas that look white. Will Rothhaar took it upon himself to do his audition with some Spanish. He figured with a last name Medina, the character had to know some Spanish. And he was spot on.
With a predominantly Latino cast, how come you're shying away from marketing it AS a Latino film?
Here is the big question of the day. I will answer this in two parts. First as an American: "Mission Park" is an American story about a group of guys that grow up in the rough parts of San Antonio, Texas. The characters reflect the director's American upbringing. That is how we are marketing the film. Saying it's a Latino film would be incorrect and would alienate our fellow Americans that are non-Latino. Secondly, I will answer this for all of us that embrace being Latino: we know we're Latino; we don't need a label to tell us so. Latinos make up 25% of the movie-going audience and that is for American films, which is what "Mission Park" is. In most Hollywood films the percentage of American Latino actors on screen is extremely low. We wanted to raise that percentage up a bit with "Mission Park." We found some extremely talented American Latino actors and we hope this film will expose their talents to the American audience. To finalize this point, every non-Latino American that has seen the film connects with the story and that's really what matters most. Our fellow American Latinos appreciate that we represented them honestly.
What was your 2008 E! Hollywood True Story about?
I was Kate Hudson's first on screen kiss and they wanted all the dirty details. The only thing I mentioned was that I nicknamed her golden booty. You'll have to figure that one out on your own. LOL!
As producer for "Mission Park," how do YOU get paid?
We had a budget and on the budget were all the salaries. It's like having a big piece of American pie and now you have to slice it up accordingly. I'm about being fair so that is how the salaries were equated in addition to the union rules. We worked with most of the unions, especially Sag-Aftra, since I myself am a member. Our motto was to run a professional fun production that was fair. We cared about our entire cast and crew and they all seemed extremely content. We treated our background actors with respect. They were awesome, by the way. Our executive producer Armando Montelongo was the sole investor. He's also funding the distribution of 'Mission Park," a true sign that he believes in this film 100%. As filmmakers we had a lot of creative control. Armando gave us notes that always improved the story. We're really fortunate to have Armando on our side.
How has your work day changed from the beginning of "Mission Park" to the end?
"Holy shit!" was my first thought! Once the production started rolling all the experience I had gained from the short films I directed and produced kicked into gear. I've never met for lunch so much in my entire life as I have being a producer. Meeting after meeting after meeting. I've never had so many emails in my entire life either! The filming stage went by so fast that I wish it could've been longer so I could've enjoyed it more. The biggest 'wow' for me was when I was the one everyone was coming to for approvals and signatures. When my trusty accountant, Jenni Wieland, would call me 'boss' it would remind me that I was someone's boss. LOL! I've been working on "Mission Park" for almost four years now so I can't even remember who was the first person I told. Also, every single person in my life has heard me say 'Mission Park' so many times that they just want to see what I've been talking about all these years. Come September 6th, they will. When my first feature film ("Star Maps") as an actor was released I hired a publicist. I felt it wise to do so on my first feature film ("Mission Park") as a producer. I scored big with Cecilia Zuniga; she's awesome! Our co-producer, David J. Phillips, was the one who arranged the deal with AMC Theaters. He and I talk every day so I knew instantly what was in store. After an entire year of pursuing theatrical distribution, it was music to our ears when AMC Theaters offered us the platform release. Thanks to AMC we now have the opportunity to bring "Mission Park" to the big screen!
What frustrations did you go through during your "Mission Park" journey?
I've put out fires every single day since I first began producing "Mission Park." It is certainly not all daisies and roses. I missed friend's birthdays and family get-togethers. I must admit that this summer is about to end and I never really got to enjoy it. As a matter of fact, everyone celebrated this Labor Day weekend and I worked straight through it. It has been the biggest fight of my life to get "Mission Park" into theaters. From day one many have told me that it would never happen. There were days where I believed that to be true. Like I said, I spent an entire year pursuing distribution. The most frustrating part was that many distributors liked the film; they just didn't feel our cast was recognizable enough or quite frankly, white enough, for theatrical distribution. It pissed me off because I don't go around waving a Latino flag. I wave an American flag. I'm a part of the American fabric just as much as George Clooney. The cast of "Mission Park" are like my kids and I protect them and their talents as any parent would. Just last night I was ranting and raving because it was one of my worst days... I lie; I've had 100 shit days in the last four years. LOL! Even though some days are awful and I'm faced with some shitty people in this business, there are a handful of wonderful people. Those wonderful people make it all worth it. Just when you think no one cares, you get a call from a random stranger who wants to help promote the film and do so for free. Money isn't everything. The goodness in people's heart is really what makes the world go round. All this hard work will pay off on September 6th and it will definitely be worth all the struggles I've faced. I want to say a big 'thank you' to all those wonderful people who were involved creatively with "Mission Park" as well as those who have shown me human kindness. I love you all greatly!
It seems you fear nothing. What DO you fear?
I only have one big fear and it's never going to be put into words. Hahahaha! I played Teen Tecumseh in the TNT movie "Tecumseh: The Last Warrior." I had an intense scene with the late August Schellenberg where his character helps me find the root of my fears. My character does so by voicing the following words: "That I had nothing to fear. That I belong to the people." It is true to this day because fear is diminished by the immense support I receive from the good people in my life.
Anything else you'd like to say?
"Mission Park" is a true underdog. Against all odds this film has achieved theatrical distribution. If you've ever been in a situation where you believed in something so much, even when so many people would doubt you, then you'll understand me completely. You'll understand my struggles and you'll understand why I've worked so hard to achieve a theatrical distribution for "Mission Park." I wish it could be for the simple reason of having a movie in theaters. There is so much more to that. It's about equality. There are many Americans in this country that are underrepresented, whose stories are not being told. "Mission Park" is in the forefront of a whole new wave of filmmakers and storytellers that showcase a more accurate representation of America today.