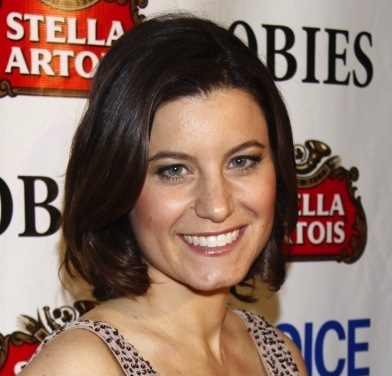 Susan Pourfar plays a lesbian contemplating sleeping with a man in order to have a child with her partner in Ethan Coen's new (and first full-length) play, Women or Nothing. It opens September 16, 2013 at the Linda Gross Theater (aka Atlantic Theater Company), 336 W. 20th, New York, NY.
Susan Pourfar is used to playing out of the ordinary roles. She earned an array of awards for her portrayal of Sylvia in the Nina Raine comedy-drama play Tribes. You'll recognize her from her recurring role as Becky Flynn on ABC's hit series, "Scandal."
Susan kicks off her latest role in Ethan Coen's play Women or Nothing running through October 13, 2013.
Did you audition for the lead in Ethan Coen's play Women or Nothing or was it given to you?
I auditioned.
I was familiar with Ethan Coen's incredible span of film work but I'd never read or seen his plays; as soon as I read the script for Women or Nothing, I knew I wanted to audition. Sometimes you get that pounding-in-your-chest feeling when you read an author with a very specific voice that speaks to you. It's rare. I had it at about page two.
Once you found out your were cast, did you immediately accept or did you have to think it over?
Accept. Accept Immediately!
What's your least favorite part about being an actress?
Hmmmm. Learning how to do my own make-up? I like the nerdy parts of it.
You base yourself out of New York. What made you want to move to California that one time?
I've lived in LA at various times, for various lengths of time, and I absolutely love both cities for different reasons.
There's something about the landscape on the West Coast that kills me - in a good way - I'll go for a hike or a walk in the hills and think, "Wait a minute, why isn't everybody living here?" And then I'm in rush hour traffic on the 101 and think, "Oh, maybe everybody is living here."
Is it true that the actors in CA all look perfect while NY actors are more real?
The thing about perfect looks in California is only partly true; I was lucky enough to work on a Shonda Rhimes show as my intro to guest starring. Shonda has significantly widened the net for what kind of face/body gets screen time on network television, so while I find everyone on "Scandal" to be absolutely beautiful, I never felt there was some mold of physical perfection that Shonda was looking to fill when I got cast.
If there was such a mold, I guess Kerry Washington would come out of it! She is absolutely stunning, on camera and off. And the most generous and passionate soul.
What's it like playing a lesbian in Women or Nothing? Have you played a lesbian before?
Yes, I have -- in two plays prior to this one - and opposite gorgeous women all three times (all my characters have exceptional taste, I guess)! I married Rosemarie DeWitt on-stage in an Adam Bock play called Swimming in the Shallows, I was married to Danielle Skraastad in a Lisa Kron play; in Lisa's play In the Wake, we were on the brink of "baby" talks - not quite in that stage of life but on the cusp of it. In Women or Nothing, I'm in a committed relationship with Gretchen (played by the actress Halley Feiffer) and the baby discussion is what's unfolding right now, right in front of you.
Did you do any research in order to play a lesbian?
All the research I needed to do came from Ethan's script - from the very specific relationships he wrote - and from working with Halley...who is a beautiful woman...and who is completely present and available. The issue of "research" on that front never came up! Chemistry has to do with presence and connectedness more than gender, I think.
Why are you so private?
Is this a trick question!?
How much of yourself do you put into your characters?
I find that the character will always find you or find a part of you ... you can run but you can't hide! If someone knows how to separate fully, I want to hear about it; it'd probably be healthier!
How does it feel to win such awards as an OBIE, the Actor's Equity Clarence Derwent award and the Theater World Award?
Well...of course it feels lovely! And surprising.
I have a friend who describes it like this: you're standing on a highway at night and a car's headlights find you in the dark for a moment...and then the car passes by and there you are on the highway again. I love that image. It's lovely to be found for that moment, but ultimately there you are again...standing on this highway, kind of in the dark; you still have to go to work on the next thing. If you're lucky - back to work the next day.
In which format do you read your scripts?
I tried to hold onto paper scripts for as long as I could, but there came a moment, with travel between New York and California, and multiple drafts of scripts, that I had to give in to this modern age - the iPad is what I read my scripts on. But for a novel or book, I'm still holding the paperback!
Have you ever felt uncomfortable in a role?
Yes, totally! I was cast as a prison guard in one of my first plays in NY. I'm not too tall and I probably weighed about 105 lbs at the time. It was a terrific script with great actors and a terrific director, but if you can picture me trying to detain a prisoner who is towering over me...well, I did it by necessity, but it felt like a stretch - literally.
How does working crazy hours affect your personal life?
Is this another trick question? -- referring back to -- why are you so private? Well, it's not the best thing to tell your nearest and dearest that you will be MIA for weekend plans for the present time, but you know and they know that it's temporary and...every profession has its strange hours.
My dad was a pediatrician and he used to be "on call" at our meal times - breakfast and dinner. I ate a lot of meals hearing my dad tell people what to give their children for headaches, sore throats and loose stool. Literally. So I grew up understanding that work will sometimes bleed into home-life...no pun intended. And I absorbed some good home remedies for basic ailments!
During previews for Women or Nothing, what changes have been made?
A lot of changes were made -all through previews. We've tried the show both straight through (90 minutes) and with an intermission. I'm pretty sure the show you'll see will have an intermission!
Who has the final word on changes that get made to the script or production?
It's a collaborative environment but it's David and Ethan who have the final say in all things change related!
You have a lot to say. Have you penned a script of your own?
Oh, I wish I could write a full script. I haven't. I know many actors turned writers -- like my friend Bess Wohl. She is penning some brilliant scripts in all mediums that actors are clamoring to work on because she comes from such an intelligent and actor-friendly place.
Anything else you'd like to say?
Working at the Atlantic Theater Company on their mainstage is something I'm so happy about. I've been following Neil Pepe's and Christian Parker's artistic choices, and Neil's career as director and artistic director, for well over a decade; I'm continually impressed by what they are producing. I love the homey yet professional vibe of the company.
And it helps that I live about a block away! Best commute ever.