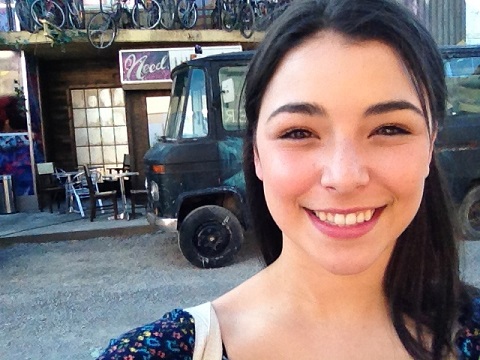 Nicole Munoz on set. Follow her on Twitter: @NicoleMunoz94
It was such a treat to interview Nicole Munoz about her work as Christie McCawley on SyFy's Defiance and as Hermila in Netflix's edgy and dark series Hemlock Grove, executive produced by Eli Roth.
Nicole is bubbly by nature but she sure knows how to take the next steps when it comes to pulling off disturbing characters!
Please explain how dual representation works.
I have been represented by Principals Talent for over 10 years here in Vancouver. It was only this December that I had gone to L.A. to find a manager. I am at the point in my career where I am wanting to branch out into the American market and am looking forward to doing so. My agent, my managers and I all discuss things together as a team. We are one solid unit working together towards a common goal. Things can get pretty busy; sometimes I will have more than one audition in the same day, for example, maybe one for Vancouver and then two tapings for L.A.
At what point did you decide to find a publicist?
My publicist approached me through my agency asking if I would be interested in representation. I thought it would be a good idea for the launch of Defiance. They have provided me with lots of great experiences and I am glad they have joined the team.
What kind of relationship do you have with your dad?
I love my dad. When we're together we are always laughing. When I told him I booked Defiance he was very excited for me! He knew this was a big moment in my career. He was sad to see me move to Toronto (as most parents would be) but he knew it was temporary and he was excited for me to begin this new chapter. Also, a shout out to mom! Mom has been by my side my whole life and supported my every move.
What's the difference between a guest role and a recurring role in terms on contract?
A guest role may be a larger part in only one episode whereas a recurring role is in multiple episodes but might have a smaller part in each episode. What an actor gets paid has to do with their experience and resume. Every actor receives scale to begin with and the more you book the higher your rate gets. For example, scale and half/double scale/triple scale.
Since you started in the acting field at age four, did you truly understand what was happening at that age?
My mom tells this story about the first time I had seen one of my commercials. I was about four years old and so confused as to how I got inside the television that I went behind the TV to check! I don't think I fully understood all aspects of the job, but I knew I was having fun doing the work. As a child actor, that is all that really matters.
How far in advance do you receive the Defiance scripts?
We receive the scripts one-by-one as they are being written. You almost always end up with three or four versions of the script because of editing. Some actors prefer to just get them emailed to them; I enjoy having a hard copy. It helps with note taking and such. Eventually the team gathers for a table read where we read the script and discuss character plots and storylines. It is an incredible creative process to be a part of. Eventually the actor has wardrobe fittings where you try on all the clothes you will be wearing throughout the season, or just the specific episode. Finally, there is a hair and make-up testing which never seems to take too long. Once everything is approved by the network the filming process can begin!
What was your audition like for Netflix's Hemlock Grove?
That was one of the most interesting auditions I have had in my career. I was aware that it was a horror -- we usually receive a basic story line and character breakdown for every audition. During the scene I read, I had to transform into a werewolf. I was screaming in pain and was slowly morphing my body. By the end of the "transformation" I was on all fours, clawing at the carpet, bearing my teeth and growling. That must have been interesting to watch... I was very excited and thrilled to have a chance to work with Eli Roth. I have seen some of his work such as The Last Exorcism and Hostel and could not wait to be a part of Hemlock Grove.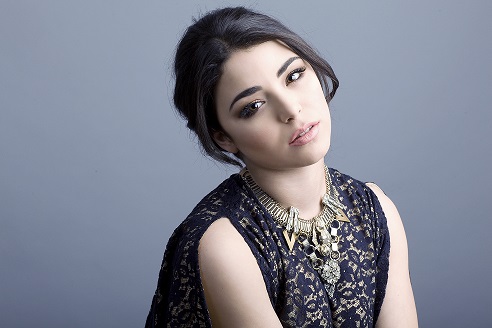 Nicole Munoz. Photo by Kyla Hemmelgarn
What kind of food have you eaten that you'd never think you'd eat?
I love to do these miniature adventures where I travel downtown Vancouver and force myself to do new things. Eating odd food is one of them. Some of the food I have tried include: escargot, eel, bubble tea, pork belly lettuce wraps, peking duck, ox tongue and ox liver. Some of the food I enjoyed more than others. My favorite restaurants to go to are either Thai, Japanese or Italian.
How old are you and what's it like being in show business your entire life?
I am currently 18 years old and have been in the industry for 15 years. I grew up acting; it has always been such a significant part of my life. Of course, I have had to make sacrifices, miss gatherings, dance competitions or even after school hangouts with friends. But that for me was never a problem because I was doing something that I love. Acting made me miss a lot of school but I always found a way to work things out and my grades never really suffered because of it. It was hard work, but being an honor student was very important to me. For child actors, there is a law in place where if you are on set you must have a tutor for on-set schooling. Acting is such a big part of who I am, I couldn't even imagine what my life would have been like without it.
What advice can you give other young performers?
If you have a goal, you must work hard to accomplish it. Dreams do come true but you need to put in the effort. As a young actor you will face a ton of rejection, especially in this industry, but it is important to know not to let that keep you down. You just need to keep moving forward and eventually your hard work and dedication will pay off.
Anything else you'd like to add?
I have a few upcoming projects that I am excited about such as a comedy pilot called Rita, a horror movie for the SyFy channel called Scarecrow and a very moving TV movie called Baby Sellers.
I would like to say thank you and that I am glad I was able share my stories with you.