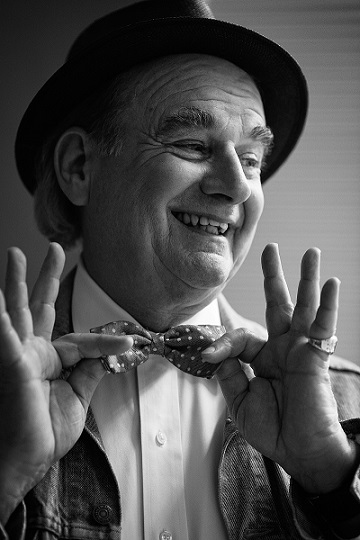 Ray Iannicelli is in the recently released film St. Vincent which stars Bill Murray and Melissa McCarthy. Photo by King PDT.
Sometimes there are no words to describe someone. Today, that someone is screen veteran Ray Iannicelli. This brand new grandfather brings so much talent and knowledge to the table, that it's breathtaking!
Ray has a bunch of projects coming up, which he discusses below. He's also teaches other actors technique at the New York Conservatory for the Dramatic Arts, as well as at his company called Professional Actors Training and Helping (PATH).
In your latest film, St. Vincent, you play Roger, St. Vincent's (Bill Murray) confidant and confessor. What type of character discussions did you have with Bill Murray and the director, Theodore Melfi?
Never had discussions about my character with Melfi or Murray. The character was pretty obvious from the well-written script & any tweaks were done in rehearsal on set.
What part of Brooklyn are you originally from? Are you still in Brooklyn or in one of the other boroughs?
I'm from Bensonhurst, Brooklyn & now live in Windsor Terrace, Brooklyn. BTW, Brooklyn, I call "God's Country".
You've been in show business over 30 years. What types of jobs did you do in the early years to make a living?
The jobs I had were: house painter (my grandfather, Onofrio had a painting contracting company), sold pots and pans in flea markets, sold early morning breakfasts to foreign bond traders in NYC, short tour as a bartender.
What was the worst on-set experience you've ever had?
The worst on-set experience was I walked into a covered pool rehearsing lines in Greenwich, CT. Only my right foot and leg got soaked.
You have an upcoming film with Cameron Diaz and Jamie Foxx in the highly anticipated remake of the classic Annie. What's the difference between this film, the other Annie films and the theater Annie's?
I haven't see the new Annie yet but it's not a musical. It's set in contemporary NYC and Will Stakes/Jamie Foxx plays a hard-nosed business magnet running for mayor and takes Annie/Quvenzhane Wallis as a campaign ploy.
Tell us about your family history.
My grandfather Onofrio Iannicelli, my grandmother Carolina died before I was born, came from a small town outside of Naples, Italy. He didn't speak English but eventually owned his own business and three houses in Brooklyn. Not bad! My mother's parents were born in Verplanck, NY, a small town on the Hudson River about 50 miles north of NYC. They were of Irish-Scottish descent. I'm named after my father who changed his name from Remo to Raymond. And as of this past Friday I'm a grandfather for the first time. His name is Nicholas Iannicelli.
What was it like growing up in a Catholic household? Do you still uphold / practice these beliefs today?
My mother was fairly religious but from orthodox and my father rarely went to church. Remind me to tell you the difference between Irish and Italian Catholicism. I'm not religious at all.
What skills did you learn while serving in the Army?
In the Army, which I served twice I ultimately became a Fuel and Electrical Systems Repairman for Tank Diesel Engines. Whew!
What's the best part of being in show business?
The best part of being in show business is the camaraderie on a set and in the green room. The "we're in this together so let's have a good time doing it".
You played baseball in your younger years. Do you currently enjoy sports?
I loved baseball and was a Chicago Cubs fan growing up in Brooklyn. And my favorite sport was "stickball" played in the streets of Brooklyn. Sometimes the games got pretty heated. I like the Mets & the football NY Giants, Knicks and Rangers.
Do you have any phobias?
The older I get the less I enjoy flying but I go anyway. My wife Beverly & I have a home in Jamaica, which we try to visit as often as possible.
What do you watch on TV?
I watch sports, docs, HBO & anything that catches my eye. An occasional old B&W movie. I recently watched The Man In The White Suit with Alec Guinness. Terrific!
Anything else you'd like to say?
Beverly and I just went to The Doe Fund Gala last Thursday, Oct 30th. They help homeless and formally incarcerated people transform their lives through career training, education, paid work opportunities, etc. Also, I'm working on two new projects; the HBO's Miniseries Show Me A Hero directed by Paul Haggis shooting in Yonkers and an indie film called The Killer Set with Michael Rapaport and Bob Saget, directed by a new upcoming director Mike Young. I'm very excited about both projects.