For 16 of the last 24 years, I have rented in Los Angeles, most recently paying $2650 for a sweet little house in Pasadena. In one day, a letter from my landlord changed everything. It may have even added ten years to my life.
The real estate market had begun to move again, and he had decided it was time to sell the house. As I headed back into the LA rental market, I discovered that things had shifted. Investors were scooping up houses all over California, for cash. A whole lot of people who should have been buying homes were instead out looking for houses to rent. Replacing my sweet little home was going to take me up to $3000 a month -- too much to be flushing down the toilet every month.
In the middle of pondering the issue, I got a call from a friend in California's Gold Country whose husband buys and restores old--as in 1800s old--Victorian houses. She happened to mention that they had decided to sell one of their homes. I told her to hold on, threw my dogs in the car and made the drive up there the next day. I already loved the area. I loved the house. I bought it and made the jump.
I'm now four months into a new life in Mokelumne Hill, CA. I know. I couldn't pronounce it either for the first three weeks. Even my GPS sounds like she is scratching her head. The accent is on the second syllable. For the sake of family and friends, we mostly just call it Moke Hill.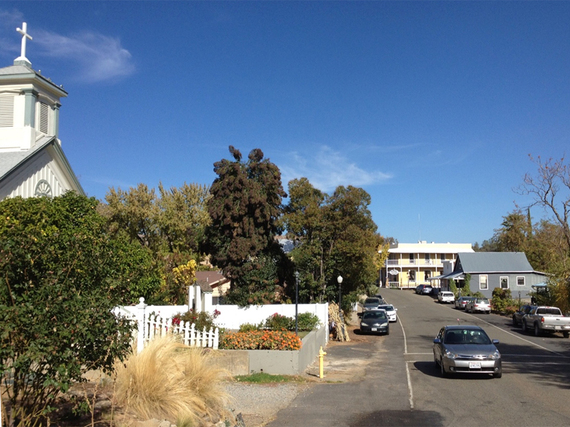 The Gold Country is in the foothills of the Sierra Nevadas, about two hours out of the San Francisco Bay Area. The region is full of small scenic towns. A good number of the buildings in the area have been preserved from the 1850s, California's Gold Rush days.
I went from a metropolis of 16 million to a small community of just over 700 - and that may be including the dogs. From loud, busy, creative, crazy, jammed Los Angeles, to a Norman Rockwell painting.
It is green. Camping trip green. The hillsides are full of cedar, ponderosa pine, five or six varieties of oak. There is trout fishing and white water rafting three minutes from my house.
I kept a place in LA--a much smaller one--for work. A very tolerable six and a half hours will put me back there for a few days, or a week. But, over the last four months, Mokelumne Hill has become my home. The place in LA has become my hedge against obscurity, needed to maintain connections and continuity in my professional life, but no longer central to my world view.
The adjustment has not been without issues. My house doesn't have a shower, just a big old clawfoot bathtub. With a small bit of remodeling I'll install a shower. In the meantime, after rigging up a little shower attachment to get the shampoo out of my hair, where I used to work at my computer at night until my eyes started to close, I have now learned to knock off a little early, take a glass of red wine into the tub, and relax.
We don't have garbage service here. Instead we have free access to the local dump, which means loading your garbage into your car and delivering it yourself. I was almost as amused as the men in their pickup trucks when I pulled up to the dump in my BMW convertible (with the top down of course -- I was carrying garbage!), got out and lifted stinky bags out of my back seat. I came home feeling like a modern version of Eva Gabor in Green Acres, and promptly found a neighbor I could hire to do my dump runs.
There's no mail service to my house. You walk to the post office to pick up your mail. When I order from Amazon, it says my address doesn't exist.
There are no thermostats in the house. The heating system is supposed to be a wood burning stove. There are vents in the ceilings of the rooms on the lower floors, so the heat rises from the stove to warm the bedrooms upstairs. The only problem is that there's no stove in the house. The last owners gave it away. So I'm racing against the cold to get a stove, get enough firewood to feed it through the winter (and how exactly do you choose the right firewood?) and stack it on the side of my house. Then there will be dealing with the idea of spiders, wasps or who knows what else (rats?) in the wood pile and how do you not bring a Black Widow into the house.
For most of my adult life my idea of building a fire has been going to the grocery store and getting a Duraflame log. For authenticity, I had recently started getting the kind that makes a crackling sound. And I still can't help looking for the thermostat when I come downstairs in the morning.
But after four months, I've started to notice some distinct physical changes. I am smiling more. I'm hearing the sounds of my own laughter more. That constant tension in my shoulders seems to be easing up. I have even shocked myself, and gone out a few times and forgotten my cell phone.
A friend came to visit from LA. After spending a day in Mokelumne Hill, she said that she could feel how palpable the stress of the LA environment is.
Mokelumne Hill is a true community where people know, and care about, each other. When you have a barbecue, friends stop by unannounced for a glass of wine and to see who is there. It can be as relaxed and friendly as some of the villages in the developing world. A neighbor was telling me yesterday that when she was renovating a building to open a gallery on Main Street, she fell from a twelve foot ladder. Six neighbors stepped in to help her finish the renovations. This is not an unusual story up here.
On Thursday nights, about thirty people gather in the bar of the old Hotel Leger --the place they refer to as Mokelumne Hill's living room--for Martini Night. You don't have to drink martinis, some come for a glass of water and a little conversation.
I still live on my computer for much of the day. I just finished a Skype chat with someone on a USAID project in the Solomon Islands. But I can turn it off. And when I do, I am not in a house. I am in a home.
It is still exciting to come down over the Grapevine and see the lights of LA, to get "back to civilization." I'm in the process of planning my next trip to New York. It's vital for my work to stay connected to both. I have friends in both that I can't wait to see and people I have to meet with.
I do love the adrenaline. But if the California real estate market means I now come home to a life where the air is clean and the water is fresh out of the Sierra mountains, where I wake up a little early just to enjoy a cup of coffee in the quiet, or sit on the porch with a neighbor in the evening just saying hi to the residents of an honest to God community, it might have made my life a little longer. It certainly made it healthier and happier.