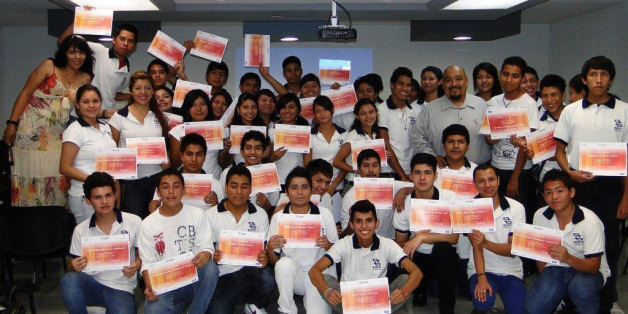 Monterrey, Mexico is a city split by a large river, but that is not the only divide. Deep economic and social gaps separate rich from poor, educated from uneducated, legal from illegal. The population was further split when a highway was constructed right through its city center, solidifying the already significant schism.
Monterrey, the capital of the Nuevo Leon region, is a business-industrial city with a population over 1 million. In 2005, it was ranked as the safest city in Latin America and Mexico. However, since 2008, the city started experiencing violence related to turf battles between warring drug cartels, degrading a city with great economic potential to one full of fear. Drug use and high murder rates continue to steal the lives of youth, tempting those who lack the skills for traditional jobs into much higher-paying, high-risk careers of narcotics and crime.
One center for such blight is Valle del Mirador, known as the hill of drugs, crime, and violence. Serpentine roads and paths snake up the mountain through shacks and tenements, making it a natural fortress for drug-dealers and other criminals. The area is virtually impenetrable to the law and has become a symbol of what everyone in Mexico wants to avoid.
At the foot of this mountain, a lonely blue flag bravely flaps in the wind as a small but determined beacon of hope. It waves outside the CBTIS 99 (Centro de Bachillerato Tecnologico Industrial) high school -- a building speckled with scars from bullet holes, a haunting reminder that criminal warfare is just around the corner.
Leading CBTIS 99 is a man of unusual dedication. He was born nearby and, like many Mexicans, has a deep commitment to making a difference. Director M.R.H. Moises Isassi Maldonado works endless hours meeting with local company owners, organizing training for his faculty and staff, and seeking ways to make his school the center of innovation and change for the surrounding community. Of primary concern is making education hands-on and practical. Moises believes he can change his community by modernizing education to provide educational opportunities that give students the chances to get good jobs, or to pursue higher education after graduation.
To help transform his community, Moises joined the USAID (United States Agency for International Development)/Mexico: ICT Networking and Entrepreneurship Skills Development Project. This collaboration between Cisco Mexico, USAID and World Learning aims to foster resilient communities that can withstand the pressure of crime and violence by building the information and communications technology (ICT) and entrepreneurship skills base in the northern Mexican cities of Ciudad Juarez, Monterrey and Tijuana. In fact, this program has provided training to thousands of at-risk students in schools throughout the region, bringing those communities access to critical skills needed in the modern marketplace.
By July 2014, 1,200 students and parents will have graduated from the Entrepreneurship program; and by September 2015, an estimated 1,300 networkers will have completed Cisco Networking Academy training. More than 30% of these participants are women.
Mexico will face a shortage of about 115,000 professionals with computer networking skills by 2015, according to research by IDC. Young people who develop these skills now will have better opportunities in tomorrow's workforce -- and fewer reasons to yield to criminal activity.
Some students trudge many kilometers on foot through heat and cold, light and dark, to get to CBTIS 99. Their parents work long hours in industrial jobs or small businesses, and often don't have cars or the time to help their kids get to school. Moises told us that some students at his school even descend from the dangerous hill, seeking a new way of life by choosing to study information technology, electronics or construction.
Sonia Mercedes Carranza is one of the program's entrepreneurship students, and she is making a difference on several levels in Nuevo Leon. Sonia came to CBTIS 99 to learn entrepreneurship because she wanted to help fulfill her father's dream of opening a family business. Though there are many places to work in Monterrey, there are few rewarding jobs; most of them are in "maquiladoras," or factories in the industrial sector. Starting her own family business in food production was a more promising option for Sonia and a common strategy that many hard-working families take in the region when jobs are scarce. Sonia had been struggling to get the business established for four years with little success, challenged by marketing questions, and making little or no profit while doing so.
Then Sonia heard about the technology and entrepreneur development courses at CBTIS 99 and jumped at the chance to learn how to run a business. She learned bookkeeping and accounting, marketing, business law, and how to patent and legalize her brand.
Since she completed her courses in February 2013 she has changed her entire marketing strategy and created a better product to offer to the public. Her locally grown and produced brand "Salsa Molcajeteadas" has taken off: Her sales have increased by 40% and this is just the beginning. She has expanded the company's workforce outside of the family by 20% to a total of eight employees. She has harnessed technology for management, production, and marketing, which she learned about in the course. Marketing continues to be word of mouth because it is expected to grow exponentially with the use of social networks.
Her customers were primarily small shops but, since completing the course, Sonia got her product accepted by the megastore Walmart, spurring the company's growth and visibility, making it more sustainable with consistent orders. She claims her business has a positive impact on Mexico because it helps the community to grow by bringing job opportunities and healthy food, she is proof of that. In fact, she knows of four other small businesses that have been established as a result of this course.
The ICT Networking and Entrepreneurship Skills Development Project helped connect Sonia to the education she needed, and the contacts to help her succeed. Sonia's next challenge is to get additional financing to expand her business. Mexico's next challenge is obtaining financing to expand the program to more schools so other young people can experience the same success Sonia has.
Networking Academy is a partner of Cisco CSR. Cisco sponsors The Huffington Post's ImpactX section.