By: Niki Kirschner, University of Delaware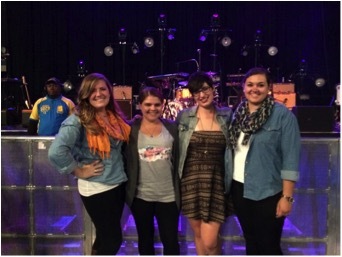 The best four years of your life will definitely be when you're in college. But college, like most good things, comes to an end too quickly. Being a senior seems to bring out more school pride than ever before and you start to think about all of the things you haven't done yet and still want to do before you graduate. Your final year in college will be filled with a roller coaster of emotions, but here are some things you should do to make the most out of your final year an as undergraduate.
1. Camp Out For Concert Tickets
I'm not one to camp out for concert tickets, or anything for that matter because I love sleep too much, but when I heard Young the Giant were coming to the University of Delaware for our fall concert, I was all about it! Young the Giant is one of my favorite bands and I decided there's no better time than now to wake up ridiculously early to sit outside and wait for hours to buy a concert ticket. But it paid off because waiting outside for seven hours meant I saw my favorite band third row with my best friends! If there is a speaker or concert you are dying to go to, consider camping out for tickets because, if nothing else, it's a great bonding experience with your friends.
2. Go to a Football/Sporting Event
Sports are an important part of most college campuses so why not head down to the Athletic facilities and watch your team play? Most people stop going after freshman year but you might want to reconsider when you realize how much money tickets cost when you're not a student. Jump on a bus with a big group of friends down to the big game this weekend and soak up your final time sitting in the student section!
3. Spend a Saturday or Sunday Lazing Around On Your Campus
One of my favorite things to do on the weekend is to walk around and enjoy the beauty of the University of Delaware. One of the main reasons I chose to go to this school was because of how gorgeous it is. The best way to really feel at home at your respected University is by exploring, you never know what you can find!
4. Find A Tree and Make It Your Study Room For the Afternoon
Unless you go to an urban school, this is a must on the weekend (or any sunny day really). I can't even begin to image how many hours of our lives we will spend locked inside a classroom/house/office so I like to spend as much time as possible outside. Instead of studying in the library or in your room, try finding a nice tree or bench outside and I can guarantee you will be much more relaxed when you do.
5. Brunch At Your favorite Pub Is A Must
One of my all time favorite things to do is sit in a pub on Sunday mornings, with a cup of tea, full Irish breakfast on the table with some English Premier League soccer on the television. My friends and I, now that we're all 21 try to make this a weekly ritual because it's a great way to unwind and it makes the end of the week enjoyable. I recommend trying to go to brunch, whether it be at a pub or at another local restaurant, a couple of times a semester.
6. Attend An Interesting Talk on Campus
Something unique about college campuses is that interesting and famous people will come speak at your school. At the University of Delaware we've had Stephen A Smith of ESPN and The Delaware Debates just in this semester! They were free events for students and I got to hear from one of my idols at my dream company as well as from 2 people running for the state Senate and House of Representatives for the state of Delaware. Going to these types of events are unique to colleges because the speakers know they can draw large crowds so I highly recommend looking up who is coming to your campus and getting tickets quickly.
7. Host a Dinner Party
When you realize you only have a few more months left in college and you start thinking about becoming a real, functioning, member of society it can be a little daunting. This means you will have to get a full time job, live in an apartment or a house and pay rent, cook and clean on your own and do all of the other boring things that come after graduation. But having your own dinner party while in college is a great (stress free) way to break into the whole being an adult part of life. And it's a great way to schedule in time to see your friends you don't get to see that often. My roommate and I host a dinner party with our two friends we rarely get to see every other Thursday night. Cooking is also a great way to bond with people and a way to express your creativity!
8. Attend the Career Fair
We have all heard this from parents and professors, but going to your University's career fair is the perfect way to help you figure out what the next step is after graduation. Your college Career Services Center has a ton of resources and should be a staple for every Senior because there isn't something like that in the real world. Use them to your advantage.
9. Create Something of Your Own
Something every college student should try and accomplish during their four years in school is creating something. Whether is be something tangible or just your reputation, you need a way to get people to remember you. Take my friend and I for example; we had this idea to create a series of videos of the University of Delaware Athletics Department and after having a couple of meetings over the past couple of months, the first installment is being filmed this week and will be posted very shortly! Get together with likeminded friends and brainstorm different projects you could finish by the time you graduate, you never know what you can accomplish when you set you mind to it!
10. Do.
Homework, papers and lectures are all important and ultimately the reason you decided to get a degree from a University and spend 4 more years in school. But college is about so much more than that! Those 4 years will go by SO fast (if you can please locate the last 3 years and give them back to me because I think I lost them, that would be much appreciated) and you should do everything you can to get out and explore. No matter what state, or country, your University is in, what your major is or how big or small your campus is, there are plenty of fun opportunities out there, you just have to find them. And worse case scenario, if you can't find them, make them. The amount of time you spend getting a higher education is nobody's time other than yours...how do you want to spend/remember it?