This blog post was written by Intern Queen Campus Ambassador Laurise McMillian from the University of Baltimore.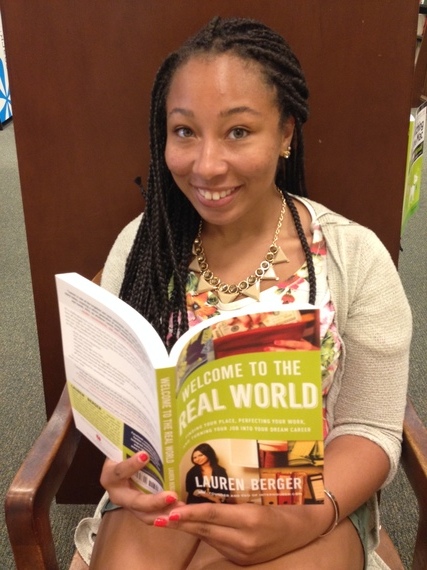 A life without textbooks, teachers, and creepy café food might sound like a dream come true, but surviving the early post-grad stages isn't always smooth sailing. From job hunts to tight budgets, it's essential to learn how to navigate your new life before you get in over your head. Whether you're still a student intern or working your very first big girl gig, Intern Queen Lauren Berger's highly anticipated sophomore book is full of life hacks and career tips to help you stay afloat in your transitioning period. Keep reading for the top 5 lessons I learned from Welcome to the Real World.
Own It
Personal branding is a must. With today's modern technology, you better believe your boss can find your social handles in seconds! Scrub your accounts of profanity, and anything that could be considered inappropriate. Instead fill your feed with cute OOTDs, yummy #foodstagrams, and behind the scenes pictures from your internship!
Beat Rejection with Resilience
You know what they say: fall down seven times and stand up eight! When things don't always go as planned, look for a new direction. It's important to stay optimistic and be open to alternative opportunities. Keep your head up and eyes peeled for your next big break.
Get Upgraded
Nobody wants to stay stagnant in the workplace, but not everybody wants to put in the hard work. Meet even the smallest tasks with care and precision. Offer your assistance when you have down time in the office, and always be sure to communicate your intentions with the head of your department. Showing interest in new responsibilities is key.
Think Like a Boss
Keep an entrepreneurial mindset! Just because you're an entry level employee doesn't mean your thoughts aren't valuable. Speak up and offer fresh and innovative ideas to your company. Your supervisors will be impressed with your initiative--everybody loves a go-getter!
Network Effectively
Sometimes it's not what you know, but who you know. Don't discount old employers and even distant associates. Contact your connections three times a year. Keep up with them on LinkedIn and congratulate them on new promotions and advancements. In addition to former colleagues, make an effort to network internally with people at your current job.
Transitioning into the "real world" is rough, but with these tips and a steady drive, you'll be just fine. Stay motivated, work hard and don't forget to snag Welcome to the Real World on shelves now!