This is blog post was written by a friend of the Intern Queen Network, Ariel Kendall, a 2011 graduate of the University of St. Thomas.
Before embarking on my summer internship abroad in 2009, I thought I had mastered the keys to effective professional networking; after all, I was a communications/Journalism major on my way to Barcelona, Spain for an amazing internship opportunity of a lifetime.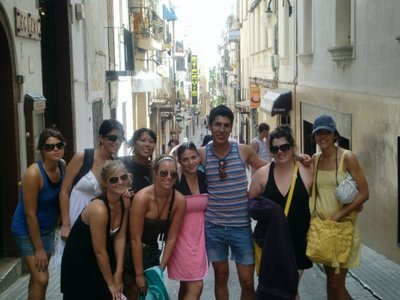 Connecting and building relationships were essential to my responsibilities as a college journalist; networking was also a major factor in my pursuit and interest in interning as communications specialist for the Barcelona Chamber of Commerce through Dream Careers. I was presented my internship opportunity from my college career counselor, a connection I had made through utilizing my university's career center as a central resource.
I knew I was in good hands with Dream Careers, as they are well-accredited and even gave me the opportunity to chat with alumni about their amazing program experiences and to ask them for advice. However, I was still very nervous; this was my first college internship and I was about to travel across the world, away from everything familiar to me.

I wasn't a fluent Catalan speaker, nor was I familiar with the city outside of maps I had seen in tourism books. I knew I had to find people and resources to help me get the most out of my internship and over all abroad experience. I knew I had to step out of my comfort zone and network with other students, Dream Careers staff and people in my office to enrich my overall experience.
Here are some helpful tips to get you on the right track to using your networking skills to your best advantage so you to can secure and succeed in your internship:
1. Get organized. Make an excel spreadsheet with a contact list of your current network. Think about the networks you already have: colleagues and supervisors from past jobs and volunteer work, extracurricular activities, etc. Record their name, number, email and your point of connection. This will help you pinpoint the key people you should be connecting with.
2. Set goals. When I was in Spain, I made it a goal to meet two new people a day. I was determined to learn the language to the best of my ability.
3. Pay attention to your associations. Connect and meet others that are working in the career field you are studying; surround yourself and engage with others that have what you want -- learn and take their advice. Dream Careers made it easy to put myself in situations to improve my networking skills, offering weekly career seminars and professional networking events to connect with program alumni working in their am desired professions.
4. Make Your ideal job known. Make a one-page description of your ideal internship position. Be as detailed as possible and give this to your mentors and your network of supporters. I have always been told that if you have a clear vision of what you want, it will be much easier for others to pass along opportunities that best fit your passion and expertise. While in Barcelona, my employer wanted me to be creative and do work that I enjoyed while also being a true asset to the company. I made my own projects and presented my ideas; be ready to step up and take the reigns.
5. Make it fun. You network every day: in the classroom, when you are out with friends, and online. While in Barcelona, I made it appoint to get my daily exercise in; I found myself connecting with my gym instructor and talking with basketball players that were willing to help me learn more about the city and language.
6. Go the extra mile. Set yourself apart and get noticed with consistent follow-up communications with your network of professional mentors. Your personal connection with employers is especially important, especially now with the rising competitiveness and massive number of applicants applying for the positions you want.
7. Stay connected. Forming lasting professional relationships can open doors for you and help your career take flight. I still keep in touch with my summer Dream Career staff and employer today and it has been truly rewarding - I am staffing for my second summer in Los Angeles with the program!

My last piece of advice is to never stop connecting with others, inside and outside of your professional field-there are so many people out there that are willing to share their stories and words of wisdom with you and who also want to hear your valuable insights. The more you network, the more confident you will become and the more fun you will have. I encourage you to get out of your comfort zone, step away from the television and start connecting with others to see the endless possibles for your future that are out there for you to more than just simply dream about.