By Steenie Harvey, InternationalLiving.com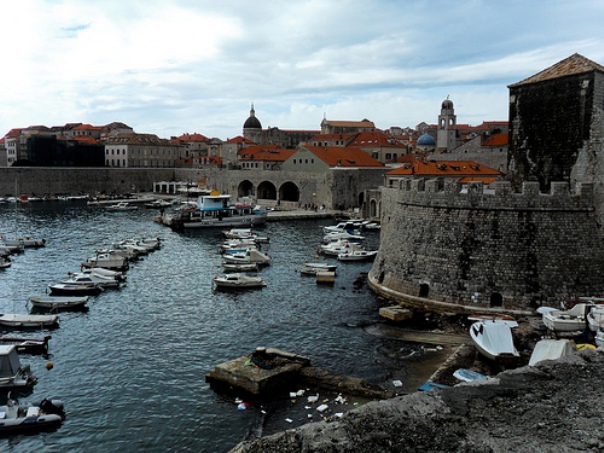 Photo by Steenie Harvey, InternationalLiving.com
This article comes to us courtesy of InternationalLiving.com, the world's leading authority on how to live, work, invest, travel and retire better overseas.
Today, Croatia is pulling out all the stops. Trees froth with blossoms, fields are speckled gold with wildflowers, and there's the scent of summer in the air. The temperature is 68 F. Perfect for boat trips, islands and exploring fishing ports -- the kind where nets dry in the sunlight, cats snooze on doorsteps, and harbor restaurants come with terrace tables brightened by red-checker cloths.
A konoba generally indicates a restaurant with traditional local specialties. At the far side of Supetar's harbor, Konoba Lukin's menu is chalked on a blackboard. As it's entirely in Croatian, it looks baffling. Although I usually avoid places with multi-translation menus, here they almost always come with English, Italian, and German translations. As Croatian isn't a widely-studied language, that's not surprising. All I've learned so far is dobro jiitro (good morning) and hvala (thank you).
Enticing aromas waft from the kitchen, so I definitely want lunch here. The question is, a lunch of what! Happily, the young waiter speaks English, as do most Croatians under the age of 40. His name is Frannie and he's outrageously handsome -- which is probably why I get persuaded into opting for his recommendation: a risotto of sea snails and fresh asparagus.
Sea Snails. Interesting...maybe too interesting. But Frannie is enthusiastic, the glass of steely-dry white wine is excellent, and so far every risotto has been wonderful -- including a black risotto of squid cooked in its own ink.
What arrives is a buttery $14.50 mystery. It's a relief that it's tasty and unthreatening, but whatever creatures the risotto is studded with, they don't much resemble snails.
The Dalmatian Coast
Less than an hour by ferry from Split, Brač lies off Croatia's Dalmatian stretch of jigsaw-puzzle coastline. As it covers a large section of the country's 1,100-mile-long littoral and also takes in the cities of Dubrovnik and Split, I spent most of the trip in southern and central Dalmatia. Strung with a necklace of islands of all shapes and sizes. Hand on heart, I have never seen more spellbinding seascapes anywhere in Europe.
Cliffs and a backdrop of karst mountains lend a ruggedness that you don't get on the Italian side of the Adriatic. Secluded coves of shingle and white-pebble beaches are punctuated by elegant resort towns and tiny ports where you can often purchase supper from the man who caught it. The mountains are forbiddingly bare and gray, but that only accentuates the colors of everything else: russet-roofed towns, spinach-green vegetation, and the hypnotically oh-so-blue sea.
Hitting a zenith in July and August, the vacation season doesn't really get started until late May. Although spring weather can be unpredictably rainy at times, and the one or two restaurants in smaller settlements are sometimes closed, the lack of crowds is a blessing for travelers who seek more than beach life.
It helps boost the feeling of having landed in some bygone corner of Europe that time forgot. All along the Dalmatian coast and on many islands, small towns are set like jewel-pieces within medieval walls -- and wandering back into history is much more enjoyable when you're not jostled for every inch of space. There's been a lot of new construction, certainly, but outside the larger coastal cities it's not high-rise sprawl.
There are the little things, too. Stopping at an oyster farm for a sampling, and being able to buy a glass of wine from the (unlicensed) farm kitchen. Seeing vegetables that don't conform to standardized EU size and shape. At the moment, there are few bars where smoking is banned inside, and a lot of Croatians smoke. Of course, things may change in many ways now that the country has recently joined the EU as a full member.
The music probably won't. Adding to the time-warp feel, I don't think I've heard quite as much 1980s pop music since -- well, the 1980s.
Delectable food and wine, often home-made, is still incredibly good value. The bill for my first night's dinner in Split was a pleasant shock. Considering it's Croatia's second-largest city, I expected to pay more than a mere $17 for grilled sea bass (two, not one) with a salad and a carafe of local red wine.
Certainly for vacationers, so much in Croatia is good value. A round-trip ferry ticket from Split to Brač: $9.60. A 20-mile bus ride to Trogir, a perfectly preserved medieval town once under the control of the Venetians: $3.60. In most places, a cone of Italian-style ice cream is $1.20.
If you're happy with simple accommodation, a room with private bathroom facilities can cost as little as $32 nightly--that's what I paid at House Sandra in Split. In Marsaka, a studio with kitchenette, and easily spacious enough for a couple, was $51 nightly. Everywhere I've been, people at bus stations or docksides hold up Apartman and Sobe signs. Sobe means "room," and there are plenty available.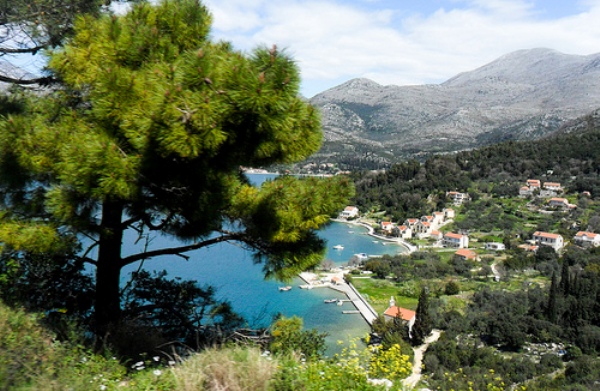 Photo by Steenie Harvey, InternationalLiving.com
Walled Dubrovnik
On the surface, there's now little evidence of the conflict that broke up Yugoslavia in the early 1990's after Croatia followed Slovenia and declared independence. That said, memories of the war flood back in Dubrovnik--the Pearl of the Adriatic. From atop its 13th century walls, the view down onto the terracotta rooftops clearly shows a distinct color difference between the old and new tiles. Many had to be replaced or completely rebuilt after the barrage of the bombardment during the siege by the Serb-led Yugoslav army.
As with the rest of the Balkan countries, Croatia has a complex history -- as does Dubrovnik. Between 1358 and 1808, it was called Ragusa and served as the capital of a wealthy maritime republic of the same name. The marble pavements, churches and aristocratic palaces of the old town all mostly date from that era.
So do curiosities like the "Stone Curtains of Morality." Near the Ploče Gate, this balustrade staircase leading to the Dominican monastery and church had its lower half blocked with small pillars. I loved the explanation: that it prevented lascivious males from leering at the exposed ankles women who had to lift their dresses when climbing the steps.
Spring and fall are when to see Dubrovnik at its best. During summer there can be as many as eight cruise ships docking each day, and the pedestrianized old town gets overwhelmed by a crush of bodies. Even with only one ship in port, it felt plenty crowded to me.
In all honesty, although you should undoubtedly visit -- its Adriatic Sea setting makes it one of the world's most magnificent walled cities -- I was happy to leave. Geared to cater for "here today, gone tomorrow" cruise passengers, it's an unabashed tourist trap. Prices for almost anything are way above elsewhere in the country. Once you know normal Croatian prices, it hurts to pay between twice to three times as much for a Dubrovnik coffee.
The Port of Split
The port city of Split was a retirement haven as far back as Roman times. The Emperor Diocletian built a waterfront palace here, as massive edifice of limestone and marble quarried from Brač Island, which was completed in 305 AD. Inside its walls, with their four monumental gates, it turned into a medieval city of labyrinthine alleys where laundry still flaps from pulley lines and windows. Unlike with most palaces, there are no entry fees or closing hours. Even today, something like 3,000 people live and work within its walls. Packed with restaurants and bars, it's a surreal place.
Turn a corner, and you come upon an Egyptian sphinx and a temple to honor the Roman god Jupiter. Turn another and you're in the overgrown courtyard of the Ghetto Club, kitted out inside with anarchist slogans and Croatian poetry. Plot a course to the Golden Gate and you're confronted with a monumental statue to a bishop, Gregorius of Nin. Superstition tells that rubbing his left big toe bestows good luck. It has been polished to a shine.
Split has mushroomed since Diocletian's day -- its industrialized outskirts aren't too visually appealing -- but I prefer it to Dubrovnik. It has a life beyond tourism, and it feels far more vibrant.
Along with forays up and down the coast, you can day-trip to a number of islands from Split. Ferries are more numerous during the summer, but unless you're planning to take a car across, there's little need for advance planning to take a car across, there's little need for advance planning. Just visit the Jadrolinija Ferry office on the dockside and check what's going where.
In front of the palace façade, the Riva is Split's palm-lined waterfront. It's an inviting place to stop for sundowners, ice creams, or coffee and flaky cherry strudels. At the west end of the Riva, narrow cobbled streets lead into Varos, the fishermen's quarter.
Dried figs...early strawberries...honey. For picnic supplies, head for the city market. Outside the Silver Gate of Diocletian's Palace, the eastern gate, it's open every day. It isn't an "every-stall-a-photo-op" market, but the air-dried hams, cheeses, and vegetables are there to be bought and eaten, not arranged prettily for your photographic benefit.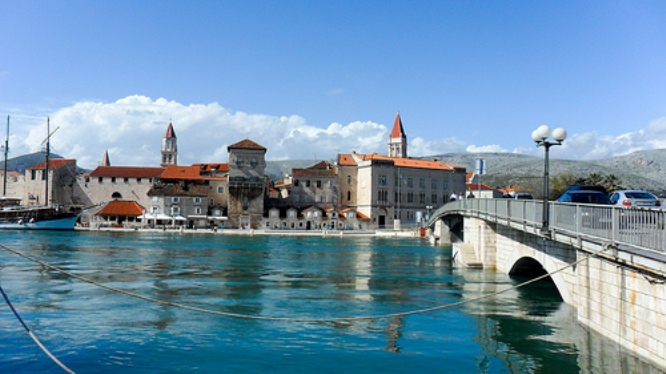 Photo by Steenie Harvey, InternationalLiving.com
Island Magic
Depending on who answers the question, Croatia's piece of Adriatic blue is offset with around 1,200 islands and islets--and if you can't see at least one from the shoreline, you should probably visit an optician. Only 66 are inhabited, but that still allows plenty of scope for island-hoppers. As North Americans can stay for up to 90 days without a visa, that allows for a lot of islands. Along with Brac, I made forays to Korcula, Trogir, and Ciovo on this trip.
An island of olive trees and small vineyards, Korčula claims Marco Polo as its son. At the time of his birth, 1254, the island was under Venetian rule. There are a number of Venice's famous winged lions in the pedestrian-only old quarter of Korčula Town, and the Cathedral possesses two Tintorettos. Organized daytrips out of Dubrovnik generally make the 10-minute crossing to Korčula from Orebic on the Pelješac Peninsula. As the Pelješac's growers produce one of Croatia's best-quality red wines, Dingac, they generally include a vineyard visit for wine-tasting on the way back.
Trogir is a medieval gem with UNESCO World-Heritage status, and you don't need to take a boat to reach it. Compacted onto a tiny island connected to the mainland by a bridge, Trogir is served by frequent buses that make the 20-mile journey from Split.
Radiating around a 13th-century cathedral with carvings of centaurs, mermaids, and an Adam and Eve standing on a pair of stone lions, it's an atmospheric place of cobbles, courtyards, and stairways. Go down to the waterfront, cross another bridge, and you're then on the island of Ciovo.
As Ciovo isn't richly laden with historical architecture, foreign day-trippers tend to leave it in peace during the low season. Home to around 6,000 residents, its attractions are more of the seascapes, beaches, pine woods and blue water variety. Not that the island is entirely without a past. It has a number of antique churches, and in the 15th century, it often served as a hideaway for Trogir residents in fear of Turkish pirates.
The pace of life is slow, but Ciovo doesn't die in winter. Most residents do their main shopping in Trogir, but Okruj Gornji village has all the necessities for daily living as well as bars and restaurants.
In summer, it comes alive. The bridge link turns Ciovo into Trogir's seaside suburb, and Split is only a short bus or car journey up the coast. The island's string of little beaches can get as busy as anywhere during July and August.
Related Articles:
Live on an Island: Seven of the World's Best
Enjoy a Great Quality of Life in Malta
Property Bargains in Italy's Basilicata Region