By Heather Van Deest, InternationalLiving.com
This article comes to us courtesy of InternationalLiving.com, the world's leading authority on how to live, work, invest, travel, and retire better overseas.
Thai cuisine is known the world over for its delicious, distinctive flavors. In fact, the phrase "Have you eaten yet?" is a typical friendly greeting among Thais. It's no surprise, then, that Thailand's urban capital of Bangkok is known as a foodie paradise, especially when it comes to regional and national cuisine prepared and sold from stalls lining the city streets.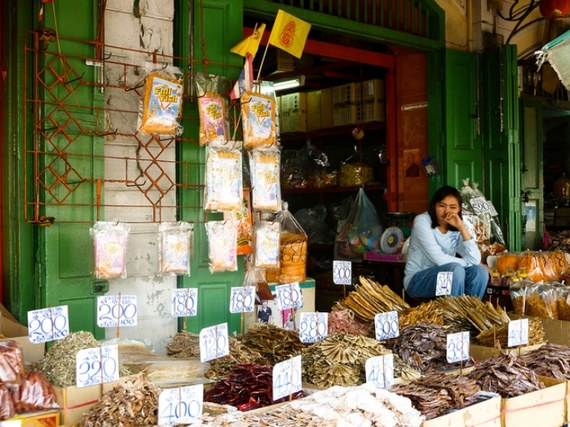 From noodles to grilled snacks and everything in between, the dishes on offer in Bangkok are endless. Dining on the street is incredibly cheap, typically just a few dollars or less. But with so many tempting choices, where do you start? Here are seven street-food eats you don't want to miss on your next visit to the "Big Mango."
1. Tom yum goong. Made with lemongrass, galangal, kaffir lime leaves, lime juice, fish sauce, and chili peppers, this "hot-and-sour" shrimp soup features the quintessential flavors of Thailand. Commonly served over rice, the soup also includes mushrooms and sometimes tomatoes. It comes in two varieties, tom yum nam sai, a popular clear-broth version, and tom yum nam kon, a creamy variety made with coconut milk. No matter which version you choose, be prepared for a spicy kick!
2. Khao mun gai. One of Bangkok's most popular street foods, this Thai-style take on the classic Hainanese dish is comfort food at its finest. Chicken and rice simmered in rich broth and Thai herbs create the distinctly fragrant flavor. The dish is traditionally served with a bowl of chicken broth on the side, spicy dipping sauce, and garnishes of cucumbers and cilantro. Although rarely included on the menus of Thai restaurants in the West, khao mun gai stalls are ubiquitous in Bangkok.
3. Pad kee mao. Different theories exist as to how these so-called "drunken noodles" got their name, but there's no question that a bowl of spicy pad kee mao is delicious. The wide, flat rice noodles are stir-fried in a wok, along with soy sauce, fish sauce, chili, and garlic, as well as meat, herbs, and vegetables, depending on which stall you choose. Originally made popular by Chinese immigrants living in Thailand, today pad kee mao has earned its place as a tasty street-side indulgence.
4. Moo ping. From their portable roadside grills, vendors start serving up moo ping, or barbequed pork skewers, to hungry office workers in the morning and continue grilling until late in the night. Marinated in rich spices, these bite-sized snacks are served with sticky rice and nam jim, or dipping sauce. You can also find grilled chicken skewers (gai ping), as well as pork and chicken versions of satay, another popular grilled snack served with peanut sauce.
5. Som tam. Originating in the country's northeast state of Isaan, this classic salad combines all of Thai cuisine's main tastes -- sweet, salty, sour, and spicy. Made from shredded green (unripe) papaya, lime juice, tamarind, fish sauce, dried chilies, and peanuts, the name "som tam" is literally translated as "sour pounded," since all the ingredients are put in a mortar and pestle for preparation. Often served alongside grilled chicken and sticky rice, this salad comes in many variations, though som tam tai, made with cherry tomatoes and string beans, is most popular in Bangkok.
6. Guay tiew. From beef to chicken and duck to crab, the kinds of noodle soup available from street-food stalls is dizzying. Rice noodles, along with meat, are added to your bowl and a steaming broth, usually flavored with herbs and onions, is poured on top. Select from an array of condiments -- dried ground chili, fish sauce, vinegar, and sugar -- to give your noodles a kick. Countless versions of guay tiew exist, including "boat noodles," named for the dish originally prepared and served from small boats on Bangkok's historic canals.
7. Khao niao mamuang. Similar to rice pudding and considered one of Thailand's most celebrated desserts, this dish features sticky rice lathered in coconut cream sauce, topped with slices of sweet, ripe mangoes. You'll also taste salty undertones, in keeping with Thai cuisine's pairing of various flavors. For a slightly crunchy finish, toasted mung beans are sprinkled on top, making this dessert as much about the texture as the flavor.
Top Spots for Curb-Side Eats
You'll find street-food stalls throughout the city, though for some of the best and most plentiful options try these locations:
Sukhumvit Soi 38. Conveniently located near the Thong Lor skytrain station in the heart of the city, here you can sample everything from pad Thai to fruit shakes. There's also a popular mango-and-sticky-rice stall.
Saochingcha. Some of the stalls in this area--near the "giant swing" monument and close to the popular backpacker area of Banglampoo--have been in operation for generations. Download a free map and guide here.
Soi Convent. Stalls on this tree-lined street in the silom area serve up moo ping, som tam and a variety of noodles to hungry office workers by day and to the bar-hopping set at night.
Related Articles:
13 Ways To Keep Busy In Chiang Mai, Thailand
Opening A Dive Business In Exotic Phuket, Thailand
Eat Like A Local At Spain's Best Food Markets