This article originally appeared on Inverse.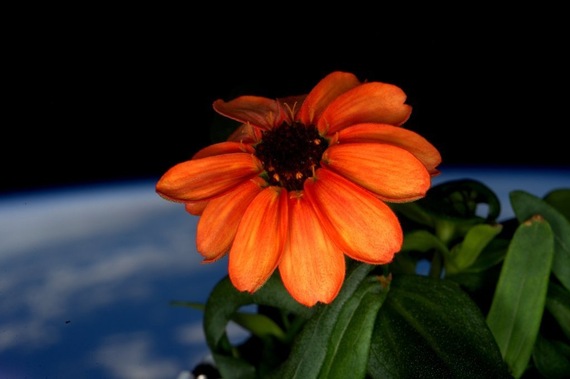 By Adam Toobin
NASA astronaut Scott Kelly has been notably quiet in recent weeks -- Late Show appearances aside -- allowing the first Briton ever to go into space, Tim Peake, to Dominate. The. Headlines.
It turns out this reticence wasn't all courtesy. Apparently, he was spending time helping the first flower ever to bloom in space. He accomplished his mission on Sunday, sharing with the world a Twitter picture of a blood orange zinnia:
First ever flower grown in space makes its debut! #SpaceFlower #zinnia #YearInSpace pic.twitter.com/2uGYvwtLKr

— Scott Kelly (@StationCDRKelly) January 16, 2016
Never one to miss an opportunity to point out how cool science can be, he quickly followed up his first post with a message reminding us that life in space can take many forms.
Yes, there are other life forms in space! #SpaceFlower #YearInSpace pic.twitter.com/BJFWvQXmBB

— Scott Kelly (@StationCDRKelly) January 16, 2016
While scientists aboard the International Space Station have grown wheat and lettuce in the past, Kelly's zinnia is the first flower to produce a blossom. NASA's project manager at the "veggie" growth lab told The Independent that his team chose to grow a zinnia for the mission, because "it is more sensitive to environmental parameters and light characteristics," adding "It has a longer growth duration between 60 and 80 days."
"Thus, it is a more difficult plant to grow, and allowing it to flower, along with the longer growth duration, makes it a good precursor to a tomato plant."
#SpaceFlower out in the sun for the first time! #YearInSpace pic.twitter.com/Cghu9XGv1J

— Scott Kelly (@StationCDRKelly) January 17, 2016
Space's first zinnia (that we know of) may look strong and healthy now, but it's been something of an odyssey to reach this point. A little less than a month ago, Kelly tweeted a picture of some depressed-looking zinnias covered in mold.
Our plants aren't looking too good. Would be a problem on Mars. I'm going to have to channel my inner Mark Watney. pic.twitter.com/m30bwCKA3w

— Scott Kelly (@StationCDRKelly) December 27, 2015
So, yeah, he channeled his inner Mark Watney (from The Martian), presumably cutting himself off from the rest of the crew and using the desperation that comes from a close relationship with death itself to bring life to the far reaches of the galaxy. Or he just remembered to water them.
Some of my space flowers are on the rebound! No longer looking sad! #YearInSpace pic.twitter.com/HJzXaTItIf

— Scott Kelly (@StationCDRKelly) January 8, 2016
The zinnia flower may be the most beautiful of NASA's recent botanic endeavors, but the goal of growing plants in space has everything to do with survival.
Alexandra Whitmire, of the NASA Human Research Program, told The Independent:
"In future missions, the importance of plants will likely increase given the crews' limited connection to Earth. Studies from other isolated and confined environments, such as Antarctic stations, demonstrate the importance of plants in confinement, and how much more salient fresh food becomes psychologically, when there is little stimuli around."
MORE FROM INVERSE:
What If We Haven't Found Aliens Because They're Extinct?
CIA Releases Declassified UFO Documents
Facebook Millennial Study Shows We Want to Pay Debt and Save
33 Million Americans In Awe of a Blizzard Again
More Americans Without Insurance Are Turning to Alternative Medicine
Photos via Scott Kelly; NASA