On this perfect day when everything is ripening and not only the grapes are becoming brown, a ray of sunshine has fallen on my life: I looked behind me, I looked before me, never have I seen so many and such good things together.  Not in vain have I buried my forty-fourth year today; I had the right to bury it... How could I not be grateful to the whole of my life? ~ Nietzsche, "Ecce Homo"
What if I forgave myself? I thought. What if I forgave myself even though I'd done something I shouldn't have? What if I was a liar and a cheat and there was no excuse for what I'd done other than because it was what I wanted and needed to do? What if I was sorry, but if I could go back in time I wouldn't do anything differently than I had done? What if I'd actually wanted to fuck every one of those men? What if heroin taught me something? What if yes was the right answer instead of no? What if what made me do all those things everyone thought I shouldn't have done was what also had got me here? What if I was never redeemed? What if I already was? ~ Cheryl Strayed, "Wild: From Lost to Found on the Pacific Crest Trail"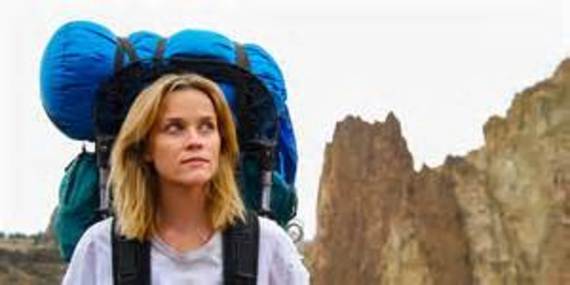 I had no idea that Reese Witherspoon was such a visionary, genius producer. To have read the book "Wild: From Lost to Found on the Pacific Crest Trail" and have hired the perfect writer, Nick Hornby, and ideal director, Jean-Marc Vallée... wow!... the entire production is magical, exhilarating, breathtaking... it is such a beautiful and profound work of art.
Of course Ms. Witherspoon crushes it as an actress but there are so many integral components that gel together to make "Wild" a wondrous film it is easy to overlook the performance of one woman trekking 1000 miles from Mexico to Oregon.
When I read about the plot I thought that I would wait until my next airplane trip to view the film but I am glad that something compelled me to see it on the big screen. It's flawless. The tempo, pacing, cut-aways, pans, long-shots, music... Laura Dern as her mother... Cheryl's self-soothing of sundry traumas shown as bleary flashbacks... her quest to find a way to grieve her losses... her wily at escaping the onslaught of lascivious men...
What "Birdman" articulates about the tragic plight of American men, "Wild" does for American women, who often learn blunt tools for getting their emotional and psychological needs met - namely, what Martin Seligman termed "learned helplessness" in tandem with whatever else they are instructed regarding gender roles and sexuality. So to watch a woman trudge through a landscape of seedy men and find the inner resolve to brush them off when falling back into old patterns would have been just as easy - nay, easier... to witness the self-overcoming required to fearfully walk the walk - literally - through No Woman's Land - is staggering.
And then the exquisitely mindful ending.... Cheryl - who strayed - embracing her past promiscuity, the heroin, the meandering - her entire life, her entire healing journey - all of the things that most viewers would consider to be abominable at best and avoidable at worst - and recounting about the family she was able to create after all hope for a traditional life would have seemed lost.
"Wild" is a daring, inspiring film of one brave woman's self-overcoming and the journey she had to go on to own her life, to embrace all aspects and every minute of it, and release the "woulda-shoulda-coulda-didn'ts" that our minds are wont to create. It is also the story of another woman's triumph in bringing that poignant story to the screen with grace, dignity and love.
Don't miss it.