They say all roads lead to Rome but the Via Emilia doesn't go there directly. Instead, it traverses Emilia-Romagna in a nearly straight line---from west to east---connecting with other roads that do. Without stopping, it's about three hours by car from one end to the other. But there are so many reasons to detour off the road, that the trip could take days or weeks.
While hoards of American tourists find their way to Veneto (to the north) and Toscana (to the south), the Via Emilia is a road less traveled. So you rarely encounter queues or have to worry about making dinner reservations. Yes, a little less English is spoken here but a surfeit of warmth, friendliness, and hospitality make up for it.
My husband and I had visited Bologna, the capital city of Emilia-Romagna, several times before. The large, well-preserved historic center is a pedestrian zone that can be explored easily by foot. On this trip, however, we wanted to venture beyond the gates and miles of arcades. So ensconced in a rental car with a Hertz NeverLost navigation system and prepared with an iPad with Google Maps for backup, we set forth from Malpensa airport in Milan.
Piacenza is about an hour and a half away from the airport. Starting there, we followed essentially the same route that the Romans took when the road was originally completed in 187 B.C. The Via Emilia (now a modern highway called SS9) spans a distance of about 165 miles between Piacenza, which sits beside the Po River midway between Milan and Bologna, and Rimini on the Adriatic coast. Some of the Via Emilia is actually built atop the ruins of the original Roman road.
Blessed with a climate that is seemingly perfect for agriculture and farming, most Italians agree that the nine provinces of the Emilia-Romagna region comprise the gastronomic heart of Italy. Between strategically placed storybook castles and fortresses are endless miles of farmlands covered with grapevines, olive groves, and citrus trees. On both sides of the road, we spotted cattle resting in the autumn sun.
Our trip was a mix of planning and serendipity but we soon realized that a week was far too short for all there was to experience, beckoning us to return again. The slides show a few of the more memorable highlights along the way.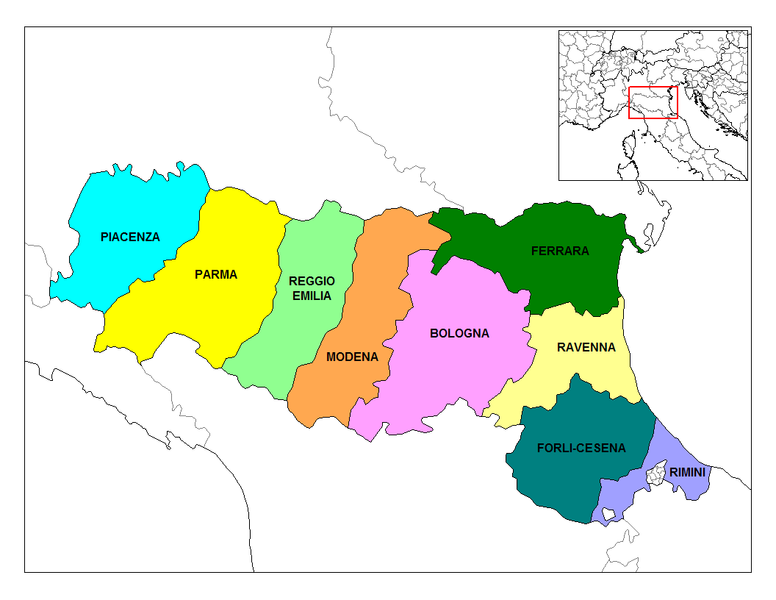 The provinces of Emilia Romagna
From Wikipedia
Photo Credits: Jerome Levine
For further information and brochures about the region, contact:
Emilia-Romagna Tourism Office
PHOTO GALLERY
A Road Trip on the Via Emilia