If you're traveling to central Italy this summer, don't miss the chance to participate in the annual celebration of Notte Rosa (Pink Night), which will take place along more than 60 miles of the Adriatic coastline on Friday, July 1, 2011.
The city of Rimini is centrally located at the heart of all the events and its iconic Grand Hotel, Tiberius Bridge and Four Horses fountain will be swathed in pink canvas for the occasion. The theme of this year's Notte Rosa is "the dream is here," a theme especially apropos given that filmmaker Federico Fellini is the most famous son of Rimini and his movies are known for blurring the lines between dreams and reality. Many will remember Fellini's Amarcord, which immortalizes The Grand Hotel and the beaches of this seaside resort.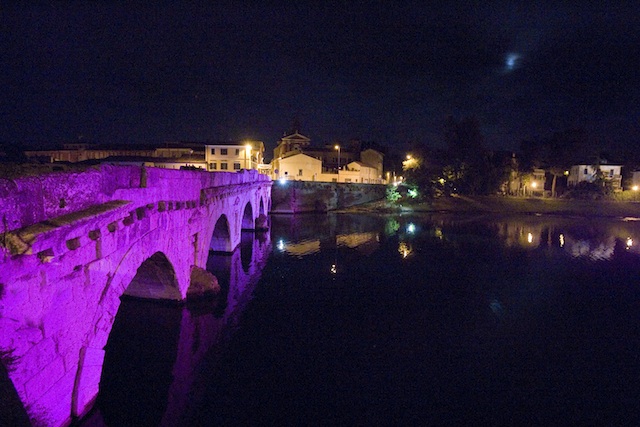 Tiberius Bridge in Rimini on Notte Rosa
The nonstop Pink Night party, somewhat akin to Mardi Gras and the Fourth of July rolled into one, will turn the entire coastline of the region pink for 24 hours, extending from Comacchio on the north to Cattolica on the south. However, many of the festivities, including music and dance performances, concerts, live theater and contemporary art exhibitions will extend throughout the weekend.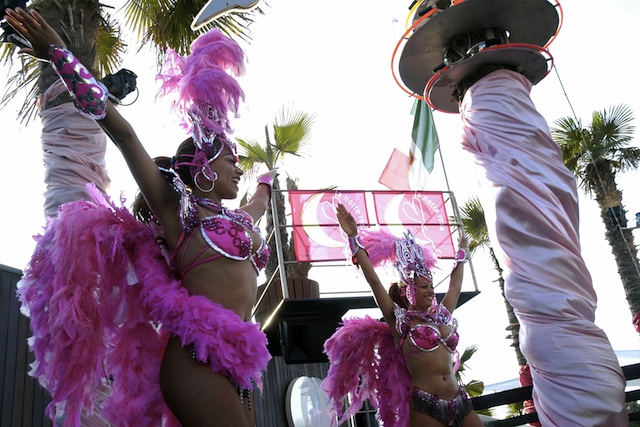 Live entertainment
The sky will turn pink, too, with a fantastic midnight display of fireworks scheduled simultaneously at 25 different beaches along the coast. At major towns, roads illuminated by 1,500 pink street lamps will only be open to pedestrians. The marina at the town of Bellaria Igea will be decorated with 10,000 pink roses and 20,000 wisterias. In Riccione, beachgoers will be able to gaze up at the pink sky from one of 10,000 beach mattresses wrapped in pink fabric.
Participating hotels will be offering special rates for this sixth annual event, which is organized by a consortium that includes the province of Rimini, local municipalities and Emilia Romagna tourism.
For more information on Notte Rossa, visit the Notte Rosa website and Emilia Romagna Tourism.
All photos courtesy of APT Servizi Srl Emilia-Romagna.