Following my 40th birthday I was seized by a strong urge to do something new and different - learn something I knew nothing about, even a subject that had never before occurred to me. As most of us 60s products know, this feeling is a common phenomenon. Some people decide to buy Harleys or sports cars, others take skydiving lessons; still others decide they need a new mate. I decided on riding lessons.
My older brother had owned a horse when we were teenagers, and although I had been to the stables with him and been around the beautiful Icelandic horses back then, the thought of asking him to give me a lesson never particularly occurred to me.
I wasn't quite prepared for what I saw in my first riding lesson -- which was in America. Compared to Icelandic horses, which are positively dainty and slim, (if you'll forgive describing a horse thus), American horses are like skyscrapers. I was filled with enthusiasm while driving to my lesson, but as I approached the stables where my teacher stood waiting with a gorgeous black horse, my spirits quickly dampened. Terrified, I approached the animal. My nose seemed to be level with its belly.
After several unsuccessful attempts at mounting the patient beast -- which my teacher did with admirable ease and elegance -- I resorted to painter steps. "Don't let him feel you're afraid," she said once I was in the saddle. "Let him know you're the boss." The horse seemed to snicker at me." Yeah right. I'll show you who's boss around here..."
I completed a few lessons without much enthusiasm to continue my equestrian studies. I had enjoyed the lessons, but in any case, winter was around the corner, and my teacher was moving out of the area. But the horse bug returned this week when I enrolled my children in riding lessons at the Reiðskóli in Reykjavík, Iceland. (Reykjavík Riding School).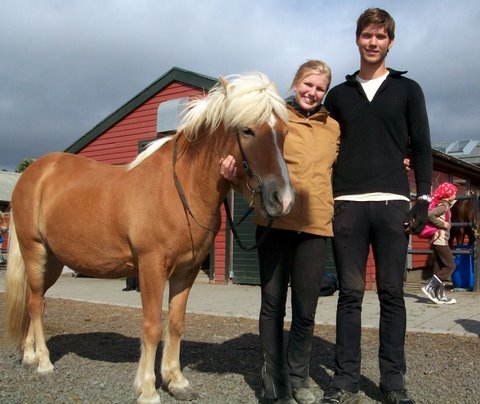 The young owners of the Reykjavík Riding School, Þórdís Jensdóttir and her fiancé Óskar Sæberg.
The school, which mostly caters to young children, is owned by a couple of - well, kids! And very able and ambitious kids at that. Þórdís Jensdóttir and her fiancé, Óskar Sæberg, who both are only twenty years old, recently bought the 50 horse outfit where they have been offering lessons since June. They plan to continue doing so in the summers, from June until August, when they are on summer break from their studies in Equine Science at the Hólar University College, which is located in the valley Hjaltadalur in the Skagafjörður district in northern Iceland.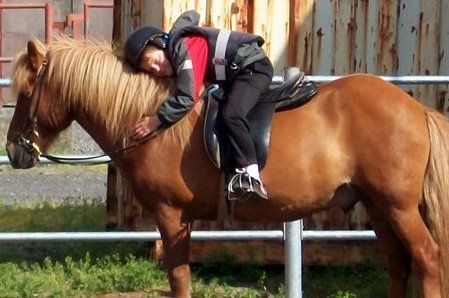 Daníel Gunnar Lee: "Wait mamma, I have to hug my horse."
Þórdís and the young teachers seemed to supervise the thirty or so kids in various levels of study with mindblowing ease and efficiency. My nine year old son was a little wary at first at the idea of the lessons, but yesterday, on his third day he confidently sat his beautiful horse Greifi, and calmly guided him toward me at the end of the lesson. "Wait mamma, I have to hug my horse," he said and bent over, wrapping his little arms around the horse's neck before dismounting. My eight year old daughter, whose mindset tends to be on the annoyingly fearless side, rode her black Skúmur with gusto - and the usual recklessness as she let her hands go off the reins. "I'm the king of the world!"
Both of them were already in love with their horses and were certain they'd get to take them home ("we can keep it in our yard!") at the end of lessons!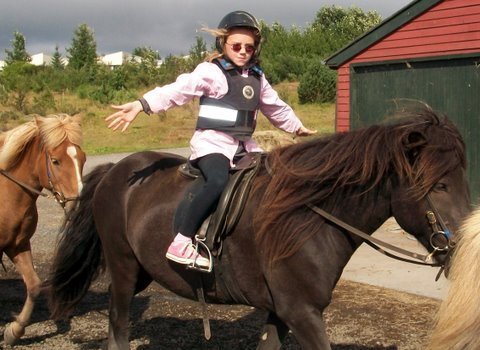 Ásdís Soffía Lee: "I'm the 'king' of the world!"
Following the lesson they showed me "their" horses with much pride and told me I had to hug them, which I dutifully did, whispering words of thanks to the magnificent animals for being so patient and gentle with my babies.
I'm counting the days until Tuesday. That's when my sister and I are having our lessons on Icelandic horses, and I know from experience that we're going to feel like "queens of the world"!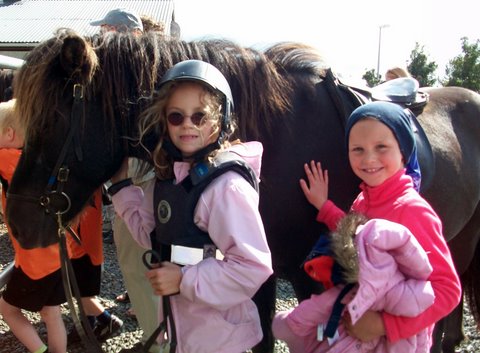 Happy horse campers: Cousins Ásdís Soffía Lee and Arnfríður Helgadóttir.


Photos: Íris Erlingsdóttir