When I heard about Newark Mayor Cory Booker's one week Food Stamp Challenge, I was intrigued. As a bone health and nutrition coach, I wondered whether you could not just survive but eat well on food stamps.

When I say eat well, I mean eating fresh, unprocessed, organic, non-GMO food. Now that's a challenge! With my friend Vicki, we set a goal to eat well on a budget of $4.40 per person, per day -- the same "per day" budget Mayor Booker used.

Food budget:
Daily: $4.40 per DAY, per person
Weekly: $30.80 per WEEK, per person
Vicki is a vegetarian, but I'm a meat eater. We ate mostly vegetarian except for some sardines for moi! The rules were no junk or processed foods, with the emphasis on organic and non-GMO foods.

Here's what our provisions looked like for week #1: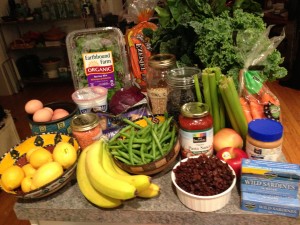 Protein: Eggs, black beans, red lentils, full fat Stonyfield French Vanilla Yogurt, peanut butter, sardines
Fat: Peanut butter, yogurt, olive oil, flax seeds
Veggies: Kale, red cabbage, string beans, celery, salad, carrots, onions, tomato sauce, garlic
Grains: Steel cut oats, Lundberg rice
Fruit: Lemons, bananas, apples, raisins
Other: Green tea on sale and Sprouted Ezekiel Bread

Breakfast every day was slow-cooked steel cut oats (cook once, eat 4-5 days) with a few raisins and yogurt. Our two pounds of oats lasted the week, feeding two people for just $2.80. The yogurt's full fat sweetness sustained me.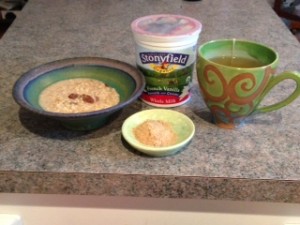 Beats any boxed cereals that are heavily processed. You DO NOT get the nutrients in boxed cereals, not to mention the added sugars. Eating foods in their whole form, not processed, is the way we were able to get through this challenge.

Recipe: OATMEAL
• Soak 1 cup oats overnight to remove phytic acid, which can prevent mineral absorption.
• Discard soaking water.
• Bring 2 cups of fresh water to a boil. Add raisins. Cover. Simmer for about 20 minutes.
• Add ground flax seeds and yogurt.

When not on the food stamp challenge, I spice my oatmeal adding cardamom, cinnamon, clove, vanilla, raisins and goji berries. I'd use either plain raw yogurt (for the probiotics) or almond butter as my source of fat.

Lunches choices:
• Collard roll up with veggies.
• Two sardines (with bones packed in water) sauteed with onion, a green salad with dressing made from lemons, crushed garlic and olive oil.
• One egg, a green salad, one slice of toast with peanut butter.
• Black beans and rice, a side of steamed kale and raw garlic (great preventative tip during flu season).

Recipe: SIMPLE BLACK BEANS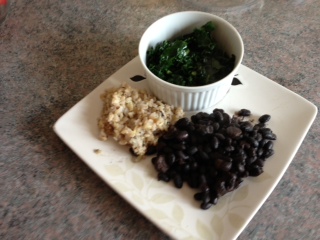 Beans are a wonderful source of protein (and inexpensive); black beans are particularly good for your bones.
• Soak dried black beans overnight.
• Throw off soaked water.
• Chop: 1 onion, 2 carrots, 2 celery stalks. Using 1-2 T of olive oil, sautᅢᄅ onions first (4 minutes) then sautᅢᄅ carrots, celery with the onions.
• Add beans and 2-3 cups of water. Bring water to a boil, lower flame to a simmer, cover and cook for 1-1 1/2 hours until beans are soft.

The cooked beans would become: beans and rice dish, bean soup, and later black bean burgers.

Dinners: Soup and salads, black bean burgers, or 1 egg, toast and a salad. Rotating food choices was key.

We were seriously hungry the first two days. I also noticed my brain was a bit dull. I savored my snacks (half a banana or apple, or celery with peanut butter) to make them last. We kept busy so we wouldn't think about eating but I still obsessed about wasted food in restaurants. Dumpster diving was beginning to sound like a good idea.

I became a vigilant steward of my food. Smelling burnt toast one multi-tasking morning, I panicked, knowing the allotted slice, charred or not, was all there was.

After just three days, we were recycling leftovers, turning yesterday's red lentils into tomorrow's soup. It took creativity to prepare fresh-looking meals.

We hadn't included any treats, even though it was the holiday season. When Vicki wanted to celebrate Chanukah, we had to scramble. Two sweet potatoes, oat flour made in the blender, two eggs, and VOILA! we had delicious sweet potato latkes, string beans with a side of our yogurt.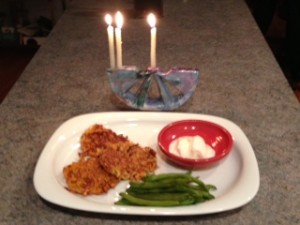 Midway into the second week, I was craving a hamburger but settled for a homemade black bean burger. It was good but... it wasn't a burger. There was lots of settling, compromising and making do during the two weeks.

Our biggest challenge was preparing balanced meals with limited ingredients. We compared prices, bought in bulk, watched for sales and pinched our pennies.

Success!
At the end of twoweeks we stayed within our food stamp budget. Our food was good for our health and our bones. And our choices were 97 percent organic.

After the first two days, our appetites adjusted to more modest meals. We both lost five pounds without feeling hungry. Emotions ran high. Frustration arrived when I couldn't buy what I wanted. I felt the checkout embarrassment: When I was over budget. I noticed the impatient stares from the shoppers behind me at the checkout as the huffy manager voided the purchase. "So sorry," I heard myself say to the vacant stares.

I shopped late in the day on a full stomach. Shopping hungry is a liability.

We both felt grateful and fortunate for the choices we enjoy. We also have renewed empathy for those who face a real food stamp challenge every day, especially now with the drastic cuts.

I'm more careful with food now. I don't waste it or scrape it into the garbage. I also feel empowered knowing that I can feed myself well for $4.40 a day.

Food stamps don't have to mean bad food or junk food. Wholesome, organic, nutritious food is affordable. It takes additional effort to find it and cook it. It helps to have support from urban gardens, community supported agriculture (CSA) and co-ops to keep costs down. As in most activities it's key to buddy up.

When you trade junk and processed food-like products for whole, organic, real food, you get so much more nutrition for your dollar. That makes all the difference in your health.
My bones dance reading your comments below.