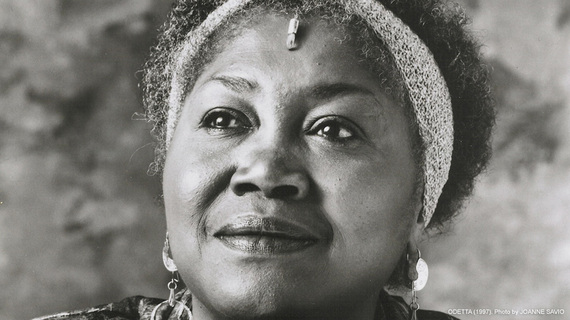 Wednesday night I saw an array of beautiful luminaries including: the still handsome Harry Belafonte, the ever talented Ruben Santiago Hudson, and the magnificent Jessye Norman (to name just a few) who came out to see the world premiere of Odetta, choreographed by Mathew Rushing for Alvin Ailey American Dance Company and presented at New York City Center.
Legendary Odetta Holmes was one of the boundless and stunning voices of the civil rights movement, wise in thought, rich in voice and able to convey the very deep nature of anger and despair that swept the African American culture onto the rocky road to freedom from tyranny and isolation -- embodied through the earthy sound of folk music, composed by many and sung Ms. Holmes. Listening to a recording of her talking about the trials of these times with such poetic grace it is hard not to be stirred by her words and all the history of feeling such marginalization. Some of the songs which the choreography is set to are, Sometimes I feel Like a Motherless Child, Cool Water and Glory, Glory. Hope Boykin presented a buoyant Odetta in her physical incarnation as the activist/singer setting her profound voice to motion.
A favorite moment was when Rachael McLaren and Marcus Jarrel Willis pantomimed the famously comical There's a Hole in the Bucket from an old recording of Harry Belafonte and Odetta. I could not help but turn around for a moment to see Harry Belfonte smiling while leaning on his walking stick. Marcus Jarrel Willis was a delightful Henry to Ms. McLaren's Liza.
The evening radiated passionate feeling from the dancers to the audience which was returned with the over-wilhelming appreciation of all seated. It did seem sometimes like the synchronicity of the dancing was not quite fully cooked; the lighting design was dull and lackluster, the costuming was mediocre at best, even with that being said I would not have missed it for the world. Alvin Ailey's Revelations is no less inspired now then it was in 1960. Especially Sinner Man danced by Jeroboam Bozenan, Collin Heyward, and Sean Aron Carmon. It was a pleasure to watch them fly. Do see Odetta performed by the marvelous The Alvin Ailey Dance Theater this holiday season and beyond.