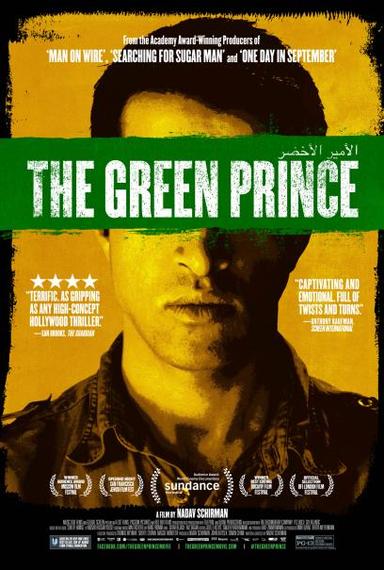 FILM REVIEW (Interview to follow):
THE GREEN PRINCE Film by Nadav Schirman
The Green Prince has the emotional and psychological impact of a thriller documentary of unusual proportions.
Filmmaker Nadav Schirman deftly tells the story of Mosab Hassan Yousef, code name, "The Green Prince." The son of former Hamas leader Sheikh Hassan Youssef, (who is now serving time in an Israeli prison) and the author of "Son of Hamas" who turned from Hamas loyalist to an Israeli informant. With Errol Morris style intimate close-ups of Mosab and Gonen Ben Itzhak, his Shin Bet (Israeli Intelligence) handler, Schirman conveys what happened in well-balanced clear detail. Our eyes remain transfixed on the subjects of his film as they share their stories. Max Richter's stirring music supports this wild ride, as we get to know these two people, both of whom we are at first suspicious of, until we find that we cannot help discovering their humanity through their dilemma.
17-year-old Mosab deeply loves his family and community; his original aim is to avenge his father's repeated and long imprisonments in Israeli jails by acquiring a small arsenal of weapons to use against those who have caused his family such heartache. We are taken with Mosab's raw tenderness, and frightened for his well-being when he is arrested and meets his Shin Bet handler Gonen in prison, who at first objectifies Mosab and invites him to become an anti-terrorist spy for Israel. Mosab plays along just to placate Gonen, but once he's sent into the prison population to join the ranks of men accused of terrorism, he witnesses a bizarre scene of torture and murder by Hamas on Palestinian prisoners. They are accused without proof of helping the Israelis and killed with no conspiratorial connection to the Israelis. As things develop Mosab becomes disenchanted with Hamas and his wheels begin to turn to make a daunting decision; save lives and try to live up to his moral principles or continue to be groomed to be a future Hamas leader. There is little reward in this for Mosab except to save as many lives as possible. He will hold this secret for a decade.
Gonen and Mosab's relationship progresses dramatically. At one point, Shin Bet goes so far as to withdraw at the last minute from a mission to blow up some highly dangerous Hamas figures so as not to endanger Mosab who is with them. While Mosab evolves into a spy, Gonen grows from a Shin Bet handler to a friend watching a young man struggle with monumental matters. Transcending any barriers between them, he risks his own standing inside the agency and stands up for Mosab in a time of desperation when no one else will.
With so many twists and turns Schirman tells his story like a book, in chapters, giving each section names such as, RESPONSIBLTY and GAMES. Archival footage of Hamas demonstrations, Israeli raids, reenactments, and arcane surveillance footage all make one feel intimately involved. The film without a doubt is a compelling human journey set against a political setting of ancient proportions and terrifying possible consequences.
Expect a lot of the unexpected in this film; in my humble opinion it should be nominated for an Academy Award.
An interview with Mosab Hassan Yousef, Gonen Ben itzhak, and Nadav Schirman to follow.
Opens September 12th at Lincoln Plaza in N.Y.C. and the Landmark in L.A.
For more film opening locations, dates, and times go to: www.musicboxfilms.com
Contact: ifhpblog@gmail.com