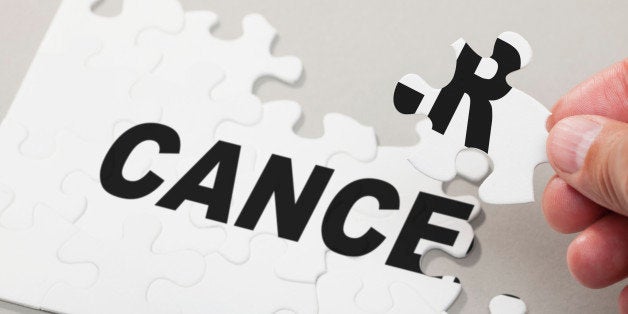 I'm going to try to avoid the clichᅢᄅs in this piece, namely: "I never thought this could happen to me." It's true that, at 23, I wasn't exactly expecting to get skin cancer.
When my dermatologist told me that my biopsy was cancerous, my mind and fears moved at a frantic pace, with the words "cancer," "treatable," "surgery," "common," and "you are very young."
I wasn't at all sure how to react. On one hand, I hadn't been handed a death sentence. As far as skin cancer goes, this is the one I'd pick. Basal cells are the most frequently occurring skin cancer, with an estimated 2.8 million cases diagnosed in the U.S. each year. They're treatable, too.
On the other hand, it was on my face. I'd need surgery. Plastic surgery. And at 23, I'd never expect to walk into a dermatologist for a check up and walk out as a patient. Even getting me there in the first place required the incessant nagging of my mother, who once again proved her supreme wisdom.
Now that the cancer has been removed, I'm left pondering the whole experience. I keep replaying the progression of my emotions -- which I think was normal: First I was annoyed, or pissed, even, that I was the one who had to deal with this. Then I was worried, scared that this could and still might be the beginning of a trend. Then I was stressed. I'd need a day off work (turned out I needed three), I'd need to return to get the stitches removed, and I'd need to explain the bandage on my face over and over again.
And now, a few days removed from being cancer-free and left with nothing but a mild scar, I feel two more things: gratitude and confusion.
Gratitude because, hey, it wasn't melanoma. It wasn't prostate cancer. It wasn't something that required chemotherapy, which I've seen enough people go through to know I'd never wish it on an enemy.
Confusion because, well, why was it that I had to be so neglectful of my body? Why did it take me so long to realize something was wrong? Why did I need my mom to remind me four or five times to make an appointment and get looked at?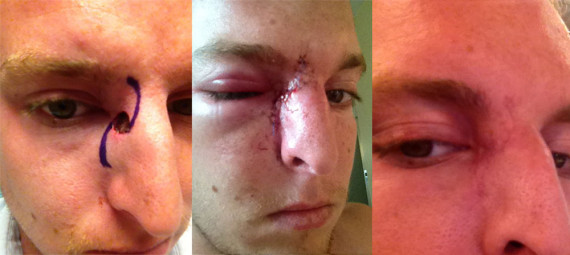 The simple answer is I'm 23, and I assumed being young meant being healthy. I spend the majority of my time worrying about how I can succeed at work, make my family proud of me, catch Game of Thrones, drink with my friends, impress my girlfriend and -- here and there -- engage in a conversation or a read that stimulates my mind.
At the bottom of that priority list is my long-term health, which seemed like a thought more appropriate for my 30s. Even lower on that list was the health of my skin. But you better believe those priorities are going to change.
A few weeks ago, I wrote a piece proclaiming my quest for gratitude; how I'd do my best to find the things worth appreciating day in and day out. Today, I'm appreciating the wake-up call. I'm appreciating the fact I've been gifted the second-chance to take a few minutes and put on sunscreen, to examine my own health and well-being each morning, to take advantage of health care and doctors and education and progressive medicine here in the United States.
But the difference is significant: Unless you're a lawmaker or mother nature, there is little to nothing you can do about GMOs and gun violence and climate change. On the contrary, the control you have over your body is unlimited. Prevention is easy, and it is effective.
With so much in this world that we can't control, I'm going to start with what I can. Why don't you join me?