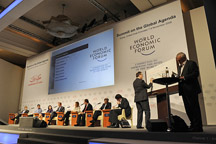 BBC presenter Nik Gowing moderates the closing session of the World Economic Forum's Global Agenda Summit in Dubai November 9. Photo by Dana Smillie/WEF
DUBAI -- It's no news that our house is on fire. And what room isn't burning? Financial systems, climate, environment, water, energy, media -- they're all melting. The alarms keep coming in.
Systems crashed. Malware drove agendas. Viruses sickened morals.
The world needs a "fundamental reboot."
That was the urgent message from the first-ever Global Agenda Summit convened here last weekend by the World Economic Forum. It wasn't another "gab fest," as one participant put it, rather a roll-up-your-sleeves Manhattan Project designed to help break old habits, launch new systems and, with luck, avoid massively devastating mistakes.
The results of the summit will inform the agenda of the Forum's annual flagship meeting in Davos-Klosters, Switzerland in late January under the theme "shaping a post-crisis world." The reports will also provide input to the G-20 economic summit this weekend in Washington.
One chance to get it right
In the halls of Dubai's Mina A' Salam Conference Center there was a palpable feeling that we have one chance to get it right. It's been barely a week since grasping for the past -- "drill, baby drill" -- was a prominent mantra for the future. What a world that would have been.
"If we don't have perspectives on our future, we will remain in a crisis," Professor Klaus Schwab, founder of the World Economic Forum, implored 700 global thinkers as they gathered last Friday morning with a dire charge: map solutions to 68 of the world's greatest challenges. These were scientists, academics, economists, engineers and designers representing researched, seasoned perspectives, not ideologue opinionators dominated by old-world agendas.
Sixty-eight labors. Hercules would cower: from bringing safe water to billions, taming weapons of mass destruction, demanding accountability from financial systems to creating harmony among faiths.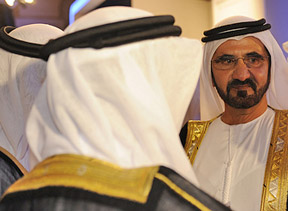 Sheikh Mohammed Bin Rashid Al Maktoum, Vice-President and Prime Minister of the United Arab Emirates. Photo by Dana Smillie/WEF
"Crises are not solved by wars, weapons or a show of power," said H.H. Sheikh Mohammed Bin Rashid Al Maktoum, Vice-President and Prime Minister of the United Arab Emirates, and the co-host of the event. "This is evident in current crises... and had brain power been utilized, the world would not be in the situation it is today."
Said Schwab: "The challenges faced by the world today are more complex, more interrelated, more intractable than ever before. Confronting these global challenges requires collaborative thinking, creative solutions and, most importantly, a systematic approach to implementation."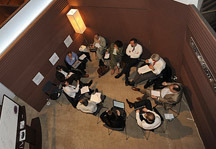 Global Agenda Council participants in a brainstorming session at the Mina A' Salam Conference Center in Dubai.
An urgent work in progress
With such heady, aspirational conversation that, as Schwab says, will inform global leaders for years, what will come of this inaugural ideas summit?
As the participants scribbled on white boards in the hall next door, skepticism emerged from colleagues in the press room. "Actually, I'm a cynic," said one reporter, a long-time observer of high-brow brainstorming conventions. "I can't find the larger outcome."
"But it's a bit like college," added Mark Townsend, business editor for the Khaleej Times in Dubai. "It's hard to get to the gist, but it's a work in progress."
Each of the 68 Global Agenda Council groups, whose members represented some 60 countries, attempted to answer two questions:
• What is the state of the world on this issue and how is the economic crisis impacting the issue?
• What should be done to improve the state of the world on this issue/region/industry and by whom?
See the links below for their full answers.
In a grim state
"The outlook for the global economy is the worst that many of us have seen in our lives. There is no country, there is no industry that will be completely immune.... No one did a good job... we all failed. Everyone has to have a seat at this table."

Suzanne Nora Johnson, former vice chairman, Goldman Sachs
"We could have very bad ideas and those bad ideas to confront the crisis could have lasting and costly consequences for years to come."

Ernesto Zedillo Ponce de Leon, Director, Yale Center for the Study of Globalization, Yale University, USA
"2008 is the precursor to a perfect storm like we've never seen before. We have a problem deeper and more fundamental than the financial crisis. Our missteps could be irreversible. This is not a fringe discussion.... We need a fundamental reboot of the system."

Josette Sheeran, executive director of the UN World Food Program
"We are moving into a new era -- one of hope and optimism.... The world believes, 'Yes, we can' make the change." Mohamed Ali Alabbar, co-chair of the Global Agenda Summit

Seeking sudden clarity
From grim state to a sustainable, equitable future in three days? It took nearly a decade to reach the moon. But it was imagination, creativity and passion that got us there.

Dr. Milton Tan, a member of the Global Agenda Council team that focused on design.

"The creative process seeks patterns where there is sudden clarity," said Dr. Milton Tan, executive director of the Design Singapore Council, an organization of the Singapore Ministry of Information, Communications and the Arts. "Some people call it a light bulb where the page of messy scribbles suddenly pops and configures itself. This summit is reaching that clarity."


Grievance vs. hope
What's clear is that we're entering a new era of imperative choices, an unprecedented time that, as GAC member Brian Collins says, can be defined either by grievance or hope. It's our future. It's our hope. We have one chance. Stiff belt. Swallow hard. Roll up our sleeves and get moving.

Links
World Economic Forum
World Economic Forum Summit on the Global Agenda
Global Agenda Council highlights
Global Agenda Council reports