First there was the career as a rock guitarist in a Spinal Tap-like band. Then came a gig as staff attorney at a corporate litigation firm in New York.
Now, the artist known as Xiomáro is stepping up to serious photography.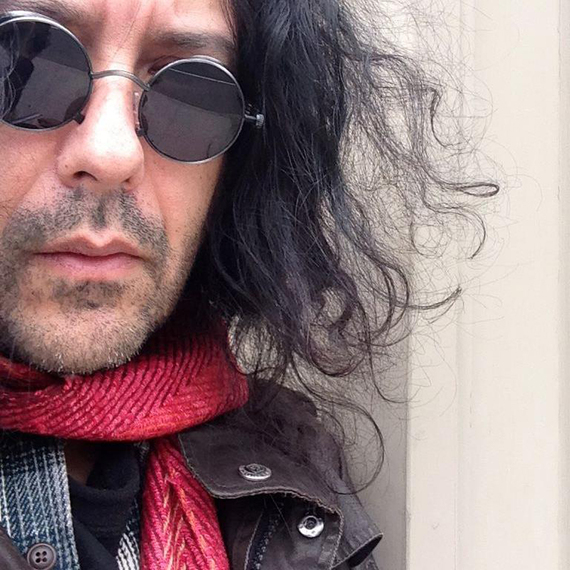 Xiomáro
As in naturally lit images of Theodore Roosevelt's Sagamore Hill overlooking Oyster Bay in Nassau County, N.Y. It was home and "Summer White House" for the 26th president and his family from 1885 until his death in 1919. And Xiomáro had it basically to himself, as he soaked up the atmosphere and shot his photos for the National Park Service.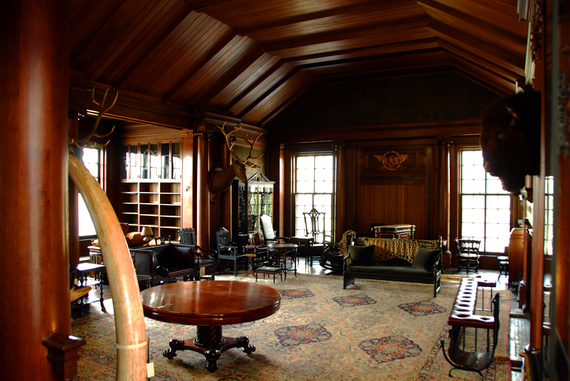 North Room, Sagamore Hill; Xiomáro
"By the standards of other wealthy people in the area, it was pretty humble," he says. "He had some parts added, like the iconic North Room - where he met with dignitaries. When I got there, it was the ultimate man cave - you can tell he was an alpha male, with its dark paneling, and a very strong masculine feeling, with the trophy heads."
It has its feminine touches too, designed for Roosevelt's wife, Edith. "There's a parlor where she would meet with the ladies from society - it's lighter in color, with blue hues," he says.
On the second floor is the master bedroom with the innovation of a shower, as well as guest rooms and bedrooms for the children. On the third floor is the gun room, spaces for maids and cooks, and under the eaves, a trunk room complete with Edith's actual luggage.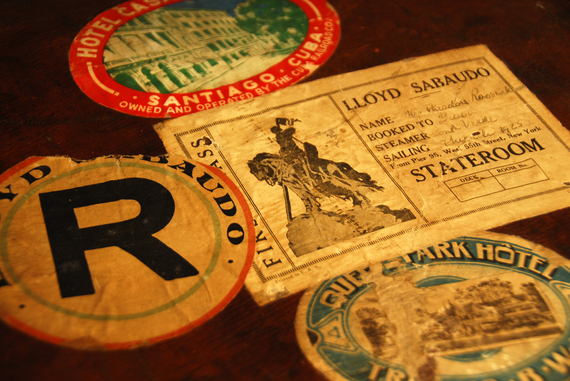 Trunk Room Decals, Sagamore Hill; Xiomáro
"I tried to photograph things that people wouldn't see on a tour," he says. "The Park Service wanted me to document the house in an artistic way."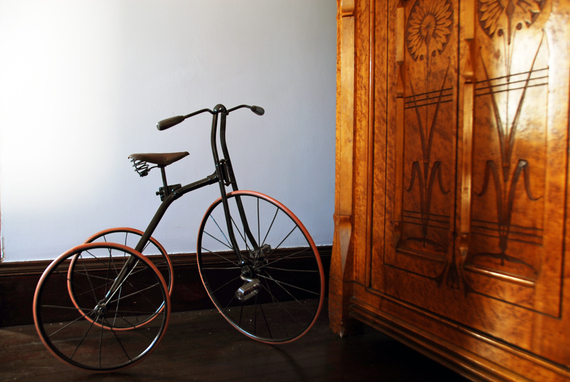 Velocipede, Sagamore Hill; Xiomáro
His exhibition of 40 images went on display today at the Executive and Legislative Building in Mineola, N.Y. The white-domed, classical revival-style structure is listed in the National Register of Historic Places -- and it's a fitting location for the show.
"It was built in 1900 as a courthouse," he says. "When Teddy Roosevelt was governor of New York, he laid the cornerstone."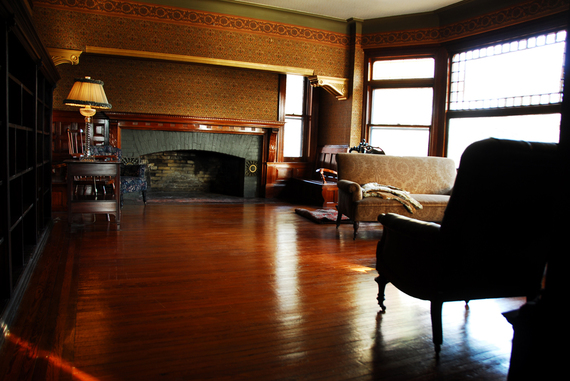 LIbrary, Sagamore Hill; Xiomáro
But if you want to see it, you'll need to be as nimble and timely as Xiomáro's photographs. The exhibition runs only through Oct. 23.
J. Michael Welton writes about architecture, art and design for national and international publications, and edits a digital design magazine at www.architectsandartisans.com, where portions of this post first appeared. He is the author of "Drawing from Practice: Architects and the Meaning of Freehand" (Routledge Press, 2015).