First of all, there are the books.
A clue to the attention to detail in guest rooms at Streamsong Resort in central Florida's Bone Valley, their titles read like a Who's Who of American literature.
On the shelves are William Faulkner's Light in August, Harper Lee's To Kill a Mockingbird and Ralph Ellison's Invisible Man, along with T. S. Eliot's Collected Poems.
It's as though someone took thoughtful measure of each tome, then designed a niche for it and carefully placed it where it belonged.
That someone would be the new resort's architect, Alberto Alfonso, of Alfonso Architects in Tampa, Fla.
He began in 2009 when The Mosaic Company in Florida challenged him to create a resort from 250 acres on a reclaimed phosphorous mining site in the center of the state.
The architect was given carte blanche that extended to the paintings for each room, and even the scents within.
Alfonso's design is an Aalto-esque organic curvature of lines, inspired by a landscape without grid or building context. The resort's surrounded instead by 100-foot-tall phosphorous dunes, the detritus of long-gone mining operations now reclaimed by nature. The new lodge overlooks a stream-fed lake brimming with 10-pound bass and 12-foot alligators, with ancient dinosaur bones and sharks' teeth embedded ashore.
Alfonso took initial cues from scars left by large-scale industrial digging. "The first impression that struck me was this organic line because of the way it was mined, one that's moving in both the X and Y directions," he says. "It's flat on the banks, and up and down on the dunes created by mining the largest concentration of phosphate in America."
Then he looked to nature.
"I drew a lot of the banks, and tried to pull the geometries in." he says. "Some sketches led to idea of a tree that fell across the bank. And then there was this sectional idea of Florida under water."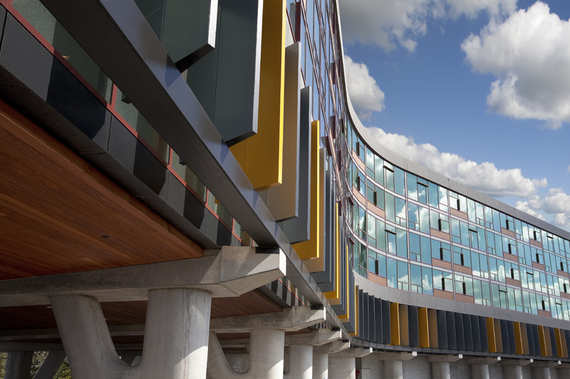 Exterior Facade, Streamsong Resort
Suppose, he reasoned, the design could represent a cross-section of the site, with roots below the surface, the lake's edge above, and tree canopy in the sky? And suppose the lodge's rooms became the canopy, and the rooftop reached for the stars?
"It gave me a strategy for moving forward in a rational way," he says.
The new lodge is 300,000 square feet, with 216 rooms, a full-service spa, three restaurants, and an 18,500 square-foot conference center. A rooftop bar, 150 feet high, offers views of sunrises, sunsets and much of the Milky Way. A golf clubhouse not far away is snugged between the dunes and offers 12 more rooms in a collegial atmosphere.
Acclaimed golf course designer Tom Doak is responsible for the Streamsong Blue course; Bill Coore and Ben Crenshaw - known for their meticulous restoration of Pinehurst No. 2 - handled the design for Streamsong Red. The two courses are already ranked No. 12 and 14 in the nation for resort golf course design. More courses are rumored to be on the way.
But it's the books in the guest rooms - especially A Land Remembered, Patrick Smith's 1984 best-selling novel about Florida pioneers - that call attention to the care and thoughtfulness that created Streamsong.
For more information, go to http://www.streamsongresort.com/
J. Michael Welton writes about architecture, art and design for national and international publications. He also edits and publishes a digital design magazine at www.architectsandartisans.com, where portions of this post first appeared.
Photos by Albert Hurley