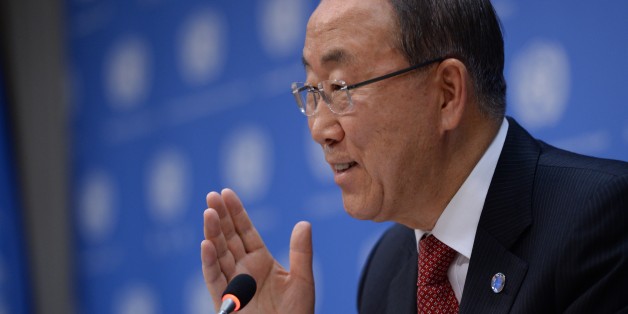 One of my earliest heroes was Dag Hammerskjold, second secretary-general of the United Nations. The United Nations was formed in 1945; I came along in 1949. Mr. Hammerskjold served the international community from 1953-1961, when he lost his life in a plane crash; I was 12 years old. Secretary-General Hammerskjold was a profoundly spiritual man, a good man, a humble man, who wrote in his diary, markings, "Goodness is so simple: Always live for others; never seek one's own advantage." Mr. Hammerskjold personified goodness and humility.
In 2007, Mr. Ban Ki-moon of Korea was elected the eighth secretary-general of the United Nations, and then, in 2012, re-elected unanimously. Goodness and humility also grace the person of Secretary-General, Ban Ki-moon, who works tirelessly for justice, world peace, human rights, the rights of women and young people, for food, energy and water for the world's poor, and social and economic development of developing nations. Particularly heroic is his work to stop violence against women and children. His campaign against rape camps carries the hopes and prayers of millions.
Good work for justice requires individual compassion, conviction, courage and commitment. One person can make a huge difference in our world, as history repeatedly teaches. So can communal will and organized, mobilized bodies, such as governments, churches, synagogues, mosques, non-profit organizations and the United Nations.
Tragically, our world is broken, filled with want, war, human rights violations, disease and death. Thankfully, the United Nations shines a bright light in the darkness of human failings. Blind eyes see. Goodness chases evil. Blue Helmets and green initiatives make our world a better place. Quiet negotiations and loud denunciations expose social injustice the world over.
The ancient prophet, Micah, declared the Creator has a controversy with His people due to callous exercise of evil. What then? Should humans bring offerings and sacrifices to appease God, Micah asks? He responds:
"He has shown you, O Man, what is good. And what does the Lord require of you, but to do justice, love kindness and walk humbly with your God."
But what does that mean? Love and justice are moral absolutes. To do justice means to treat people fairly. To love, or to love kindness, means to help people whenever possible, especially the vulnerable, the poor, the needy. To walk humbly with God is to see one's own need.
Humility may well be the mother of all virtues. Without humility we will not hear the call to serve others. Humility makes justice and loving-kindness our life's mandate. In humility we follow former Secretary-General Hammerskjold's counsel, and Secretary-General Ban Ki-moon's example, to always live for others, to never to seek our own advantage, but the advantage of others.
Mr. Secretary-General, in your eloquent address at Nelson Mandela's funeral you gratefully noted Mr. Mandela's life's work for justice, freedom, reconciliation, and equality. You shared,
"Nelson Mandela showed us the way with a heart bigger than this stadium and an infectious smile that could power its lights. In fact, he lit up the world." You went to say, "It is the duty of all of us who loved him to keep his memory alive in our hearts, and to embody his example in our lives."
Today, may I say, "You do that!" Thank you for your advocacy for women and children, for your peacekeeping initiatives, for your work for social and economic development of developing nations, for your strong convictions on caring for our planet, for your passion for social justice and human rights, for your heart for the needy.
Thank you for a life well-lived, for service well-rendered, for hope desperately needed.
May we all, like you, live our lives, loving our neighbor, serving the needy, doing justice, loving kindness, and walking in humility with God and others.