Venture into Africa's areas of natural beauty to seek out each region's extraordinary game on horseback.
BOTSWANA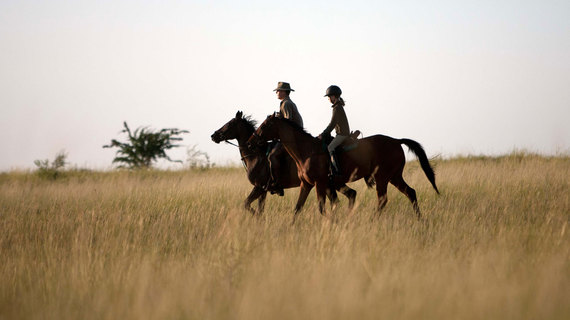 Between wet and dry season, Botswana's Makgadikgadi Pan offers two starkly different safari experiences. During the green season, from November to April, the salt pan fills with water, enabling algae to grow and crustaceans to thrive, in turn attracting flocks of pink flamingoes. The great migration arrives at this time too, as zebra and wildebeest come to graze on the lush grass, with predators following in their tracks. In the dry season the region once again becomes a desolate landscape of desert and vast white salt pans, when unique desert species, such as meerkats, inhabit the land. In both seasons, Camp Kalahari offers horseback safaris, enabling travellers to explore this extraordinary landscape as the early pioneers would have.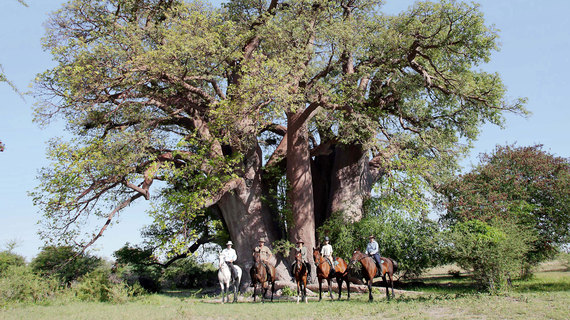 Chapman's Baobab: One of the largest trees in Africa.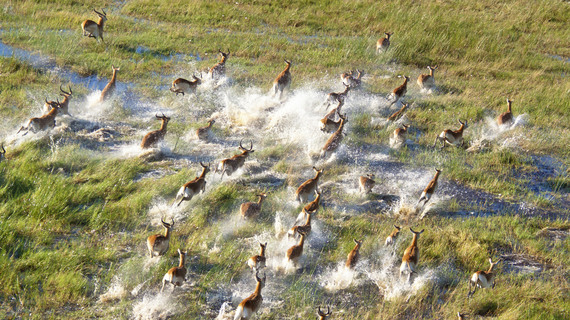 Known as one of the world's most wildlife-rich regions for its sheer abundance and diversity of species - from tiny frogs to wading elephants and prides of swimming lions - the Okavango Delta has everything to offer for an unforgettable safari. For a truly authentic experience, embark on a mobile safari expedition - a journey that pays homage to the origin of safari and enables you to explore Botswana's diverse environment with the freedom to discover its most remote areas while following the game. Privately guided horseback safaris can be arranged in the Okavango Delta with a fly camp - in which temporary camps are set up throughout your journey - incorporating a few hours of riding each day, with time set aside for game drives and canoe trips.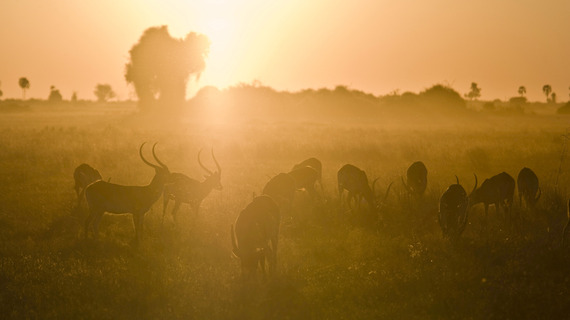 KENYA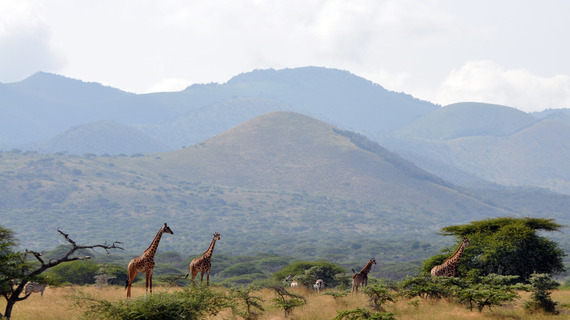 3. CHYULU HILLS
Believed to be the world's youngest volcanoes, Chyulu Hills sit between Tsavo and Amboseli National Parks, creating an especially scenic backdrop to the game-rich plains. Birdlife and a huge population of elephants inhabit the plains, as well as predators like cheetah and lions, made even more special by the sight of Mount Kilimanjaro on the horizon. On the 275,000-acre Mbirikani Group Ranch, the slopes of Chyulu Hills are the setting for Ol Donyo Lodge, from where you can seek out the land's game, meet the resident Maasai and explore the rolling landscape on a horseback safari.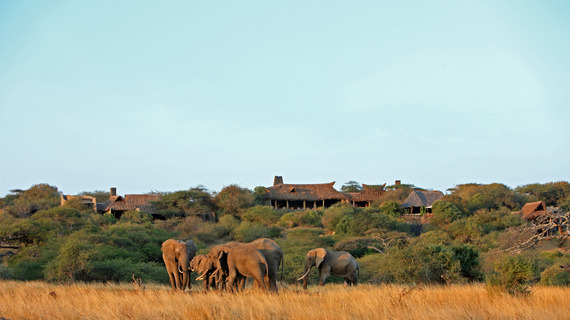 Chyulu Hills, KENYA.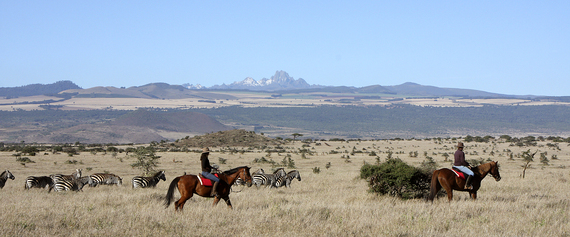 4. LEWA
This 62,000-acre private conservancy encompasses grassland plains, forest, wetland and hills and is regarded for its strong conservation ethos that has resulted in a healthy population of the endangered black rhino and Grevy's zebra. Aside from setting out on game drives to discover the habitat's resident species, visitors can experience the culture of the land as the conservancy works closely with the Maasai community. By staying at Lewa Wilderness Lodge, guests can also explore the land on horseback. Nestled amongst trees, individual cottages each have their own verandas overlooking the land and are close to a river where lions, leopard and elephants can often be seen, while the lodge's stables are home to over 30 horses.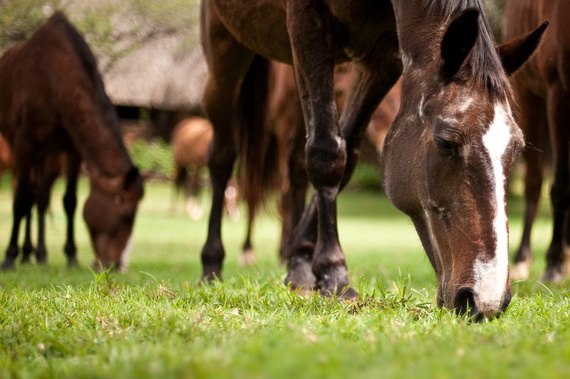 The horses at Lewa in Kenya.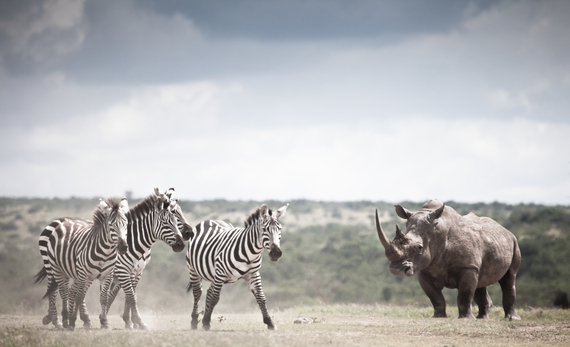 In the foothills between the Aberdares and Mount Kenya, the 45,000-acre Solio Private Reserve is made up of open plains, forest glades, lakes and swamps, with a dense population of game, including protected black and white rhino, making game drives especially rewarding. Solio Lodge is situated within the reserve, with just six luxury cottages that each have floor-to-ceiling windows for panoramic views over the reserve where waterbuck, impala and zebra graze. From the lodge, set out across the surrounding land on horseback.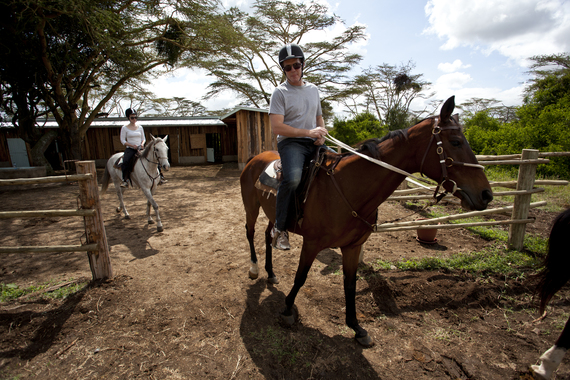 Setting out on horseback from Solio Lodge.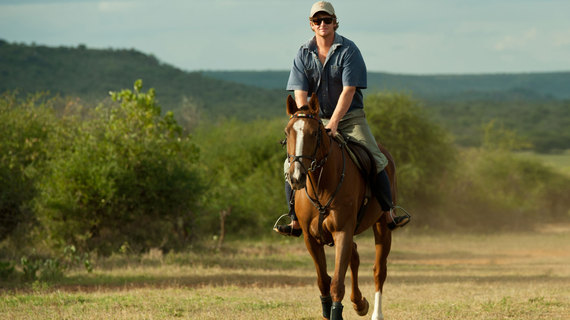 On the eastern escarpment of the Great Rift Valley, the Laikipia Plateau is a diverse ecosystem that supports a large wildlife population. To conserve this land, all lodges in the region are situated within their own private concessions. Sosian Lodge is a classic 1940s-style farmhouse on a 24,000-acre private working ranch, with the addition of tennis courts and a pool. Even within this ranch, 250 species of birds have been recorded, alongside an abundance of wild game. If you're an experienced rider, you can set out across the ranch's open country, crossing rivers as you go, to get up close to wild game. Less confident riders have the option of riding closer to the lodge.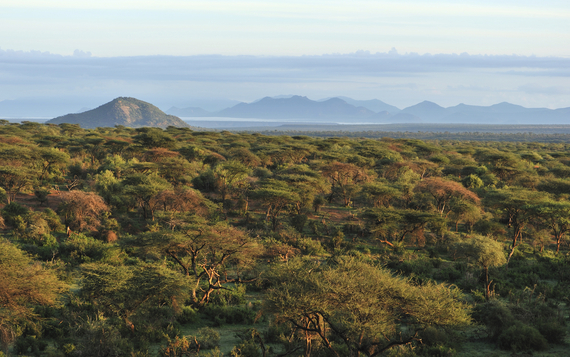 SOUTH AFRICA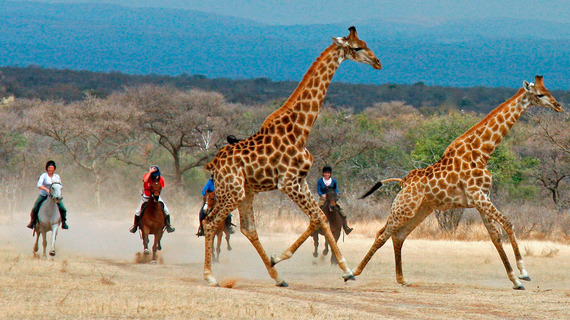 South Africa's northernmost province of Limpopo is a flourishing land of valleys, canyons, ridges and rolling hills with waterfalls and rivers running through. In fact, the land is so verdant, Limpopo is known as South Africa's food basket. One of the richest areas in flora and fauna is the UNESCO biosphere reserve of Waterberg mountain ridge, which within its 150 kilometres encompasses Marakele National Park and a number of private game reserves. Bushveld plains, gorges and canyons, as well as the Palala and Blacklands Rivers, with resident wildlife like black and white rhino, all make the land ideal for a diverse safari experience. The lodges of Ant's Collection are well known for their horseback safaris, with the main lodge Ant's Nest and the more remote Ant's Hill to choose from. Each offer the chance to ride along the sandy tracks and across high ridges in search of wild game.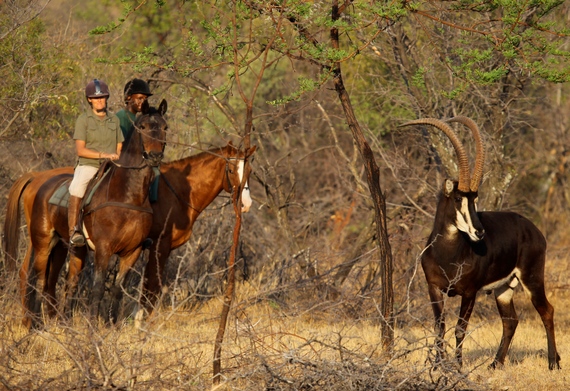 South Africa safaris on horseback in the Limpopo Province.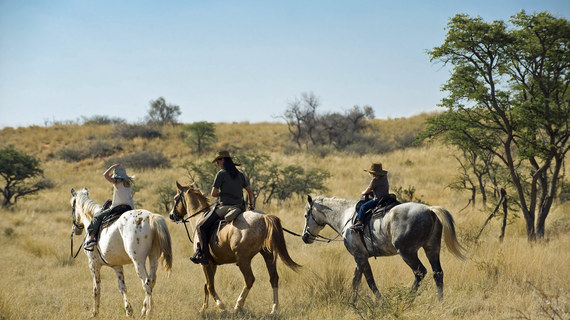 Horseback South Africa tours in the Kalahari.
8. THE KALAHARI
Stretching across Botswana, eastern Namibia and northern South Africa, the Kalahari isn't the sea of sand people expect it to be. Annual rains bring flourishing plant-life, which attracts the grazing herds who are followed by their predators. Within this vast expanse, the largest private game reserve in South Africa, Tswalu Kalahari Reserve, covers 100,000 hectares, and is home to around 80 mammal species as well as 340 different species of birds. One of only two places to stay in the reserve is Tarkuni Private House. This stylish residence for up to 10 people can be rented exclusively, with a pool and private staff, including a guide and tracker. Seek out black rhino, lions, giraffe and zebra, amongst many other species, by setting out across the savannah on one of Tarkuni's horseback safaris.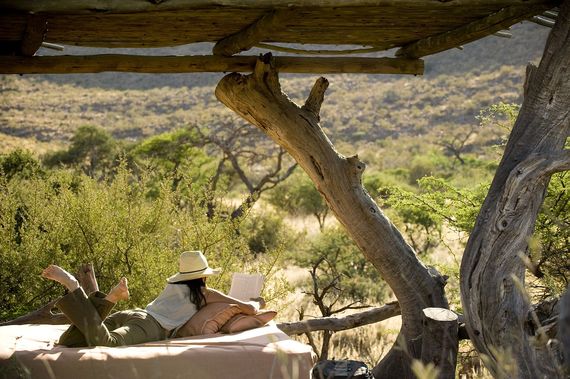 TANZANIA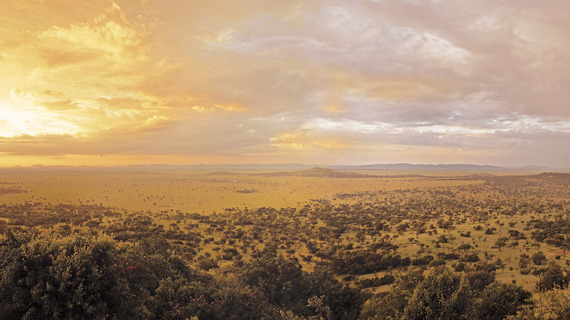 On the fringes of Serengeti National Park, Grumeti is the largest private reserve in Tanzania, stretching across 350,000 acres. The land is rich in game throughout the year but July and August bring the spectacular migration of wildebeest and zebra. Singita Sasakwa is an exceptional lodge located within the reserve, with an Edwardian-style manor house surrounded by 10 luxurious cottages, each with their own private plunge pool and views out across the reserve, and an equestrian centre that's home to 18 horses. Both expert riders and novices are welcomed here, enabling everyone to experience horseback safari in Grumeti.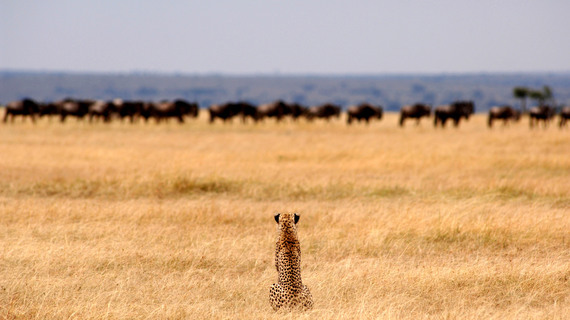 Singita Grumeti: The setting for horseback Tanzania safaris.
ZIMBABWE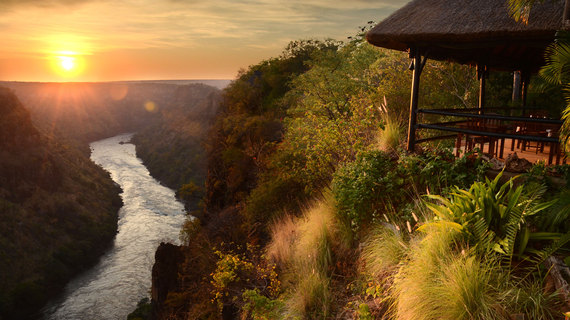 10. VICTORIA FALLS
The Zimbabwean side of the thundering falls - on the southern bank of the Zambezi River - is the setting for Gorges Lodge, with thatched chalets set amongst the lush wilderness high up on Bakota Gorge overlooking the Zambezi River. Game can be seen in the nearby Zambezi National Park as you explore its lake shores, woodland and plains, and what better way to see it than on one of their horseback safaris.