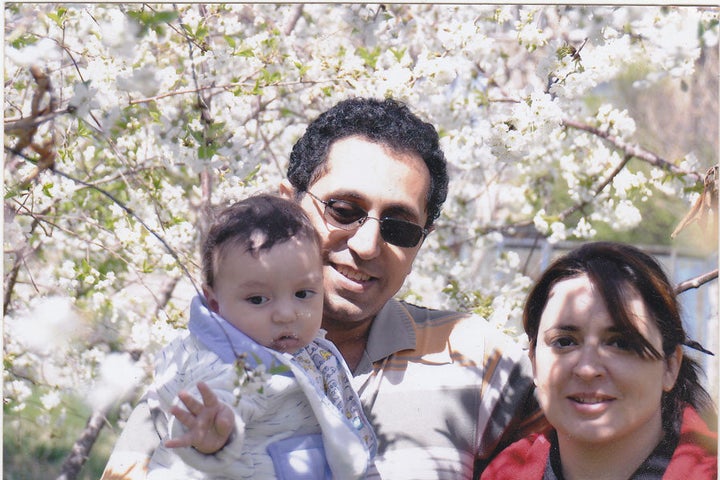 Three-year-old Artin Rahimian stands in line to visit his mother in Iran's Evin prison. It's been two years since Faran Hessami and her husband, Kamran Rahimian, were arrested for their role as educators for the Baha'i faith community, Iran's largest religious minority. Since then, their son has come with his elderly grandmother whenever prison officials have allowed visits.

When it is Artin's turn to pass through security, the guard is shocked to see the little boy readily volunteer his hand to be stamped before the guard even has time to instruct him on the procedure. Seeing his parents through a thick pane of glass is becoming normal life for Artin.
Since the Baha'i faith's inception in Iran a century and a half ago, its adherents have endured wave after wave of persecution. The tragic story of Artin's family traces the history of that persecution in the modern age.
Soon after the Islamic Revolution, authorities arrested Artin's grandfather, Rahim Rahimian, because of his religious beliefs and had him executed. He was not alone. Between 1978 and 1998, more than 200 Bahá'ís were killed, the majority by execution, and thousands more were imprisoned.
In 2005, the latest government-sponsored campaign intensified efforts to strangulate the Baha'i community and interrupt basic aspects of everyday life. Baha'is were banned from attending public universities and serving in government jobs; marriages and divorces were not recognized and Baha'i children were considered illegitimate; Baha'i properties and businesses were seized. Even in death there was no escape as Baha'i cemeteries have been vandalized and sometimes bulldozed.
Then in 2008, the Iranian regime arrested all seven members of the ad-hoc leadership group that until then had been allowed to serve the community's bare minimum needs. All of the "Baha'í Seven" are now serving 20-year prison terms.
Within a year of Artin's birth, the government again came after his family. In 2011, Artin's parents Kamran and Faran, as well as his uncle Kayvan, were all arrested as part of a campaign against administrators, teachers and volunteers at the Baha'i Institute for Higher Education (BIHE). Since Baha'i youth are prohibited from attending universities, BIHE was founded as an informal effort to provide continuing education for the community's youth. Meeting in basements and living rooms, through online and correspondence courses, young Baha'is receive undergraduate training with professors from around the world -- both Baha'i and not. Miraculously, BIHE has been able to educate up to 2,000 students at a time, some of whom are able to continue their education abroad. Niknaz Aftahi, for example, the first graduate of BIHE's architecture program, is currently pursuing a graduate degree at the University of California at Berkeley, which accepted all of her BIHE course credits.
But BIHE students and staff endure terrible hardships to obtain their education: assembling only in groups of less than a dozen to avoid attention; traveling across Tehran from one secret class location to another; making due without proper resources like laboratories and access to libraries. And always there is the threat of raids and arrests. Beginning on May 22, 2011, government officials raided nearly 40 households associated with the BIHE, seizing educational materials and arresting 18 individuals. Currently there are 10 educators serving time for their activities, including Artin's parents and uncle.
"Three generations have now been going through this," Hessam said, pointing to a picture of Artin's family. He went on to mention three other cases in which infants had actually been imprisoned with their mothers. One of these children has developed a severe lung infection due to the unsanitary conditions of the prisons.
The same day, at a meeting with the United States Commission on International Religious Freedom, Iraj Kamalabadi detailed how his sister, Fariba Kamalabadi, and Mahvash Sabet, the two female members of the Baha'i Seven, had recently been held with some 400 other prisoners on a converted chicken farm where there was only one bed per 10 people and one bathroom per 80 people. Thankfully, international outcry about these deplorable conditions helped convince the Iranian regime to at least return Kamalabadi and Sabet to the relatively more sanitary Evin Prison, which houses many prisoners of conscience.
"As much as they may pretend to the contrary, the fact is that the Iranian regime is quite sensitive to world opinion," asserted Kenneth Bowers, Secretary of the National Spiritual Assembly of the Baha'is of the United States. At a Congressional hearing of the Tom Lantos Commission on Human Rights, Bowers reported on the situation of the Bahá'ís in Iran, sitting alongside Naghmeh Abedini, whose husband Saeed, an evangelical Christian pastor and American citizen, has been imprisoned in Iran since last year. During his testimony, Bowers emphasized how strong statements by the United States government calling Iran to account for its treatment of these prisoners can help mitigate their suffering. The commission's co-chair, Rep. Frank Wolf, assured both Abedini and Bowers that they would stay with these cases until the prisoners are released.
In fact, new bipartisan resolutions condemning the upsurge in persecution of Baha'is are ready to be passed by Congress (S.Res.75 introduced last week by Senators Mark Kirk and Dick Durbin, and H.Res. 109 by Representatives Michael Grimm and Jan Schakowsky). Although President Obama did not directly mention the issue of human rights in his recent address to the Iranian people on the occasion of Nowruz, the Persian New Year, movement by Congress on these resolutions will send a strong message that the world is watching and demands justice.
In the meantime, 3-year-old Artin Rahimian remains separated from his parents, hoping that next year their family will celebrate Nowruz outside the confines of cold prison walls.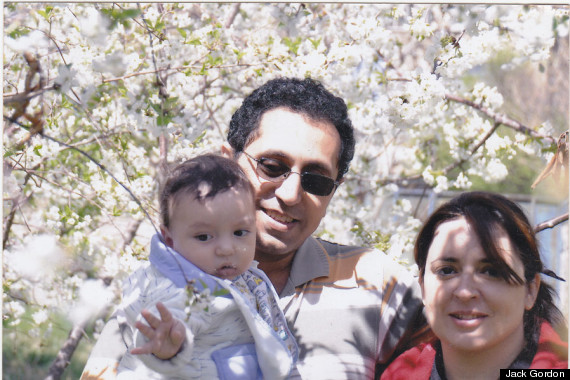 Before their arrest: Kamran Rahimian and Faran Hessami with their son Artin. Kamran and Faran have been imprisoned since 2011 for being educators at the Bahá'í Institute of Higher Education.