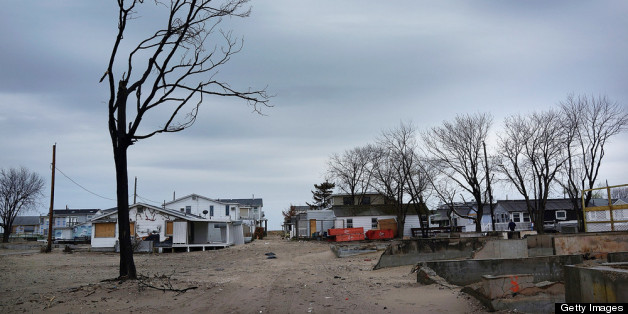 It's been six months since Hurricane Sandy. This devastating storm touched all of our lives in ways large and small, but everyone felt its influence. So many of our friends and neighbors who lost their homes and livelihoods and are still reeling from the hurricane's deadly impact. The Statue of Liberty -- a beacon of hope and national symbol of freedom -- still remains closed due to storm damage.
The YMCA of Greater New York -- the Big Apple's leading provider of youth services -- was not immune to Sandy's devastation. Construction has been delayed at our newest branches in the Rockaways and Coney Island -- two of New York's most historic beachfront communities, and among the City's most underserved neighborhoods.
Both the Rockaways and Coney Island serve as inspiring models of resilience. Like the waves that crash on its beaches, time after time over its 100-year history Coney Island and its amusement parks have been razed to the ground by fire and flood, only to rise like a phoenix from the ashes and return bigger and better than ever. The Rockaways, too, have experienced over the generations tremendous urban renewal as NYC residents discover a thriving beach community so close to the center of the City.
Despite some damage and delays to our construction sites, the Y has redoubled its commitment to both of these neighborhoods, which need the services the Y brings now more than ever.
Contrary to some misconceptions, the Y is much more than just a "gym-and-swim"; it is an institution that strengthens the foundations of the communities we serve. For 160 years, the Y has demonstrated unparalleled experience in revitalizing underserved neighborhoods, bringing community benefits that emerge from a host of programs focused on youth development, healthy living, and social responsibility. In addition to boosting local small businesses and bringing employment opportunities to neighborhoods, Y branches provide after-school programming, diabetes prevention care, and services and programming for the entire family from infant to senior.
Two recent examples can provide a hint of what's in store in Coney Island and the Rockaways: The Y recently celebrated the five-year anniversary of the reconstruction of our Bedford-Stuyvesant branch in Brooklyn. Since the branch's reopening in 2007, we are proud to say that we doubled the number of children and teens served annually as well as increased the number of adults. The Bedford-Stuyvesant Y also has grown to become a leading neighborhood employer, with branch staff numbering nearly 200 workers. We also recently completed an extensive renovation project to open a facility in the Ridgewood neighborhood in Queens, which now serves 3,000 youth and 2,000 adults each year.
In keeping with our mission of social responsibility, the Park Slope YMCA served as an emergency shelter during Hurricane Sandy, opening its doors to more than 500 displaced New Yorkers with special medical needs. The New York City Office of Emergency Management (OEM) designated the Park Slope branch one of the city's newest emergency evacuation facilities.
Rebuilding and recovery is about more than physical locations, brick and mortar. When construction is complete on our Rockaways and Coney Island branches they will be more than just facilities; they will instantly assume the role of community anchor. Imbuing that spirit of community in all of our work, in everything we do, that might be the truest legacy of Hurricane Sandy.
Sometimes it takes the worst of times to bring out the best in people. That is what we experienced during Hurricane Sandy -- the coming together of a community that is defined as something bigger than a neighborhood's streets. Now is the time for that community to rebuild and help each other move forward.