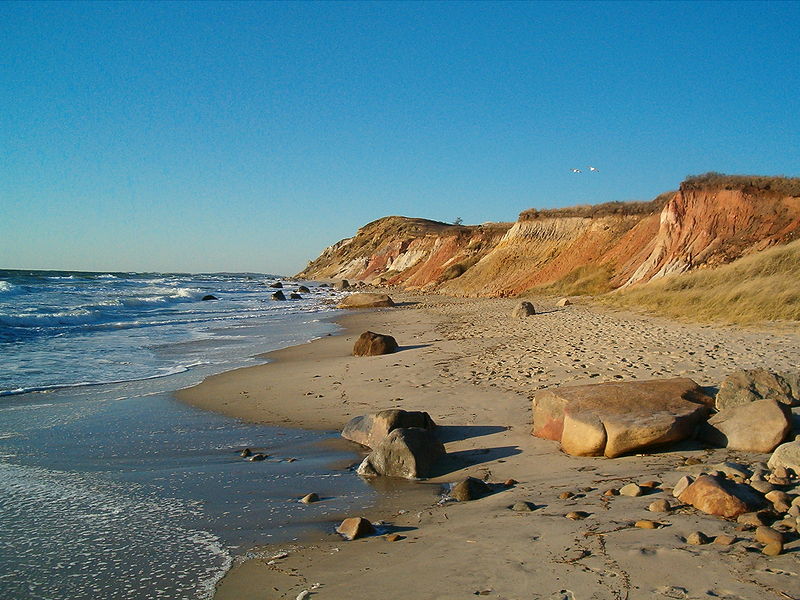 The Cliffs of Aquinnah, Martha's Vineyard - Used by Permission
Martha's Vineyard - home of the super rich. No. Martha's Vineyard is a working-class/middle class community. It has a large native-American community populated by the Wampanoag tribe - first settlers. It is located in one of the poorest counties in Massachusetts. In the year-round community, alcoholism, drug addiction and domestic violence are not unknown visitors. Undoubtedly, these instances of abuse are fueled by poverty and isolation. The Vineyard is also blessed with a majority of residents who would do anything to help a neighbor or stranger in need. People generally are not interested in your resume or the accomplishments you've achieved across the water in the "real world." They want to know the content of your character. Its humanity is the Island's saving grace. Martha's Vineyard gives new meaning to "salt of the earth."
The majority of the economy depends upon servicing the wealthy. In the off-season, Edgartown, a down-island town, resembles a ghost. Every shop on Main Street is closed, except for a tiny diner that has only a counter, but no tables. Jobs pay much lower than those on the mainland, even during the summer. Most of the Vineyard's economy is tied up in real estate. Real estate agencies and their brokers do well. To say the island is a "sleepy" community during the off-season does not adequately describe the atmosphere. Local residents call the Vineyard "the rock." In the winter it is everyone's dream to get off the rock at least for a short period of time. Then everyone must return so they can resume inhaling the extraordinary beauty and strong sense of community that one finds in nature's elegance. One endures the difficulties of living on the Vineyard year-round for no matter where you turn, Martha's Vineyard breathes poetry.
The Vineyard also has a strong hunting community. People like their rifles here. There is a tradition of target practice, sometimes in open fields near houses. There are plenty of gun owners and some gun collectors. Massachusetts, where the Vineyard is located, boasts of some of the strictest gun laws in the United States. Yet, if you go north across the border to New Hampshire you can buy anything you want without a license or background check. Regarding gun control, New Hampshire is one of the most lenient in the country. Indeed, there is no age requirement to carry a firearm. I suppose these laws reflect a traditional hunting culture. Times change. Targets change.
Newtown became one more horror piled upon a myriad of such events caused by automatic and semi-automatic weapons. On January 24, 2013, Senator Dianne Feinstein introduced a bill banning such weapons. They are weapons of war. The bill also called for universal background checks as well as a limit on weapon magazines.
Soon after this bill was introduced, an elderly gentleman with chronic health issues spoke to his friends at an Island senior center and asked if they wished to make a statement about gun violence in America. The response was overwhelmingly positive, even though everyone was apprehensive of the pro-gun sentiment that existed on the Vineyard. Gun violence is not unknown on the Island. Nevertheless, they decided to call a meeting to initiate a petition in support of Dianne Feinstein's bill. The Rev. Robert Hensley of Grace Episcopal Church in Vineyard Haven, a down-island town, generously agreed to allow his church to be used as a meeting place. He would not charge a fee.
On the island, it is difficult for people just to meet friends on a cold winter night. Inertia reigns. Television, the universal fireplace, hypnotizes. To leave one's house to meet strangers during inhuman temperatures is verboten. Nevertheless, with barely any publicity, but word of mouth and some flyers posted around the Island, 25 people showed up on a frigid evening to discuss an urgent issue. The meeting was billed as a dialogue regarding gun safety. And the dialogue was intense. One gentleman educated the rest of the attendees as to the differences between weapons. Others mused on whether it was too late to put a non-binding resolution supporting Senator Feinstein's bill on the warrant of special town meetings. The deadlines had passed. Retirees, veterans, workers of every hue came, as well as gun lovers and gun haters. And although there were several hunters who had contributed to the discourse, everyone agreed. Weapons of mass destruction did not belong in the hands of civilians. A consensus was rooted in each person's heart that our children must be protected from gun violence. At the end it was decided that a petition that supported S-150 would be circulated. A few days later, invited by Rev. Hensley, most of the ministers of the Island would get involved in the petition drive. No publicity. Yet, hundreds of signatures (and still counting) were obtained from people all over the Island.
While spring modestly attired herself offstage, a call resonated throughout the island that on a Sunday in March, there would be a vigil honoring the children who have died from gun violence. The vigil would also support all legislative efforts to tighten gun control. Although sunny, temperatures chilled bones. Heeding a joyful cry, more than 100 people showed up at the busiest intersection in Vineyard Haven. Children and infants appeared. More petitions were signed. One woman read out the names of the victims of Newtown and although each syllable was carried by the wind, those children are eternally present.
Citizens intoned gentle harmonies of strength. Drawn together by solemn events, friend and stranger greeted each other with optimism and what can only be described as love. Drivers honked their horns in support; dogs barked for no apparent reason and sunlight reflected soulful visions of a kind world.
Let's honor the season. Let a thousand communities bloom in support of keeping our children safe.
Spring awakes. An island is aroused.