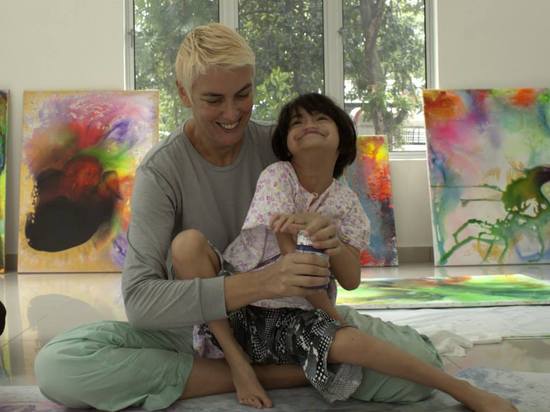 Victoria Renaux with Lyana. Photo by Vadim Abdulajev. Used by permission.
Ten years ago, Victoria Renaux met God in a small Parisian circus. It was not her intention. She would not tell you that that is what happened. Victoria was a successful journalist with model looks playing hooky from life that afternoon. Gucci was her intimate companion. In that Gallic moment, close by the churning romance of the Seine, Ms. Renaux is lifted from a hollow life on the wings of unadulterated children's laughter; her heart revealed by the soul's music pouring from a child beholding clowns, animals, acrobats under a small tent in the middle of a quaint Paris neighborhood. It was not the spectacle that transformed Victoria, but rather the inevitable joy percolating, invisible even at high noon; a glorious summer's day.
Ten years previously Ms. Renaux had emigrated from Lithuania to the City of Light to achieve success as a writer. She reached the highest levels interacting with the very powerful in Parisian/European society. As she says, she was a "jetsetter." She reveled in private jets, drank the finest champagne while earning tons of money. Each rung up her ladder seduced a new tone of shade into her. Finally, she felt nothing. Opaque. She did not know this until destiny danced into her senses through cheers of glee under a playful, small big top.
When the show ended Victoria was happy. She was lost. She understood that she had achieved the pinnacle of a vacuous existence and needed to change. She prayed to God asking for guidance. She had a vision. Leave everything she knows so she may continue to laugh. She had not been religious or is she today. But leave her life she did.
Victoria's heart erupted. Quickly, she lifted herself so she may live in harmony with what can only be described as universal love. She did not know how to express this feeling that was much bigger than she. So, she picked up paints, brushes and began. Painting after painting emerged from an intense river. But still in her luxury apartment, filled with her creations, she was dissatisfied. She went to the nearest hospital and asked if she could volunteer to work with children. The staff was suspicious, but they finally succumbed to her sincere desire. It was simple. She would find a room, carefully arrange her instruments, open her heart and start to paint. Children calmly came to her. Dark corners emerged, distilling pain and suffering. Spirit lit the way. All conflicts, cries, shouts for help ceased when encountering Victoria. They created new paths to their hearts. Texture, color. Joy. Children in all stages of illness immersed themselves in peace. Each time Victoria departed, the staff told her that the children would revert to acting out. So, of course, they asked her to not come back. They said Victoria was giving the children courage and acceptance when that wasn't in their past, present or future.
Victoria had found her dharma. She harmonized with her soul's intention. And although she never wanted to go to India, go she did. She did not know if she could tolerate the poverty and suffering she knew she would find. In response to her fear she sat down by water with her tools of delight and color. Again, children came. All types, all ages would paint with her. Rich, poor, smart, slow, every status moved towards an irresistible supremacy. Victoria embodied grace. It was undeniable. Her mask disappeared. She painted from river to river.
She worked with Mother Theresa and took a trip to Indonesia. It was in Sumatra that parents brought their autistic children to her studio. Children, who had been marginalized, even hated by the culture. Their parents were desperate.
In these children whose countenance remained unflinching, but whose eyes reflected cosmic whirlpools, did Victoria finally find the manifestation of what she had felt since that day in a simple circus. She fell in love. The children unveiled light. Victoria organized her paints. She showed her new friends how to squeeze the paint onto reality. She found bliss when they discovered texture, color, form. Pleasure is iridescent. Electricity is an afterthought when immersed in such ambience.
Washing feet. Painting hands, face, guiding impulse. Victoria evokes a sparkle glistening from her children's enchanted gaze. Children who normally breathe in the dark. However, it is the rest of us who are in shadows of indifference. For these souls that animate silent tones dance with rainbows.
Merge with the young artist's view. All the sorrow of our conflicts dwells within. Yet, when they rendezvous with light, they create form color and texture that lift our soul into a firmament of love. It is not sadness we thus see, but rather an eternal well of compassion. We see our innocence.
As enlightened color flows through previously stilled physicality, Victoria grows space and time. She embodies hope. She becomes the walls, ground, ceiling, yet she ascends, feet firmly planted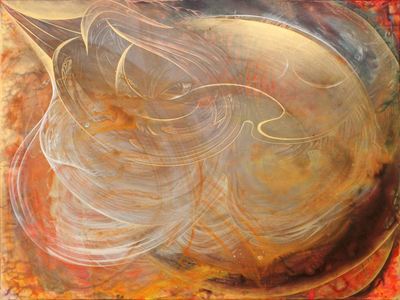 on the ground. Victoria's fuel is simple. Unconditional love. Her children rouse us through their intimate experience of profound tranquility. What we may observe as a lack of expression is a soul roiling within a powerful silence; a corporal confluence of infinite streams yearning to manifest into three dimensions. (Painting by Owen Chong - 11 years old. Photo by Vadim Abdulajev. Used by permission.)
Victoria invites her feeling to guide her. She strips herself of expectations so she may bathe in her students' hearts. She inhabits their fears, rapture, curiosity, trauma as the atmosphere confidently charges with alchemy.
You may believe you are witnessing clouds of rainbow acrylics being squeezed from tubes by dint of a child's heroic effort. Widen your breath and inhale a smile making its elated journey from a previously frozen trance through eternity's vision onto canvas, skin, floor, crystal, surface . . . time.
Paint life's texture. Life is the palette. Previously trapped, these artists are charmed into the world through color, touch and love.
Victoria thinks that painting is the bridge for her children to cross from a painful, silent deep well into life's light. Victoria is the bridge. Paint is merely a tool. It is clear when you see her working with her children. Her soul bathed in elegance touches all who come to her. Victoria does not claim any special abilities. She has one way to live and that is through her heart. She has vanished a translucent veil, revealing splendor that animates us all.
Victoria believes that autistic children are powerful souls who have diminished themselves in a body gone wrong; that they are the very best of us come here to teach. They are angels. Perhaps she is right. I don't know. What I do know is the undeniable evidence of incandescence that lights our night. Perhaps that is what we are being taught. So, let us all be good students. When we encounter our quotidian struggle, stop. Be still. As our paint flows, grace radiates. Inhale. Exhale. Life is sacred art.
You may watch Victoria and her children painting here and here.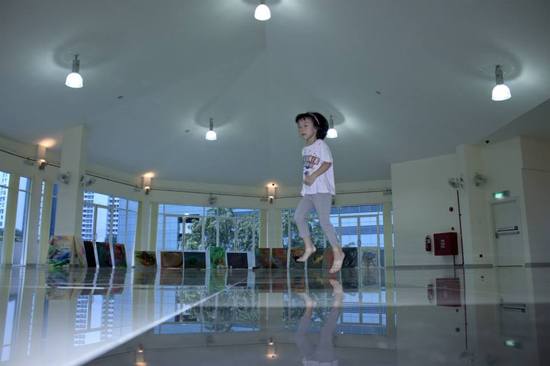 Koh En Ai (Angel in Flight). Photo by Vadim Abdulajev. Used by permission.
There is a natural unfolding of the universe. The veil rises. Nothing happens before its time. A woman wise once whispered to me that the human race couldn't go faster than its slowest stream. I would add that sometimes what may seem slow and out of place is really a bleed-through of higher planes. When I look into the eyes of Victoria's children, I discover immortal compassion. We run a marathon reaching out for what is always within. Love supreme.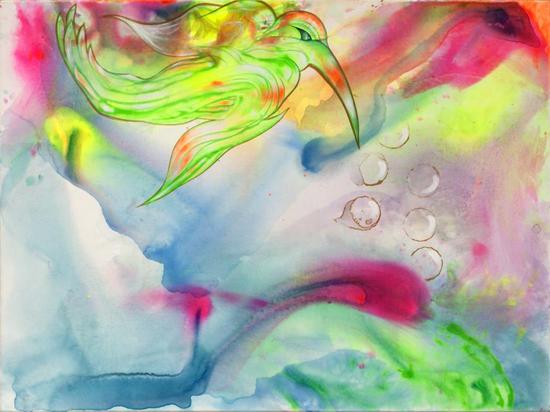 Painting by Lyana (pictured with Victoria above).
Photo by Vadim Abdulajev. Used by permission.