MuleSoft is another organization that was recently ranked by Glassdoor as one of the best places to work in America and they have also won plenty of other awards for being a great place to work. According to Greg Schott, the CEO of MuleSoft, the key is creating a great corporate culture. I had the pleasure of visiting MuleSoft's offices in San Francisco to speak with Greg in person. In this episode of the future of work podcast Greg shares some of the things he does at his company to help make sure his employees are engaged, happy, and always doing their best. Greg is one of the few CEO's I know who personally interviews every new candidate that applies for a job. This means many hundreds of interviews a year. Listen in to learn what else Greg does to create a great corporate culture.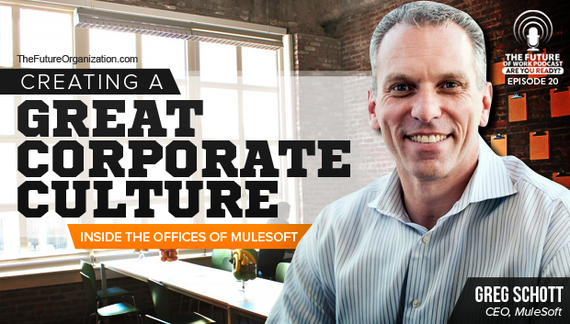 Creating A Great Corporate Culture: Inside The Offices of MuleSoft
Jacob Morgan is a futurist, best-selling author and keynote speaker, learn more by visiting The Future Organization.com or check out his latest book,"The Future of Work: Attract New Talent, Build Better Leaders and Create a Competitive Organization," on Amazon.