In this Future of Work podcast, I speak with Josh Bersin. Josh started a company called Bersin & Associates, which was acquired by Deloitte and is now known as Bersin by Deloitte. Since the acquisition, Josh has been working at Deloitte providing a lot of really interesting thought leadership around how the world of HR and talent is changing. Because Deloitte recently released a report called "Global Human Capital Trends 2015: Leading in the new world of work," I reached out to Josh to talk about what some of these trends are and what that means for us. Josh gives a unique perspective from a "big picture" view as to how these trends are impacting the world of HR and talent. Our talk covers leadership, learning, culture, workforce in demand, performance management, and re-inventing HR. We also talk about analytics, the simplification of work, as well as machines as talent. While this podcast is especially relevant to you if you are a HR leader, it is just as relevant to you if you are an employee who is trying to understand how your job is going to change or how your career might change in the future. Be sure to listen in to this fascinating discussion with Josh Bersin on the top human capital trends for 2015!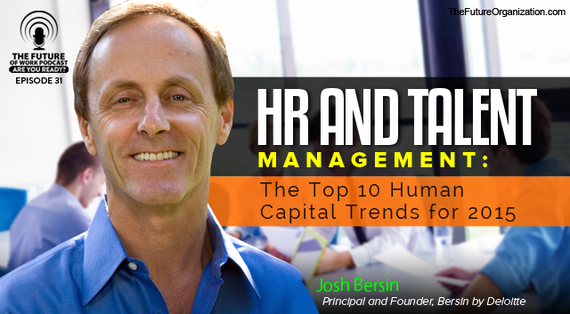 HR and Talent Management: The Top 10 Human Capital Trends for 2015
Jacob Morgan is a futurist, best-selling author and keynote speaker, learn more by visiting The Future Organization.com or check out his latest book,"The Future of Work: Attract New Talent, Build Better Leaders and Create a Competitive Organization," on Amazon.