Last week, the nation's leading commercial design expo -- NeoCon (formerly NeoCon WTF) -- came and went for it's 42nd year in Chicago's historic Merchandise Mart. NeoCon showcases product launches for the industry's most renowned brands, some well-known, such as Herman Miller, Knoll, and Steelcase, and some brands you'll likely have never heard of, including Bretford, InterfaceFLOR, and Heller.
For design professionals, NeoCon is one of the most exciting events of the year, featuring glamorous black tie galas, profound keynotes, and innovative commercial furnishings as far as the eye can see. For non-professionals, envision a chair-coma, if that's even permitted as a phrase. Below are some highlights of this year's expo.
Bretford was probably one of my most enjoyable showroom visits of 2011, courtesy of President Mikel Briggs. Mikel described two exciting partnerships, one with Powermat, and a second with Apple. Bretford's EDU 2.0 Tech Furniture Line, photographed below, has been named the preferred Powermat partner for K-12 and Higher Education Markets. For those not familiar, Powermat technology provides a simple, fast and efficient way to keep all of your favorite personal electronic devices charged, just by placing your device on the Mat. In other words, you can do away with the infinite chargers you currently own. While only those within the educational sphere will reap the benefits of EDU 2.0, this wireless charging technology will reach the rest of us, in our own offices, as the technology becomes more and more prevalent. In fact, another NeoCon exhibitor, KI, has already introduced eCoupled technology, a Powermat alternative, to the market.
Bretford's product line for Apple includes the PowerSync Cart for iPad, PowerSync Case for iPod, Mobility Carts for MacBook + iPad, MobilePro Desk Mount Combo, and now the PowerSync Tray for iPad. These products are exclusively for sale through Apple. Aside from neatly storing and charging multiple devices, the more meaningful feature, in my opinion, is the ability to sync multiple devices simultaneously, with a single iTunes account. I hope to see this manifest in a more consumer-facing product sometime soon.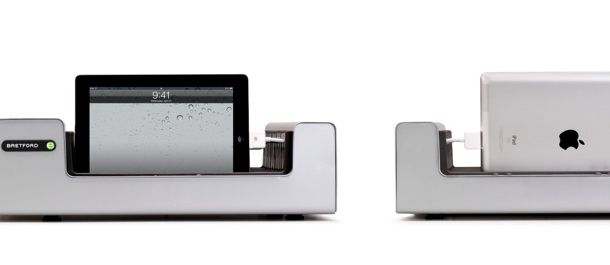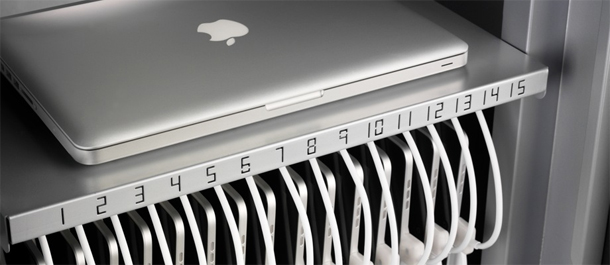 PowerSync Tray for iPad (top). PowerSync Cart for iPad (bottom). Images courtesy of Bretford.
Just down the hall from Bretford, I spent some time with inventor and furniture designer Alan Heller. It's a small showroom no bigger than your common bedroom, but with possibly more energy than the behemoth neighboring spaces. New for 2011, Alan shared the story behind the Frank Gehry Furniture Collection, now available in a range of fabulous colors.
Around the corner, I stepped into NeoCon's most proper showroom to spend time with Allermuir, a UK manufacturer with stunning furniture for office, conference, reception and corporate environments. This conversation with Luke Pearson provides an education as to the depth of thought behind any common seating solution. Next time you plant yourself anywhere, perhaps you'll consider how much time and deliberation was invested into your being perfectly comfortable.
On center stage, The Mohawk Group hosted a live video testimonial hub encouraging architects and designers to respond to some very plain but poignant questions, for instance: what challenges have you faced this past year? As you'd suspect, the economy appears to be the most meaningful outside influence.
Upstairs on the eleventh floor, Jennifer Busch, former Editor-in-Chief of Contract Magazine and current VP of Architecture and Design Market Development at InterfaceFLOR, presented the company's "Make Your Mark" campaign. The concept is in collaboration with its sister residential brand, FLOR, allowing designers to merge product lines for a uniquely professional and intimate environment. Best of all, it's not permanent like many other carpeting alternatives; the product is not glued to the ground, and is therefore easily uplifted, removed and replaced.
And now the never-been-seen NeoCon 2011 blooper reel.

Filming and editing by Adam J. Richman.
Thank you Davis, Arcadia, Joel Berman Glass Studio, The Mohawk Group, Sedia Systems, KI, CF Group, Inscape, Andreu World, Keilhauer, Allermuir, Mannington Commercial, Paoli, Stylex, and Jasper Group.
--
Jacob Slevin is the CEO of DesignerPages.com and the Publisher of 3rings.