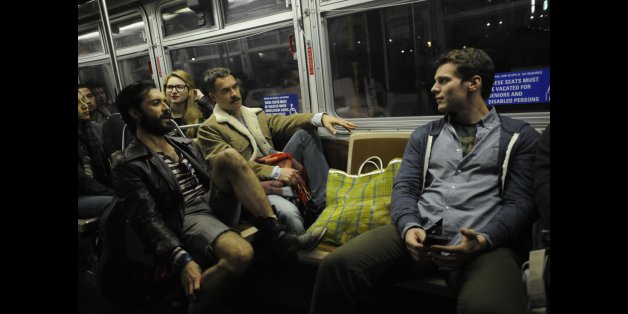 (The following review contains spoilers about the first season of "Looking.")
By the time the inaugural season of "Looking" is over, every viewer will have fashioned a hierarchy for the characters. For a show about a circle of friends, it won't settle for parity among the storylines, inadvertently begging us to gab about which of the central figures we deem most detestable. Is it Patrick, the videogame designer who spends the series' opening moments "cruising" for an outdoor hand job that gets curtailed by cold hands and an ill-timed phone call? How about Dom, the budding restaurateur who's stuck somewhere between being the group's maturity compass and its battered soul? Or perhaps Agustin, the adrift artist with a habit of landing in stilted predicaments that convince no one but himself of his stability?
If those descriptions don't sound kind, it's because the show takes a hard-line approach to much of its characterization, almost as if it doesn't want you to like these gentlemen. But the disparate nature of the three men's personalities is what makes their unlikely friendship all the more enjoyable. Our protagonists are at different phases in their lives, yet whatever character constraints "Looking" contains, creator Michael Lannan (who based the show on his short film "Lorimer") and writer/director Andrew Haigh (of 2011's poignant "Weekend") don't let us linger when we question the authenticity of their dynamic. Viewers' character hierarchy will vary from one to the next (mine goes: Dom - Patrick - Aug, if you couldn't tell from the earlier descriptions). Even if the mandated pecking order distracts from the narrative, what's consistent is that "Looking" is not reduced to Grindr-hopping, parade-going San Francisco stereotypes, even if that summary is entirely apt. Because there's enough originality, there's no eye-rolling needed when the men attend a street fair with a leather-only dress code or engage in clichéd anonymous hookups. We don't need diatribes about marriage equality to make their plights feel genuine -- their routine interactions do the trick.
As the narrative nucleus, Patrick (a beguiling Jonathan Groff) earns the show's opening moments and a standalone episode that doubles as a 30-minute insight into his burgeoning relationship with Richie (Raul Castillo), the stud he meets on the bus after a terrible date. Even with a protagonist who dominates, "Looking" is effective in convincing us that its characters exist both within Patrick's orb and outside of it. By the time that breakout installment arrives, in which Patrick and Richie traipse around San Francisco instead of going to work, Dom (Murray Bartlett) and Aug (Frankie J. Alvarez) are developed independently enough not to deflate the episode to needless diversion.
The best moments in "Looking" offer a group of gay men who don't look anything like the eccentrics who populate sitcoms with punch lines as equally as they do potpourri. What's even more resilient than a trite discussion about media stereotypes is this: The "Looking" we see by the time the first season ends is not a replica of what we encountered in the pilot. My feelings about each of the storylines paraded out at the start took U-turns by the finale. I applaud the show for introducing itself that way.
When I extolled Patrick in Episode 4 for not hooking up with his hunky boss Kevin (Russell Tovey, whose every inflection is purposeful) amid chatter about a boyfriend of two years, I didn't expect to be cheering him on as their bodies grinded in the finale. It's hard to discern whether that's the reaction the writers wanted, seeing as Patrick spends the first seven episodes fawning over a deepening connection with Richie, who's only his second boyfriend. (At 29, Patrick's age is a refreshing contradiction to his lack of experience.) "Looking" seems to want desperately for us to embrace the relationship, but the winds of Richie's sail blew me farther off course as the season progressed. When he terminates their first sexual encounter because Patrick mistakenly notes that Richie's Mexican penis isn't uncut like his friends joked it would be, Richie's unwillingness to sympathize with the gag is just as frustrating as Patrick's affable inability to shut his mouth.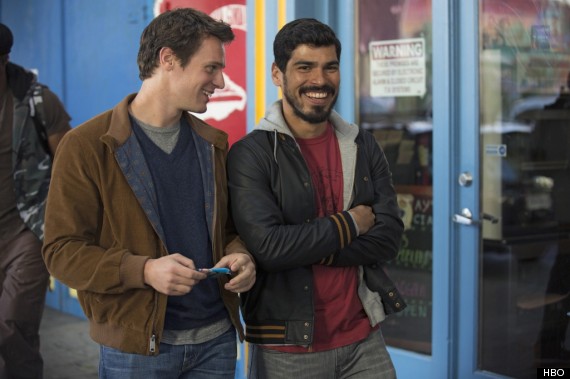 Some will adore Richie because he seems earnest, but I didn't buy it. In one episode he's telling the uptight Patrick to relax more, and later he's storming off because Patrick's nerves about introducing a boyfriend to his parents for the first time make him fussy. By the time Richie's huffy departure leaves Patrick to attend his sister's wedding without a date, I wasn't even in the boat anymore. More grating than endearing, it makes Richie the token minority in a show that revolves around minorities. His intrigue in the pilot, for me, was absent by the finale. It's not that Patrick is above reproach -- I found him relatable in the aforementioned wedding ordeal, but I understand if you protest -- but I'm not convinced we should idolize Richie simply because his modesty and self-assurance are inconsistent with Patrick and his pals. The writers play the martyr card with that character too often, and here I am doting on a minor player instead of discussing our other two leads. In short, Patrick is intelligent enough not to be rendered hapless solely because of his limited relationship experience.
The central trio has a weak link, too, though: Aug. The newly 40-year-old Dom emerges, in his turbulence with semi-suitor Lynn (the wonderful Scott Bakula) and his midlife disorientation, as the most layered and enjoyable character. But Aug is a stock personality: the lost artist. You won't know it in the first episode because his plot is disguised as character development. He moves out of Patrick's apartment and in with his boyfriend Frank (O.T. Fagbenle), which simulates progress. Instead, Aug hires a $220-an-hour hustler to have sex with Frank while he films it for an art project. (Aug initially omits the price tag.) By the time Aug withdraws from his art show and admits his blunder to Frank, it's too late. We've already dismissed the show's attempt to make him the troubled vagrant whose foibles stem from selfishness. It's one step forward, two steps back for Aug's stability, and he becomes an insufferable caricature by the season's end. I'm not convinced Dom and Patrick would be able to stand Aug without constantly eviscerating his actions.
In spite of some mismanaged characterization, "Looking" still succeeds in feeling fresh. It's brimming with new energy, as though this is a story that truly hasn't been told on TV before. Even with low-lit camerawork that's akin to an Instagram filter, its San Francisco setting offers a less grimy tone than New York scenery would. The show is less of a comedy than HBO would have you believe -- it could use a few more laughs in Season 2 -- but its lack of contrivances is stimulating. We're invested in these men because their storylines feel like something we'd see in our own lives, and, for better or worse, we all know a Patrick, a Dom and perhaps even an Aug.
With slick writing ("At 40, Grindr emails you a death certificate") that employs callbacks to various references within the show (including two adorable "Golden Girls" moments), Season 1 left me wanting more. Richie and Patrick's tearful breakup presents the latter with a clean slate, and in turn we accept that these eight episodes can hit the refresh button on his stamina. (HBO has already announced that Richie will return in Season 2, which I'll make peace with only if his role is less dad-like.) When Aug gets the invective he needed from Frank and moves back in with Patrick, it's the wake-up call we demanded he receive. There's ample material to leave us invested in this show because the characters, including minor players like Patrick's straight friend Owen (Andrew Law) and Dom's sassy roommate Doris (Lauren Weedman), feel like they could be our acquaintances too.
"Looking" strives hard to be a character show. At times, it works too intensely to position the viewer among its plots. Struggling to find yourself -- whether at 20-something or during a mid-life crisis -- may produce delusions, but it doesn't come without heart. The show knows to weave that yarn into its fabric, and it mostly succeeds. "Looking" provides what its title implies: a tale about friends who find support in their surroundings, no matter how much searching they have to do.