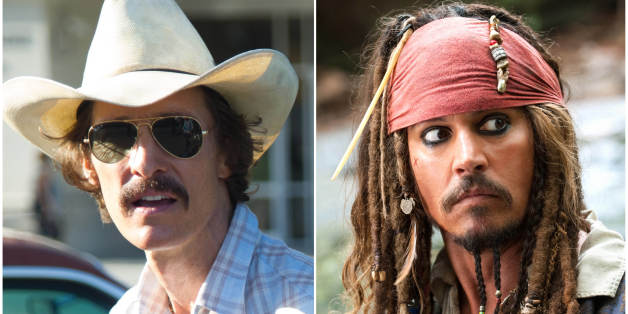 This time 10 years ago, Johnny Depp was on the cusp of earning his first Oscar nomination, for what was then considered a clever turn as Cpt. Jack Sparrow in the first of way too many "Pirates of the Caribbean" movies. The nod was long overdue, arriving years after Depp wowed us in films like "Edward Scissorhands," "Ed Wood" and "Donnie Brasco."
Now, despite two well-deserved nominations since (for "Finding Neverland" and "Sweeney Todd"), a "Pirates of the Caribbean" performance being thought of as seminal -- or Johnny Depp in the same sentence as "Oscar nomination" -- is laughable.
But wait. Let's rewind again. Ten years ago, Matthew McConaughey was starring in "How to Lose a Guy in 10 Days." "Two for the Money," "Failure to Launch" and "Surfer, Dude" -- the latter of which maintains zero positive reviews on Rotten Tomatoes -- all came after. Now what do we have? A crime on our hands if McConaughey is snubbed for his wrenching performance in the AIDS drama "Dallas Buyers Club" when the Oscar nominations are announced on Jan. 16. (He already has Golden Globe and Screen Actors Guild Award nods, but Best Actor is a tense race this year.)
It would seem Depp -- once known as one of Hollywood's go-to weirdos, and a marketable one who became a heartthrob and box-office superstar -- has traded places with McConaughey, a former laughing stock of all things critically acclaimed. Call it poetic justice. The oft-shirtless, Southern-fried McConaughey we've known is looking in our mocking faces and daring us to doubt him again. Oh, how quickly everything we thought we knew about pop culture shatters and we're forced to rewrite the industry's casting norms.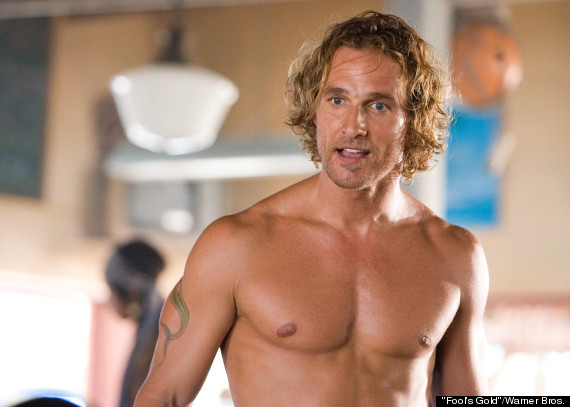 McConaughey's 2013 found him starring in "Buyers Club," "Mud" and Martin Scorsese's "The Wolf of Wall Street." That followed last year's acclaimed "Magic Mike" and, to a lesser degree, "The Paperboy." Depp's 2013? "The Lone Ranger," one of the year's biggest flops and the successor on a résumé that includes the poorly received triumvirate "The Tourist," "The Rum Diary" and "Dark Shadows." Depp's forthcoming slate isn't a lost cause, but it doesn't echo the unique work he's done in the past. If all goes well, Rob Marshall's big-screen adaptation of "Into the Woods" may be one of 2015's top Oscar contenders, but it's an ensemble piece that could find Depp lost in a sea of showy performances from the likes of Meryl Streep, Anna Kendrick and Christine Baranski. His other movies -- among them are the artificial-intelligence thriller "Transcendence" and the Nazi caper "Mortdecai" (directed by David Koepp, who's best known for co-writing "Mission: Impossible" and "Jurassic Park") -- have potential, but those films are followed by the fifth "Pirates" installment, slated for 2016. (An "Alice in Wonderland" sequel is in the offing as well.) It's a few small steps forward and one giant step backward, accompanied by another reminder that Depp's depth is in decline.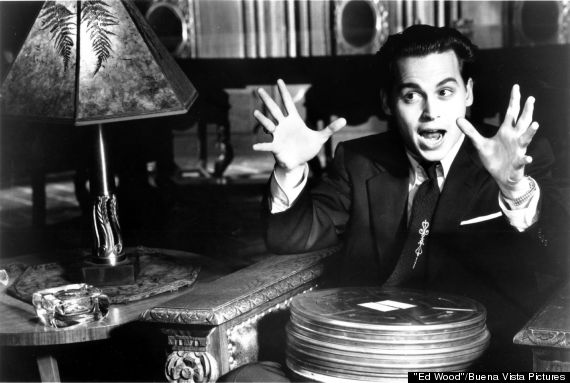 McConaughey's 2014, on the other hand, has just two items on the actor's plate: the first season of the HBO anthology series "True Detective," which premieres Jan. 12, and Christopher Nolan's hotly anticipated space-travel movie "Interstellar." That's pretty impressive for an actor who used to crank out multiple trite projects a year. McConaughey has gotten choosey.
No one promises any of Hollywood's golden children a life of endless glorification, but it's evident that Depp's alienation comes at the hands of stale, populist fare. Fame can be fleeting, but we're talking about an actor with nearly 25 years of adulation. When someone like McConaughey, who at one point wouldn't have appeared on even the longest of Oscar shortlists, can emerge as one of the year's most celebrated actors, it deepens the disappointment in Depp's poor decisions. There's nothing wrong with big-budget vehicles, but when movie stars establish themselves as discerning purveyors of eccentricity, as Depp did throughout the 1990s and early 2000s, it's tougher to be forgiving when their careers are reduced to mediocrity (no matter how many millions of dollars their paychecks are worth). McConaughey, 44, recently told GQ that he's aiming for a midlife "ascension." Surely Deep, 50, isn't going for the opposite?
Here's to celebrating McConaughey's surge, and to wishing him years of esteem to come. Whatever your previous opinions of the actor were (don't pretend you don't kind of love "The Wedding Planner"), we can't foster a culture where we deride movie stars' attempts to improve the new chapter in their careers. In keeping, we must hold Depp accountable for the type of actor he billed himself as for years -- one he isn't living up to now. We've said it before, now let's say it again: Come back to us while you still can, Johnny Depp. In the meantime, all hail Matthew McConaughey.
PHOTO GALLERY
Matthew McConaughey