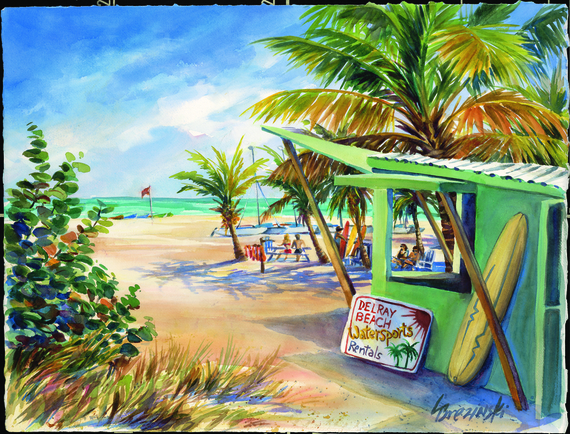 (DelrayAffair06, artist: Lois Brezinski)
Delray Beach is a way-cool, laid-back beach town, but there's lots more to do than just catching some rays. Revel at all the year-round festivals, dine in trendy eateries, and shop at stylish boutiques. Be sure to visit the incredible Morikami Museum & Japanese Gardens, then do all of this:
1) Enjoy Divine Dining
Delray not only offers great beach, it's a dining destination. Have dinner al fresco until the wee hours all year long on Atlantic Avenue.
Savor Our City Culinary Tours (savorourcity.com) - Get started by taking a food tour where you can sample foods and drinks from a number of establishments.
2) Have Fun at Fantastic Festivals
Delray Beach is famous for its many festivals. Signature Holiday Events: St. Patrick's Day; July 4th; Christmas. Festivals for Foodies: Garlic Fest (Feb); Bacon & Bourbon Fest (March); Wine & Seafood Fest (Nov).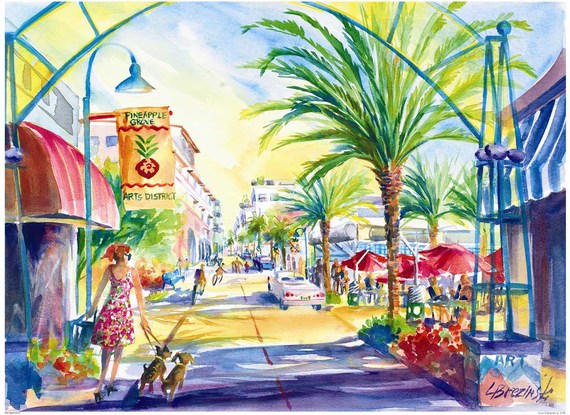 (DelrayAffair08, artist: Lois Brezinski)
3) Discover an Artsy Enclave
Explore the Pineapple Grove Arts District and Artists Alley, a community of 30+ artists and galleries, in a warehouse area at the north end.
Open Studios (3rd Thursdays, 6pm-9pm; 1st Fridays, 6pm-9pm; Saturdays, 12pm-5pm, artistsalleydelray.com) - See paintings, pottery, sculpture, glass, & photography.
Get Your Grove On (Oct) - A weeklong celebration of the arts in Pineapple Grove and Artists Alley.
Delray Affair (April) - A renowned arts & craft festival in the heart of palm tree-lined Delray Beach.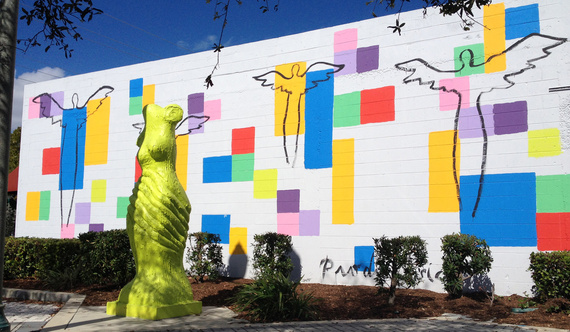 Artists Alley (Photo: VisitDelrayBeach)
4) Be Entertained
Along with the sun and fun, soak up some culture:
Old School Square (51 N. Swinton Ave, Delray Beach; Tel: 561/243-7922; oldschoolsquare.org) - The various cultural venues in the Square offer musicals and plays, dance and variety shows, concerts, comedy, films, lectures, literary events, and art exhibits.
Delray Beach Playhouse (950 NW 9th St, Delray Beach: Tel: 561/272-1281;
delraybeachplayhouse.com) - Since 1947, showcasing everything from Broadway shows to children's theater.
Arts Garage (94 NE 2nd Ave, Delray Beach; Tel: 561/450-6357; artsgarage.org) - Eclectic entertainment.

5) Snorkel a Wreck & Walk With a Turtle
Delray Beach Watersports (delraybeachwatersports.com) - During a hurricane in 1903, the S.S. Inchulva sank right off Delray Beach in 20 ft. of water. Snorkel to see the amazing marine life that swims by the wreck. (You can also take surfing lessons.)
Turtles: Tourists love The Palm Beaches, but so do turtles--and they were here first! The area is a major nesting ground for Leatherbacks, Loggerheads, and Green Turtles. Sea turtles usually nest at night from early March to late October. Learn more at the Sandoway Discovery Center (sandoway.org) or go on a guided Sea Turtle Walk (May-July).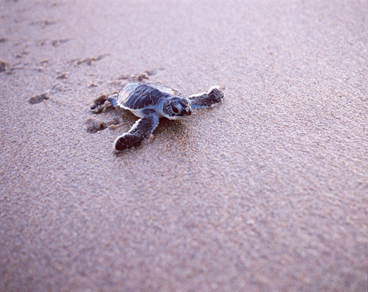 Sea Turles (Photo: DiscoverThePalmBeaches)
Making Your Trip Easier: Sure, everybody drives, but why not hop on the free Downtowner "bus." Cultural Council of Palm Beach County - Get suggestions on all the cool, cultural happenings during your visit with a call or email to the "Cultural Concierge" (Tel: 561/214-8082; concierge@palmbeachculture.com; palmbeachculture.com/concierge). There are so many cool, artsy attractions to explore in The Palm Beaches.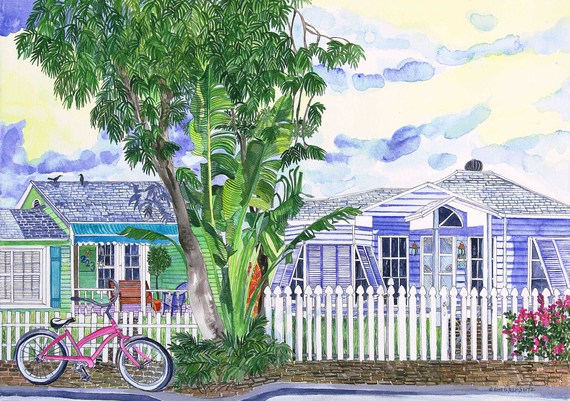 (DelrayAffair09, artist: Eileen Seitz)
Where To Stay: Crane's Beach House & Luxury Villas
(82 Gleason St, Delray Beach; Tel: 561/278-1700; cranesbeachhouse.com) - Old-world Florida charm just a few blocks from the beach with rooms like mini-bungalows; Tiki Bar and two pools open 24/7.
Getting There: Fly into West Palm Beach (PBI) or Ft. Lauderdale (FLL) on Delta or Jet Blue. Combine a visit to Delray Beach with nearby Palm Beach and West Palm Beach.