On May 15th, I'm hopping on a plane and moving to the city of light, aka Paris, France. I've received mixed reactions from friends and family including "wow, you are so brave!" to "I'm so jealous!" to "Why???" to accusations of running away from life (I guess by life they mean unbearable traffic and trendy, kale-obsessed LA diets). Most women get a lot of crap if by my age (27) they aren't starting to fit society's 'mold.' If you aren't married or almost married, or in a stable career, people start questioning exactly what it is you are doing with your life. The notion that you are still figuring it out, and having a ball doing so, doesn't seem to be a possibility.
Women don't get enough encouragement to be bold and grab life by the horns. We are born into the world wrapped in pink bows, barbies and a vague notion that as the feminine sex, our happiness in life is pre-determined by how well we marry, how many children we have, and how well we can run a household. Of course, the times are evolving and at least in the western world, we are seeing powerful female leaders such as Sheryl Sandberg and Hilary Clinton, inspirational figures like Malala Yousafi, and pop culture icons like Beyonce spewing messages of girl power and inspiring women to march to their own tune. I even see brands getting behind female empowerment, like Pantene's Shine Strong commercial encouraging women to shun labels, Caress' current 'Fabulista' campaign encouraging women to get inspired and lead a fabulous life, or Motions "#doyou" campaign prompting women to fully express themselves, stylistically or otherwise, to show the world unique approaches to fulfilling lives.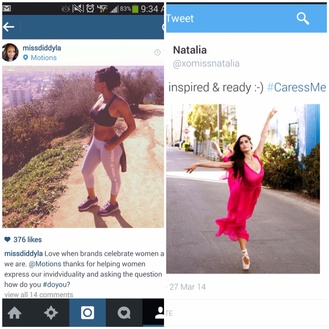 march to your own tune
What is a fabulous life? In the context of all things feminine, it can mean anything from having five pairs of Louboutins, yachting in St. Tropez, raising amazing children and being a good housewife. For me, it means doing what challenges me and makes me happy, despite what pressures I may feel from society. For the past four years, I've worked for pennies, basically, for an NGO I started after college. I recently started building my writing career, which as any writer knows, is also a penny job. Somewhere in-between, I tended bar and waited tables to pay bills and, when you think about it, pay for my esoteric lifestyle. But I chose this path. And my path has taken me to work in remote villages in Guatemala, to play with giraffes in Kenya, to ride motorcycles in the Indian jungle and literally broaden my perspective on this amazing world, with so many people to meet, places to go and stories to know.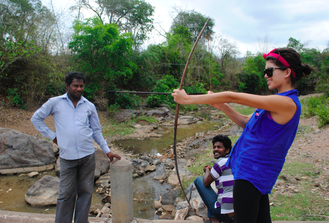 Me, just being a bad-ass in the jungles of Andrah Pradesh, India
Photo via Jacqueline Herrera
When you come to a realization that the world is your oyster, and nothing can stop you, it's a borderline crazy, genius, exhilarating and scary feeling. And I am not alone in going down an atypical path; my friends are among the 14 percent of female engineers at top firms, are co-founders at start ups, have PhD's and travel the world. They focus on what makes them happy and how they are contributing to society rather than worrying about being single or settling down. And its not to say children and marriage are so 1950's, but about having women realize settling down doesn't have to be their number one priority -- life is too exciting and fun, inspiring and challenging to settle down so quickly.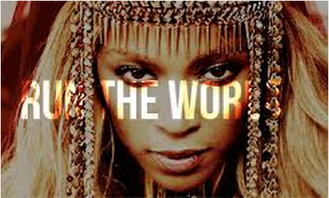 Who run the world? According to Beyonce, the queen: girls
Sadly, this isn't an option for many women, particularly in developing countries. It's still a man's world. We can debate all night, but women have incredible barriers to overcome. I even see it with my family in Mexico; my female cousins don't leave their parents' home until they are married. The fact that I am living on my own, have lived with ex-boyfriends and travel when I want, is a huge cultural no-no. God forbid my grandma ever found out that I spent a summer as an unmarried woman in my then boyfriend's house. And I know this is nothing compared to the borderline misogynistic repression that many women experience in cultures where they are subjected to arranged marriages, forced to live lives behind veils, or denied schooling because the investment is not deemed worthy of girls who will only end up being married off to men and raising babies.
While this is a self-indulgent decision I'm doing for myself, I'll do it while honoring women who don't have the freedom to make similar decisions. I am incredibly lucky to be able to follow my heart, to do things that challenge me and make me happy. I'm not a trust fund kid running off to Paris to end up frolicking on the beaches of St. Tropez (although if anyone wants to invite me on their Yacht, I will not say no!) I'm going there to write -- all the great writers moved to Paris. Yes, it's a romantic, frivolous notion, but I'd rather be frivolous than typical and predictable. From one woman to another, I encourage you to grow some balls (pun absolutely intended), forget societies' expectations, and live life to the fullest.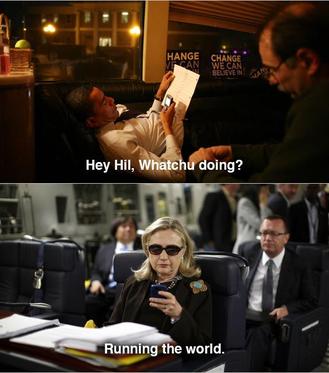 Photo via Textsfromhillary.tumblr.com