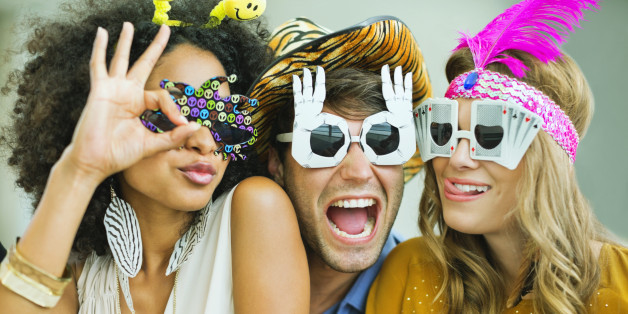 The new year is right around the corner and so are the festive parties. For some, this is a joyous time to get together with friends and family and ring out the old and ring in the new. But for others, New Year's Eve is one big cesspool of awkward moments that could potentially threaten your reputation.
Here are some subtle mistakes most of us don't realize we are making when we party hearty.
Being a gossipmonger. Commenting on how poorly someone dances, how much someone is drinking, or how revealing someone's outfit is may seem innocent to you, but others could interpret your comments differently. Even though you may not agree with someone's choice of date, diet or dance steps, it's best not to point it out. Follow your mom's advice: If you can't say anything nice, don't say anything at all. If someone's behavior is affecting you, sit at another table or escape to the dance floor.
Not bringing a small gift. If someone takes the time to invite you to his party, it's best to show your gratitude by bringing a small gift. Tailor your gift to the person's likes or interests. Some popular hostess gifts include candles, wine, liquor, flowers, a plant or chocolates.
Staying too late. It's obvious that most guests will want to ring in the New Year by staying until midnight, but follow your host's lead if you plan to linger any longer. If the host keeps the music going and the liquor flowing, that's a signal that you can stay and enjoy yourself. On the other hand, if the host shuts down the bar and stands by the door, that's your cue to exit.
Only talking to the people you talk to every single day. A party is the perfect time to make new connections and network with others in the room. Reach out and introduce yourself to people you don't know rather than sticking with only those you do know. This is your opportunity to shine and mingle with those you don't see very often and make new friends. Make it a point to introduce yourself to at least three or four new people. Have some conversation starters available then exercise your listening skills. Most people love to talk about travel and food.
Not being totally present. Put people first and technology second. A New Year's Eve party is a good time to get to know others on a personal level. Be engaged and don't spend a majority of the evening texting, talking on your cell phone and posting pictures on Facebook, Twitter and Instagram. Put your phone on silent so you don't disturb those around you.
Holding your drink in your right hand. You may be right handed, but keep your drink in the left hand to avoid giving someone a cold, wet, clammy handshake. Avoid juggling your food and drink and talking with your mouth full of food. And stay away from those huge hors d'oeuvres that can't be eaten in one bite.
Not showing your appreciation. Never leave a party without thanking the host. This small but significant gesture will make you stand out from those who don't express their gratitude. If you make your exit without saying your proper goodbyes, you might not be invited again. For extra brownie points, send a handwritten thank-you note to the host within 48 hours after the party.
For more articles like this by Jacqueline, visit JacquelineWhitmore.com.