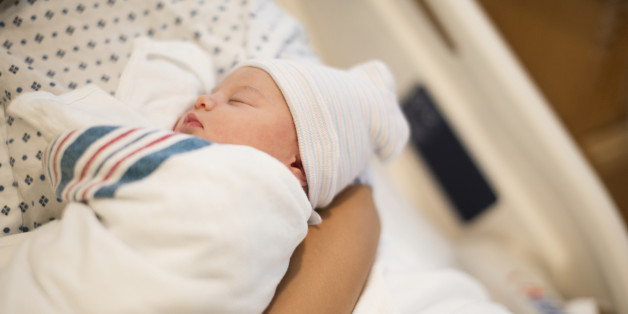 It was a cold February day in 2008 when I left the hospital with my newborn daughter. I had just turned 39.
It was almost five days after I was admitted and one month before her actual due date. Aside from a 21-hour labor and delivery, we had endured issues like a huge drop in my blood pressure (at one point the nurse joked, "Welcome back from the dead!") to a port in my daughter's head to administer meds and a stay in NICU for jaundice along with "preemie" observation.
Compared to some other stories I've heard, I know these are minor issues. However, I didn't sleep for almost five days. (Seriously. Hardly a wink.) I was a woman in her prime -- a woman who had been through careers and owning businesses and traveling the world -- yet this whole giving birth thing had my body and emotions in a stir. I was overwhelmed. I was emotional. I was exhausted.
As I was leaving the hospital, I rode down the elevator with another new mom who had just been discharged. She was much, much younger than me. It was hard to tell with her limp hair and exhausted face, but she seemed to be in her early 20s (maybe younger). I nonchalantly commented about how excited I was to be discharged and was shocked by her comment.
"I'm not that excited," she almost whispered.
"I don't have anyone to help me. My brother is going to stay with me for a few days, but after that I don't know what I'm going to do. I can't afford a 'sitter when I go back to work."
I was speechless. I had a very involved husband. Both of my parents were waiting at our house to assist us as soon as we arrived. A friend's mom had cleaned my house spotless from top-to-bottom while I was in the hospital. I had girlfriends to lend support.
I was blessed.
Something inside told me to exchange telephone numbers with that young woman, but I didn't. It seemed too awkward, too prying, and I was already overwhelmed. So, the elevator doors opened and we parted ways.
I still think of her often and wonder what happened to her and her baby. I had a ton of support and I was still overwhelmed. Those early days included many thoughts of how I was going to survive this, so I wonder how she handled it. I wonder what she did when she was so exhausted that the cry of a newborn brought her to tears, too. I wonder how she handled those nights sitting in the dark rocking her child back to sleep and wondering what happened to her life.
I would've liked to mentor that young mom. It's not that I had all the answers, but at least I could've been there to lend an ear and give support -- to be a friend when she just needed a shoulder to cry on because, as new moms, there would be plenty of those days in both of our futures. If I had to do it over again, I definitely would've exchanged numbers with her.
Sometimes, moms just need someone else to take that first step. That day, I failed that young, scared mom. I'll never forgive myself for that.
6 Ways to Connect with New Moms
1. Contact your local social worker. He or she often comes in contact with young moms in need. Leave your name and number with the social worker and let them know you would be happy to lend support for a young mom.
2. Join play groups. Not only will you and your child have fun, but you will also meet moms of all ages, providing an opportunity for friendship to happen naturally.
3. Start a "Mentoring Moms" group at your church, local library or community center. Match experienced moms with newer moms over monthly meetings.
4. Place flyers in coffee shops or on community bulletin boards for a new moms group. Create a free email address for the group so you don't have to list your home number or email address publicly.
5. Contact local homeless and women's shelters. Many single moms stay at the shelters. Offer to mentor one, or create a support group at the shelter.
6. Connect online. Keep your eye out for online groups that support connecting with other moms. These can be a great starting point for mentoring new moms or other moms in need.
Have you mentored another mom? What would've helped you after having a baby? Share your story or idea in the comments below.
Originally published on PrimeParentsClub.com