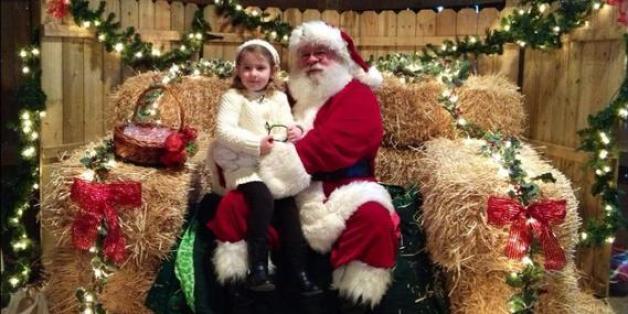 Every year before Christmas, I have these grandiose plans:
"We're going to make ALL our gifts this year!"
"We're going to bake gifts for everyone!"
"We're going to volunteer and give!"
"We're not waiting until last minute to do things!"
"We're going to slow down and spend more family time together -- play games and watch movies!"
"We're going to enjoy the holidays, this year, DAMNIT!"
However, around December 2nd every year it all comes crashing down and I buckle under the stress of everything and end up screaming, "OK, ungrateful people in this house, don't make me cancel Christmas this year!"
For some reason, I always put the highest expectations on the day we go to see Santa Claus. We live around the corner from an amazing organic farm that puts on a fabulous holiday in one of their barns. Before you're thinking this is all yee-haw, let me tell you that this barn has a chandelier. (A chandelier, people.) So, it's a cross between rustic farm experience and organic, upscale restaurant.
On Santa Day, I have these visions of amazing photos and crafts and great food and sitting by the outdoor fire pit and seeing the reindeer and riding on the hayride around the farm until we skip to the car holding hands and smiling at the fantastic experience and talk non-stop on the short ride home.
Instead, the day goes something like this:
8:10 a.m.: Try to wake the 6-year-old up. Too tired from staying up watching reruns of Full House.
8:12 a.m.: Try to wake the kid up again. Remind her that the Elf on the Shelf is watching.
8:17 a.m.: Help half-asleep 6-year-old get dressed.
8:19 a.m.: Tell kid, "Put your shoes on."
8:22 a.m.: "Put your shoes on."
8:31 a.m.: "PUT YOUR SHOES ON."
8:45 a.m.: Argue with husband that we are going to be late for the opening and have to stand in a huge line.
8:47: While putting the dogs out I yell, "Someone feed the cats."
8:52: "Someone feed the cats."
8:55: "SOMEONE FEED THE CATS RIGHT NOW OR THE ENTIRE DAY IS CANCELLED."
9:07: Arrive late to the opening. Argue with The Husband about which parking lot to use that is closer. I win. I'm also right.
9:12: Stand in line 73.5 people deep at 10 minutes after opening. Listen to kid complain about not being able to see Santa.
9:27: Still in line outside barn door. Can't feel toes.
9:31: Push way into barn. Santa is nowhere to be seen. Kid asks about smell.
9:37: Watch Cheesy Christmas singer guy basically lipping "Watermelon" to track. Santa is nowhere to be seen.
9:41: Answer 4,122 questions from 6-year-old about why Santa isn't sitting in his seat. Consider telling kid that all the kids have been naughty this year and Santa probably isn't coming.
9:45: Answer 12 more questions about the whereabouts of Santa. Tell kid he ate some bad sushi last night and has diarrhea.
9:47 a.m.: Santa arrives. Spends 10 minutes talking to kids in line. Angers parents at front of line.
9:57 a.m.: Move 12 steps closer to see Santa; 6-year-old has to pee and "absolutely cannot hold it." Rock-Paper-Scissors with The Husband on who holds spot in line and who takes kid to potty. I lose.
10:00 a.m.: Stand in line 27 people deep for bathroom. Kid complains that she can't see Santa from here.
10:22 a.m.: Anger parents when we push way back to front of Santa line where The Husband is holding our spot.
11:01 a.m.: Kid spends seven seconds on Santa's lap. Hear her ask for present that I've never even heard her mention. Get pushed from parents behind me and a grandma in an ugly Christmas sweater with flashing lights on a tree.
11:08 a.m.: Fight way to craft area. Inadvertently take kid in elf hat out with my purse. Apologize to parents with candy cane from Santa's basket.
11:10 a.m.: Pay $2 for my kid to decorate a sugar cookie, even though we have 3,000 undecorated cookies at home that she shows no interest in decorating. Kid uses enough sprinkles to make up for the $2. I feel better.
11:23 a.m.: Realize no one has eaten anything (aside from frosting from a spoon). Spend $57 on three breakfast burritos and a glass of milk.
12:01 p.m.: Fight way to outside. Notice it has warmed up to 22 degrees. Listen to kid beg to take hay ride.
12:04 p.m.: Rock-Paper-Scissors with The Husband on who gets to stand in line for hay ride with kid in 22 degree weather. I win. Sit in warm car. Get evil eye from cold parents walking by.
1:37 p.m.: Wake up when The Husband and kid get back to car. Kid is crying. Don't ask; don't care.
1:54 p.m.: Arrive home. Retreat to separate areas of the house. Vow to never do that again. Take nap.
4:57 p.m.: Wake up. Scroll through pictures from the day on phone. Post perfect Santa on the Farm pic with kid. Search Internet for time event starts next year. Proclaim it best day ever.
Follow Prime Parents Club on Facebook and Twitter. And, connect with Jacqueline on Facebook and Twitter.