They say 'the man makes the clothes' and the 'clothes don't make the man,' but if you're not careful, the clothes he's wearing sure can make the man look a lot shorter than he is. The average man typically wears shirts, sweaters, trousers, and suits at least a size too big.
Sometimes men don't realize this and become used to that oversized look that makes a small man look shorter and heavier, and a taller man look wider and thicker. Other times men, particularly shorter men, have no choice but to wear oversized clothes due to the non-existent or limited selection of size-appropriate clothing found in many retailers.
I'm 5'6" and it has been my experience that the clothes you find in most department stores are better sized and styled for men 5'10" or more. Based on this, you would think that giants rule the world. But they don't. In fact, the average height of an adult male in the United States is about 5'8", much shorter than the average male model (between 5'11" and 6'2) that advertises the clothes that fit him just fine, but leaves the man in your life coming up short.
So, what is a man to do? Here are four ways to stand up for him and his style: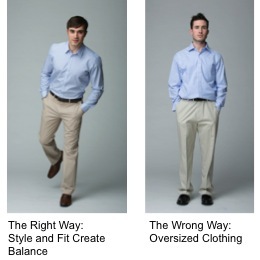 1. Oversized Clothing is Bringing You Down
Beware pants that bunch at the bottom. This will visually take inches off his height. It's amazing how many men wear their pants too long. Pant bottoms, casual or formal, should just graze the top of the shoes and have just a little break. And, don't go baggy either. The baggy look widens, rather than lengthens. Also, remember the rise -- the distance between the seam between the legs and the top of the waistband. The rise is critical because it determines how pants sit on the body. A standard rise (about 11 or more inches) on men with shorter legs can create an unnecessarily top heavy and disproportionate look. Shorter stature men should wear SHORT RISE pants (about 9 or 10 inches), which eliminates excessive fabric, visually lengthens the legs, and creates a more balanced appearance.

Shirts should have strong collars that stand up and don't wilt. Smaller framed men should look for a shorter point collar (under 3 inches), slimmer shoulders, higher armholes, smaller pockets that sit higher on the chest and have a slightly tapered waist. If he wears the shirt untucked, make sure the shirttail falls about mid-zipper in the front and just below the pocket in the back. Any longer, can make him look sloppy and create a body shortening effect. And if he's wearing that shirt under a sport jacket, make sure he flashes a little cuff - but no more than half an inch.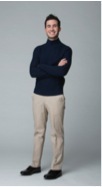 2. Colors and Patterns -- Things are Looking Up
Look for clothes, particularly shirts and sweaters that draw the eyes up toward the face, and not down to the shoes. Sweaters should not be bulky or have deep V-necks. Instead, choose sweaters that are more form fitting and have patterns that are more vertical than horizontal. Shirts should have narrow vertical stripes or pinstripes, micro checks or small prints. Also, avoid major contrasts between bulky shirts and pants, as this could literally cut a guy in half. But, if the pants are well designed and the shirt or sweater has clean lines, your guy could have a more fluid look from top to bottom even when wearing light pants and a dark shirt or sweater.
3. Good Posture -- Don't Be a Slouch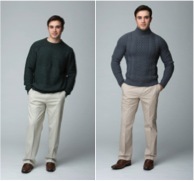 Are you slouching over your computer as you read this article? If so, your man may be doing the same thing even when he stands up, and you and he may not even realize it. A good posture not only adds height and is slenderizing; it projects confidence that enhances an entire look, and even a person's mood. It also makes shirts and pants drape around the body better, lines are cleaner and the entire silhouette improves.
Is your guy hunched over or leaning to one side? Make a conscious effort to remind him to stand tall, stick his chest out and pull his shoulders back. You'll be amazed at how good he looks and feels, and even some of those backaches and pains may go away. Good posture involves training your body to stand, walk, sit and lie in positions that put the least strain on supporting muscles, joints and ligaments. It can improve breathing and prevents the spine from becoming fixed in abnormal positions. Also, according to the Cleveland Clinic proper posture, "contributes to a good appearance." How's that for both a cosmetic and medical endorsement? Make good posture part of his and your fashion.
4. Don't Compromise Fit for Style -- Because Life is Short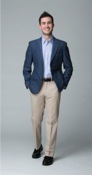 For many men, a size extra small fits like a small, a small fits more like a medium, and so on, but they just accept it. Unfortunately, too many men, particularly those 5'9" and under, for too long have had to compromise because many major designers and retailers make you choose between style and fit. Before I started designing my own clothes, I made the very same compromises. Something might be just your style, but not quite your fit. What was made for someone six foot or taller, probably won't look as good on someone who is 5'6". Here's the good news. Men and women of all sizes can find fashion that fits their body types and lifestyles. Nobody cares what size you're wearing or how tall you are if you look good, carry yourself with style and confidence, and are nice to the people around you. So, men and women, don't compromise, because life is short.
Jaden Lam is a menswear designer. Learn more about his work and see his collection at www.jadenlam.com.
Be sure to visit Jaden Lam on Facebook.