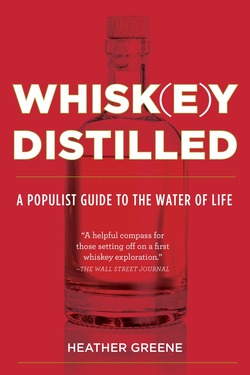 "I'm not attuned to this kind of spirit world," I say as Heather Greene arranges five bottles of hard liquor on the bar. Fortunately my drinking companion, author of the book Whisk(e)y Distilled: A Populist Guide to the Water of Life, is media's go-to expert for all things intoxicatingly lively. We're both perched atop classy stools at the swinging Tribeca hangout Ward III, and Heather has agreed to indoctrinate me into the whiskey world via taste-test.
"This is a creative art," Greene explains.
There are a lot of factors that go into making whiskeys: the grain that you use, the different artisanal methods that each country or distillery might use to make their spirit, laws that tell you what you can and cannot do. You can't separate distilled whiskey from human culture -- this encompasses art, relationships, divisions of gender in society, divisions of power structures. But there's also something sensual about it, like looking at a painting. The aromatics in the spirit will trigger memories, and that's where the artistic part comes in.
Greene knows all about living creatively. A professional singer-songwriter and keyboardist, she was a constant fixture on the indie music scene until 2005, when relocating from New York to Scotland caused her to fall in love with whiskey (or whisky, for you Scotch purists).
"I went from a 'struggling musician with promise' to a struggling musician, period," she writes.
During one of my lavish pity parties, my husband turned to me and said that I really needed to do something. So I went out drinking. I was hired on my first day out 'looking for something to do' by a gentleman called Douglas McFarlane, who... managed the Scotch Malt Whisky Society (SMWS)... Douglas's passion for whisky echoed my own for writing songs and performing; he talked about flavor and smell with the same fervor I talked about keyboard riffs. I was hooked. [xiii-xiv]
That pull turned into a pioneering career. Over the last decade Heather rose to recognition as the first American woman to sit on the SMWS's tasting panel, served as a brand ambassador for Glenfiddich, and became New York's first female spirits sommelier and Director of Education at the prestigious Flatiron Room. (A personal highlight came last fall when celebrity chef Anthony Bourdain lauded Greene as "the most knowledgeable person about whiskey in the world.") But as I'm about to learn, achievement hasn't stopped Greene from appreciating her craft on its simplest level.
"Why am I successful at this?" she muses. "Maybe it's because I do approach it as an artist. It's a piece of the heart."
Heather finishes laying out our tasting samples in her preferred manner of Irish-Scotch-Japanese-American Rye-American Bourbon (the last being the elusive Pappy Van Winkle), and asks me to join her in "nosing," or identifying aromatic differences between the whiskeys. While we do, she reveals how this step mixes science and creativity together.
The high ABV [measure of alcoholic content] suspends the flavors and aromatics. You want to get through the ethanol and smell the flavors that are in there. But there's something called "language olfaction interference," which means you may not be able to analyze or put a name to a smell right away. Being an artist, I can't constantly hear left-brain chatter and analytical language. To get to that sensual place I need to shut it off and let the world come to me. Purely enjoy this, see how it feels in your mouth and how it makes you feel. Does it trigger memories? I went to a tasting once where the distiller wanted to create a whiskey that had aromatics of the candy he used to eat as a child, these sweet caramels, and he got it! You want elements that make you go, "Oh, that reminds me..."
Indeed, as Heather helps me train my palate, I can first identify only a lingering "essence" for each sample: lemongrass (Irish Green Spot Single Pot Still), yam (Balvenie 12 Doublewood Scotch), orange (Japanese Hibiki Harmony), chocolate (Michter's Single-Barrel Rye), cedar (Pappy Van Winkle). But when I pause, allowing each scent to overtake my brain and body, other elements come into play. The Balvenie is warm, sustaining like soup on a cold day. The Hibiki is floral, nuanced, with an appealing vulnerability. And when I finally sip from the shot glasses I swear I can hear music.
So does Greene. It's a favorite pastime of hers to compare whiskeys with her current playlist, and at my urging she does so with tonight's selections.
After constructing our whiskey playlist, I wonder aloud if Greene misses performing, since she's said that writing about spirits often feels like writing a song.
I do miss it. But music was a constant fight, especially with what was happening in the industry. I was stretching; I asked too much of it and when you do that you lose the magic. Soon it wasn't flowing from me naturally anymore. It's beautiful when I write about [spirits]. I transfer my thoughts to paper immediately, and people respond to it.
Even Heather's personal response has changed -- she drops the bomb that the book she's currently working on will move beyond whiskey. "I'm equal-opportunity now," she announces.
I'm not abandoning whiskey, but I'm a lover of different spirits and I'm so interested in how certain villages make Mezcal, for example. It's an integration of earth and pots and plants. There's a lot of beauty in it. I really think people will get more out of their drinking experience if they connect better to the liquid and the work that went into it -- the stories, the culture, the raw ingredients, the resources used. I understand it so deeply -- the aromatics, taste, and the science. There hasn't been a book like that.
Nor has there been a craftsperson quite like Heather Greene. Shortly after our tasting she invites me to Whisky Live, an international convention for exhibitors and educators. (If you ever have the chance to attend one, go. It's frankly awesome.) Though Greene is there to sign books, she focuses on cultivating my palate, guiding me to every exhibitor offering a rare or particularly delicious product. At the evening's end she presents me with some Michter's Rye.
"Inspiration," she grins. Then she whispers, "What if I gave you some music that I never officially released? My producing partner Adam Williams and I did a whole project called Argon 40 with whiskey in mind."
I'm so thrilled I can only nod excitedly.
"The tie-in with music is so close to my heart," Heather admits. "It's been a difficult road to navigate. But it's all craft. I'm just a person who makes things."
But Greene doesn't just make things. Call it sensuality, artistic sensibility, or enjoyment of life -- she makes memories. And with her lessons in mind, every drink I have from here on out will be memorable in its own way too. Cheers.
--
Whisk(e)y Distilled is available from Penguin Random House. Learn more about Heather at heathergreene.com, and listen to Argon 40 here.