New Work from ROA in Austria, Canada, Great Britain, Norway, Poland, Portugal, Spain, Sweden and the US.
Today we visit with street artist, urban naturalist, and globe trotter ROA to see what walls he has been climbing since we last checked in with him and his curious traveling circus of animals. Alternating between the cuddly and the killing, the endoskelton and the excrement, the pugnacious, playful and the putrefying, this Belgian world citizen is no romantic with his subjects and he isn't asking for you to be either necessarily.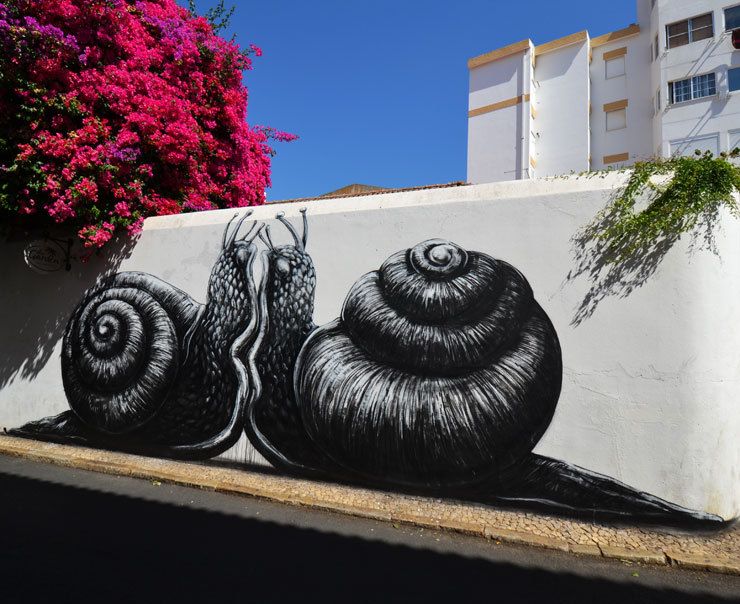 ROA. Lagos, Portugal 2013. (photo © Roa)
If you consider the brutal natural and man-made world that animals have to survive in and the ruthless depravity of humans throughout the ages (including right now), perhaps ROA's depictions of these regionally based creatures are a healthy counterbalance to the fictional storytelling we customarily see in large public depictions of animals. Rotting Big Bird, anyone?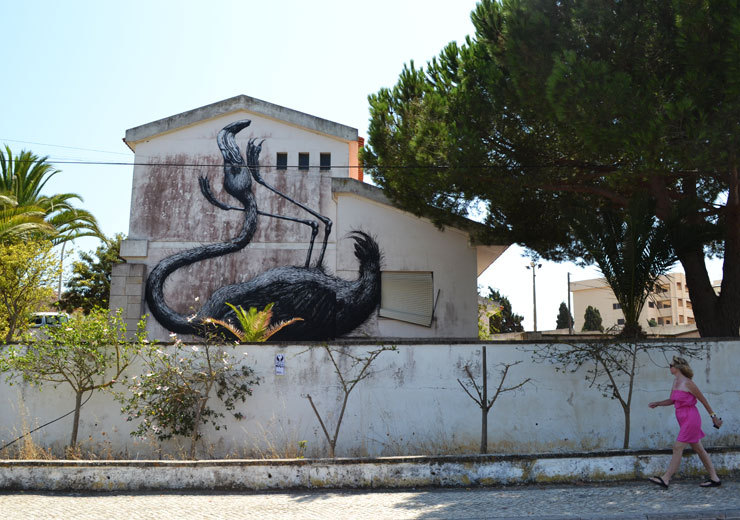 ROA. Lagos, Portugal 2013. (photo © Roa)
In one instructive example, a local town meeting in Chichester in Great Britain erupted into a heated debate this spring and a vote was called over whether to remove one of ROA's fresh paintings from public view. The aerosoled portrait featured a rotting badger lying belly up and pock-marked across the front of a neglected building.
"It's not appropriate, it's grotesque and I hope it will be removed," said the district and parish councilor who was outraged at the factual representation of a dying animal, according to a local website. The article does not mention if she was equally outraged at the culling of badgers locally, which ROA was drawing attention to, or if she would call the culling of undesirable animals "grotesque".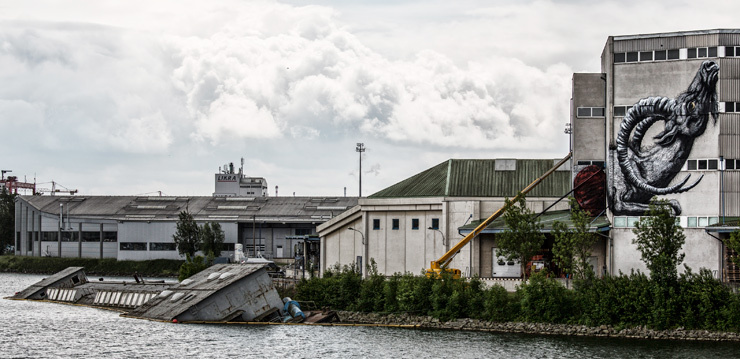 ROA. Ibex at the harbor in Linz, Austria 2013. (photo © flap.at)
You wouldn't cheapen the spray-painted monochromatic realism of ROAs work as activism per se, or even moralizing. Sometimes a bear is just a bear.
But sometimes the poses and positions and selectively illustrated details are more pronounced than one may see in nature, so clearly his desire is to draw attention to them. And why not try to give a voice to them? Otters don't do email and bison hooves are too clunky for texting and nary a narwhal has his own Facebook page. If they have been displaced, marginalized, or are suffering, you won't see a cluster of clamoring squirrels arrayed before a bank of microphones and cameras issuing a press conference.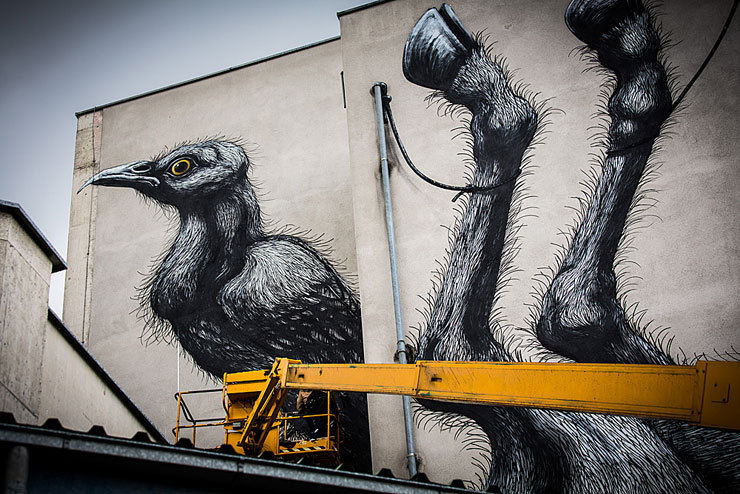 ROA. Detail. Linz, Austria 2013. (photo © flap.at)
But slowly and gradually and almost systematically the former graffiti artist has been raising the awareness of even the dullest among us bipedal primates that the animals we are sharing the world with are plausibly pissed about that whole "dominion over nature" clause that pious Pulcinellas spout when justifying treating some animals like trash even while their blue-blooded poodles are having pedicures. Now that you think of it, this may not be exclusively about the animal kingdom.
Certainly we have all learned from ROAs travels that nature isn't pretty - and can possibly be very alarming - and he won't likely let you forget it.
So start trotting, galloping, swimming, scurrying, slithering, and scurrying! We have a lot of catching up to do with ROA as this year he's been in Austria, Canada, Great Britain, Norway, Poland, Portugal, Spain, Sweden, and the US.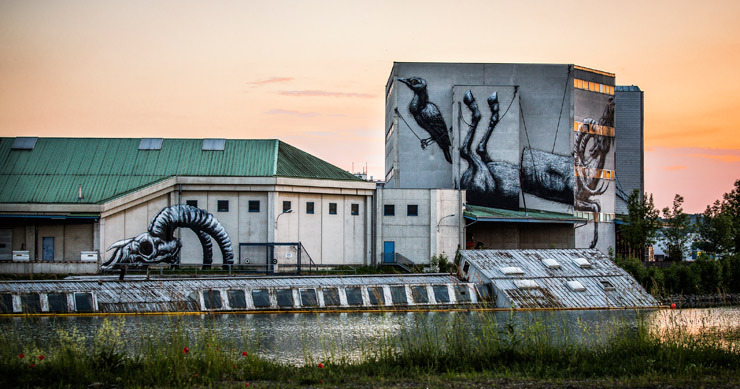 ROA. Linza, Austria 2013. (photo © flap.at)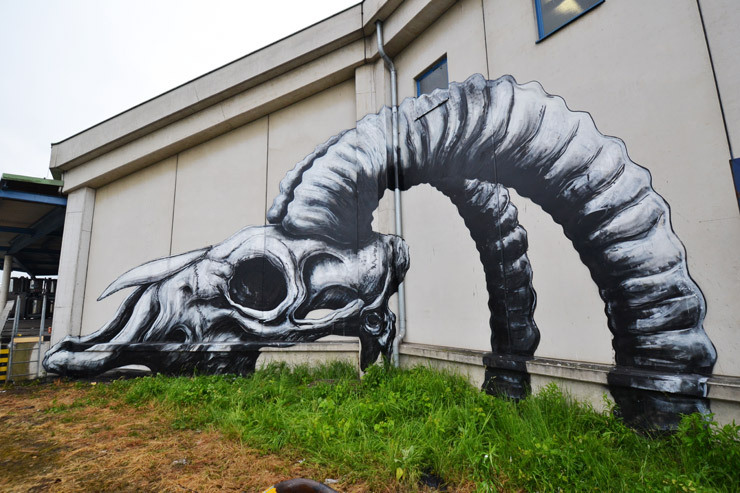 ROA. Linz, Austria 2013. (photo © Roa)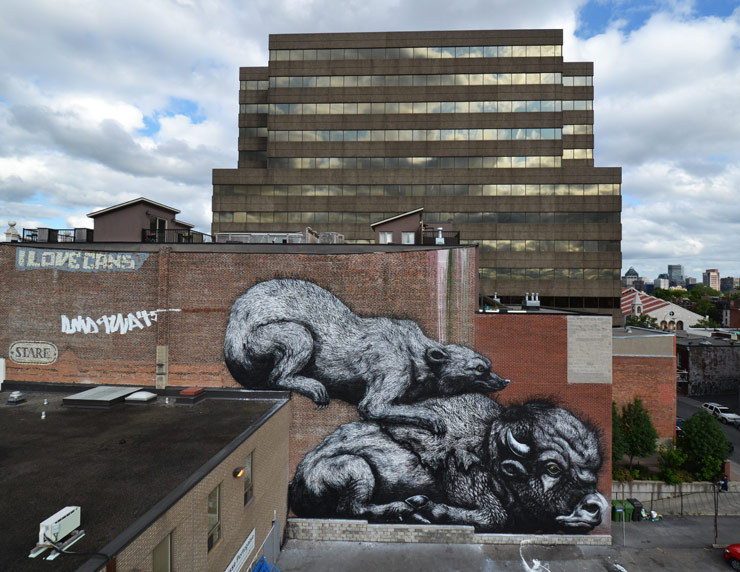 ROA. Mural Festival. "Still Life With Bison and Bear" Montreal, Canada 2013. (photo © Roa)
This wall was featured in our coverage this summer of the MURAL festival, where we wrote;
"For his first visit to Montreal, the Belgian Street Artist named ROA says that he had a great time creating this 'still life' with a bison and a bear. When talking about his inspiration, ROA says that he was impressed with the history of the so-called American bison, which was incredibly abundant in the early 19th century, numbering more than 40 million.
After being hunted almost into extinction with a population of 200 a century later, the bison slowly have reestablished their numbers in Canada to 700,000. He decided to add a bear laying on top because it tells a similar story of a native mammal in the region."
"This is the first time I actually painted a narwhal," says ROA about the curiously speared whale that lives year-round in the Arctic.
"Their tusks make them a unique example of a species; in a way the narwhal is a mythical sea creature; The unicorns of the sea," explains ROA about this Swedish piece. "The young male narwal that I painted here is unfortunately caught in a fishing line. I wanted to draw attention to how they and many other species become a victim of hunting and pollution."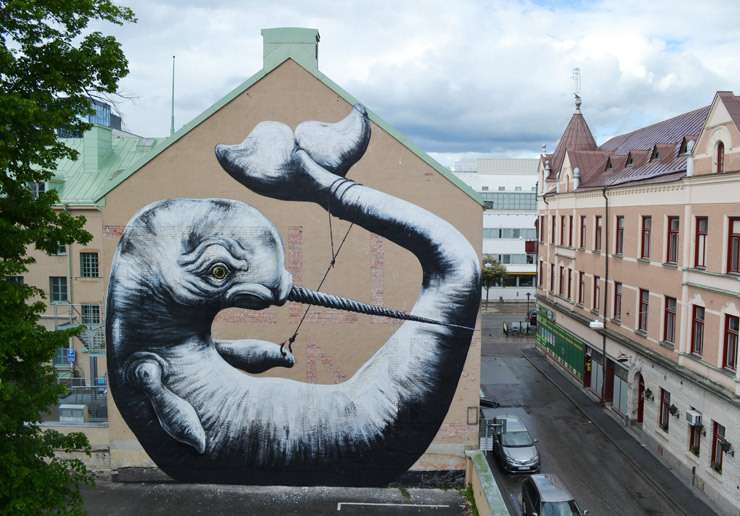 ROA. "Catch of The Day". Detail. Open Art. Örebro, Sweden 2013. (photo © Roa)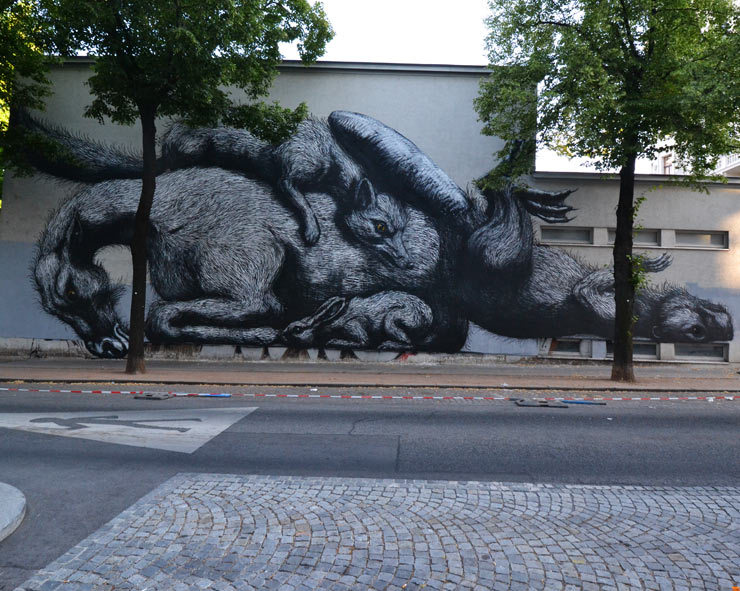 ROA. Vienna, Austria 2013. (photo © Roa)
At the start of July ROA opened his second solo show - this time with Inoperable Gallery in Vienna.
The exhibition was called "PAN-ROA's Box" and it was an animal curiosity focused show.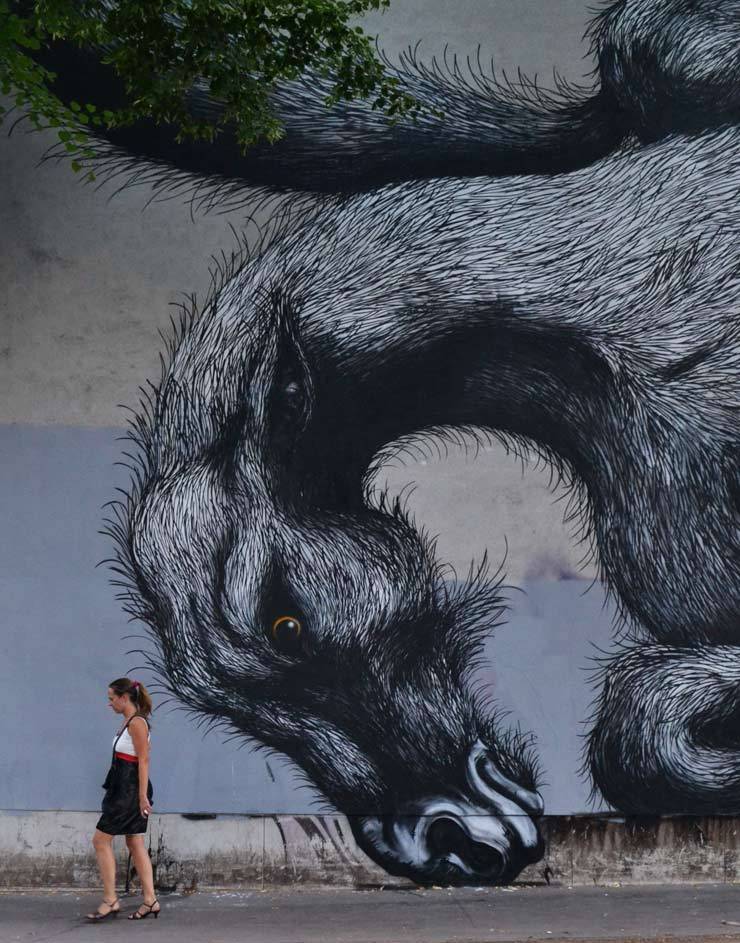 ROA. Detail. Vienna, Austria 2013. (photo © Roa)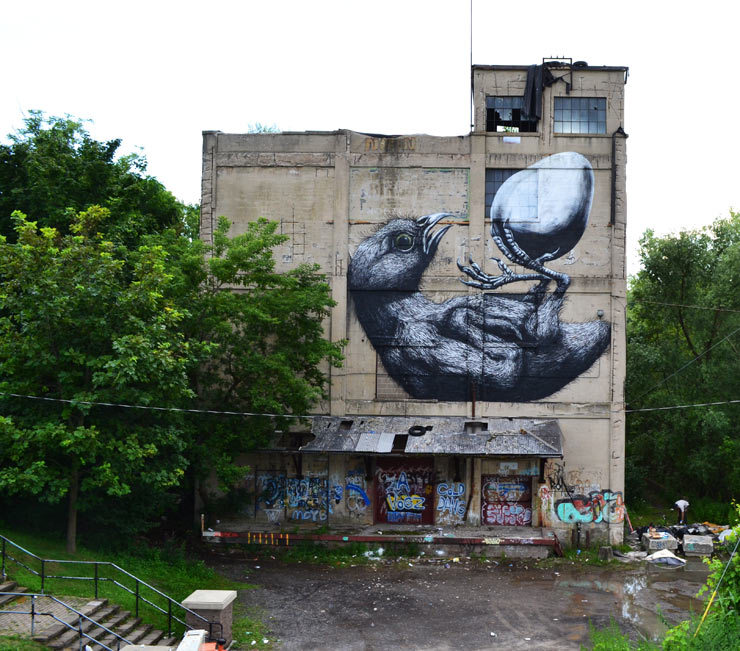 ROA. Wall Therapy. Rochester, NY 2013. (photo © Roa)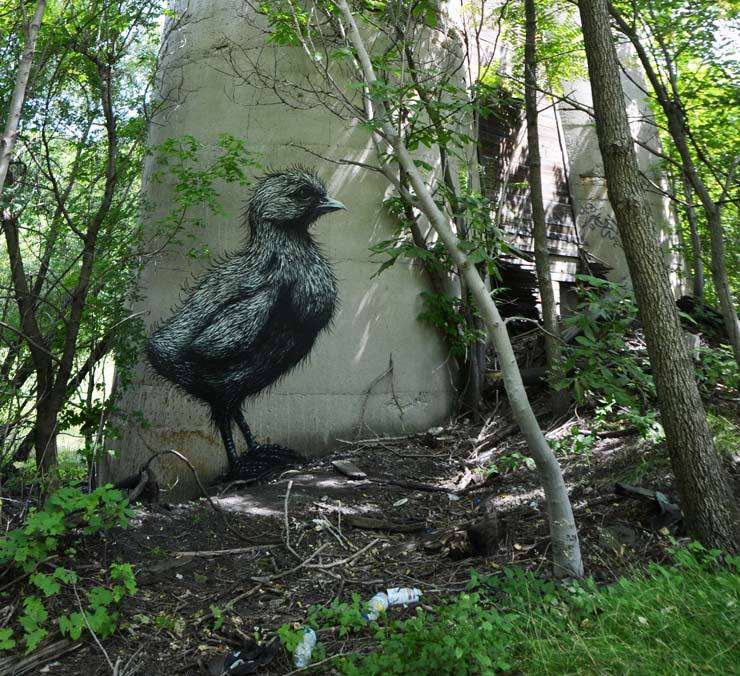 ROA. Wall Therapy. Rochester, NY 2013. (photo © Roa)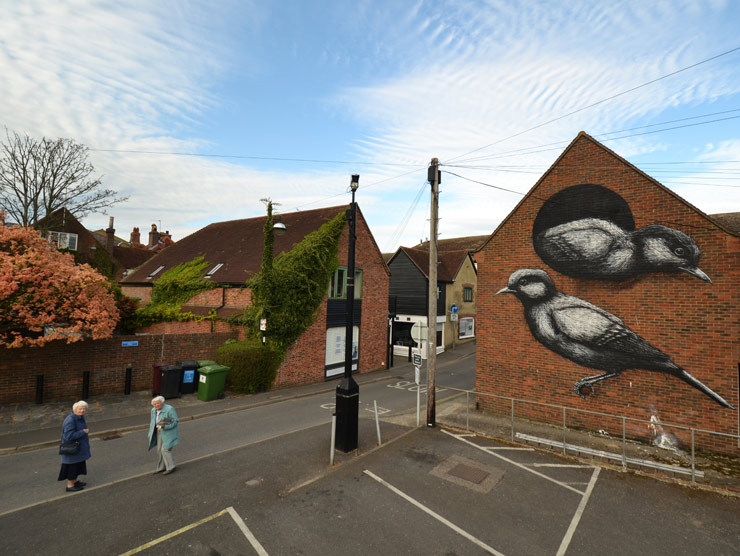 ROA. "Two Blue Tits" in Chichester, Great Britain 2013. (photo © Roa)
ROA was there as part of his invitation to participate at the Chichester Street Art Festival in May.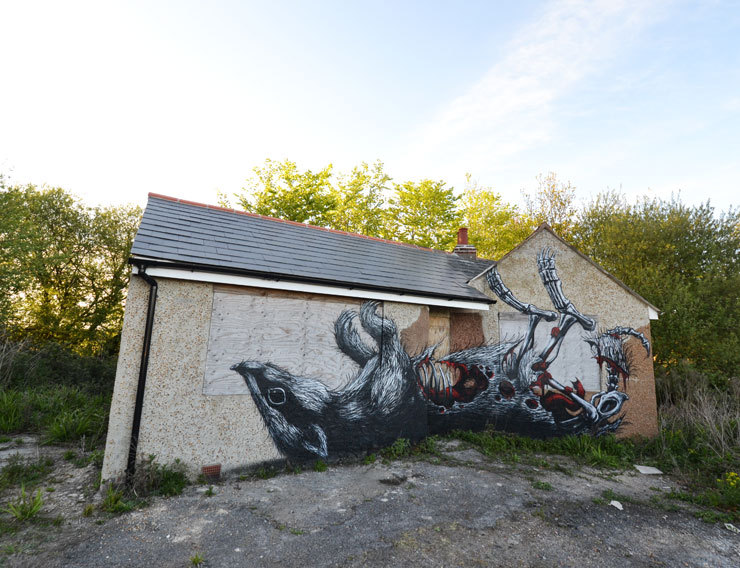 ROA. Chichester, Great Britain 2013. (photo © Roa)
Here is the painting referred to above that upset a number of people in Chichester and called for a vote to take it down (it was 50/50 so they've left it up).
Regarding the Badger Cull 2013
"After several emails from Louise Matthews about the upcoming badger cull in GB, I painted a badger to support their efforts to save the badgers," says ROA. The controversial practice in Britain has gained a number of very adamant foes, including Brian May from the rock group Queen.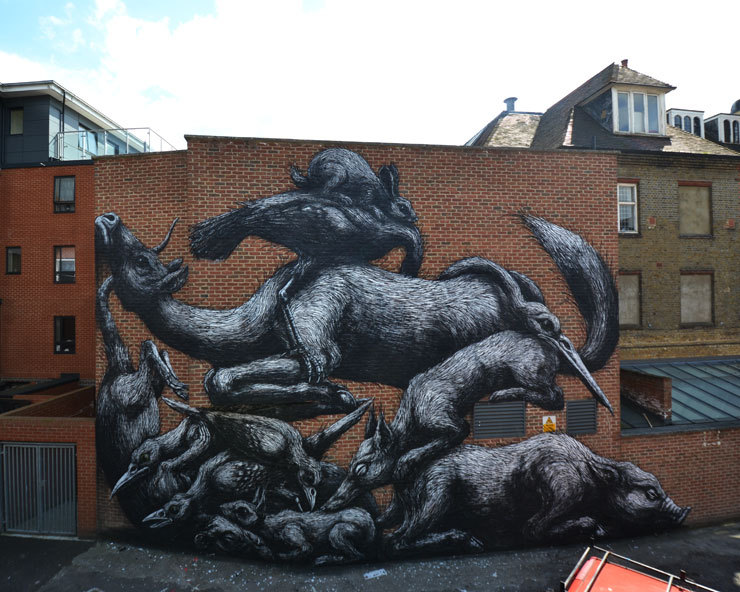 ROA. Bethenal-Green London 2013. (photo © Roa)
As a guest of Griff from Street Art London, ROA did this piece in Bethenal-Green.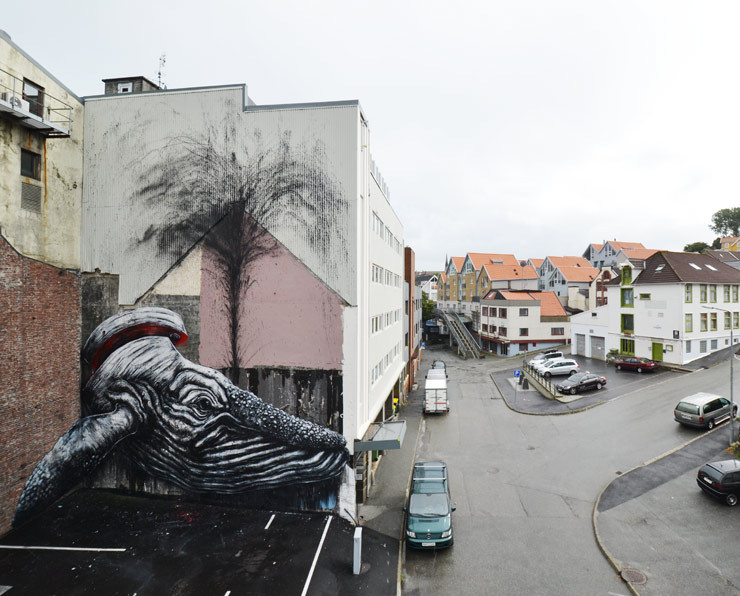 ROA. Nuart 2013. Stavanger, Norway. (photo © Roa)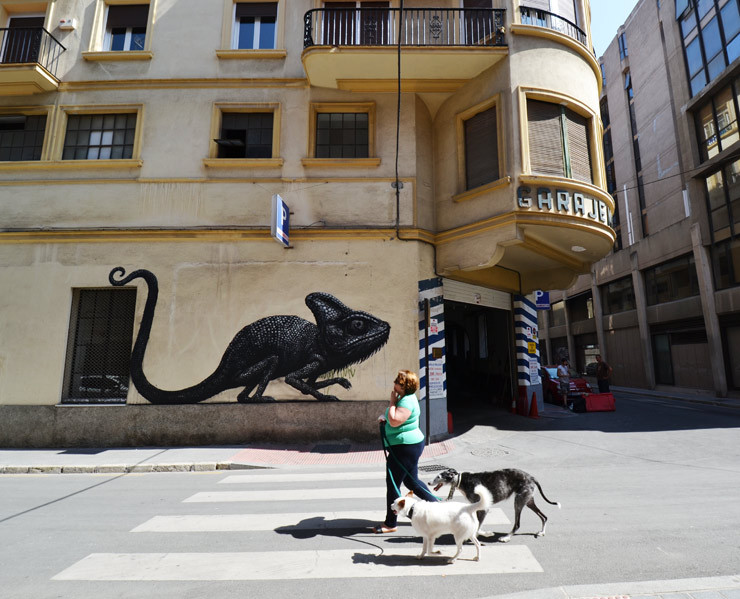 ROA. Malaga, Spain. (photo © Roa)
As part of his invitation to the Maus Festival, ROA painted this in Calle Casas De Campos, Malaga, Spain.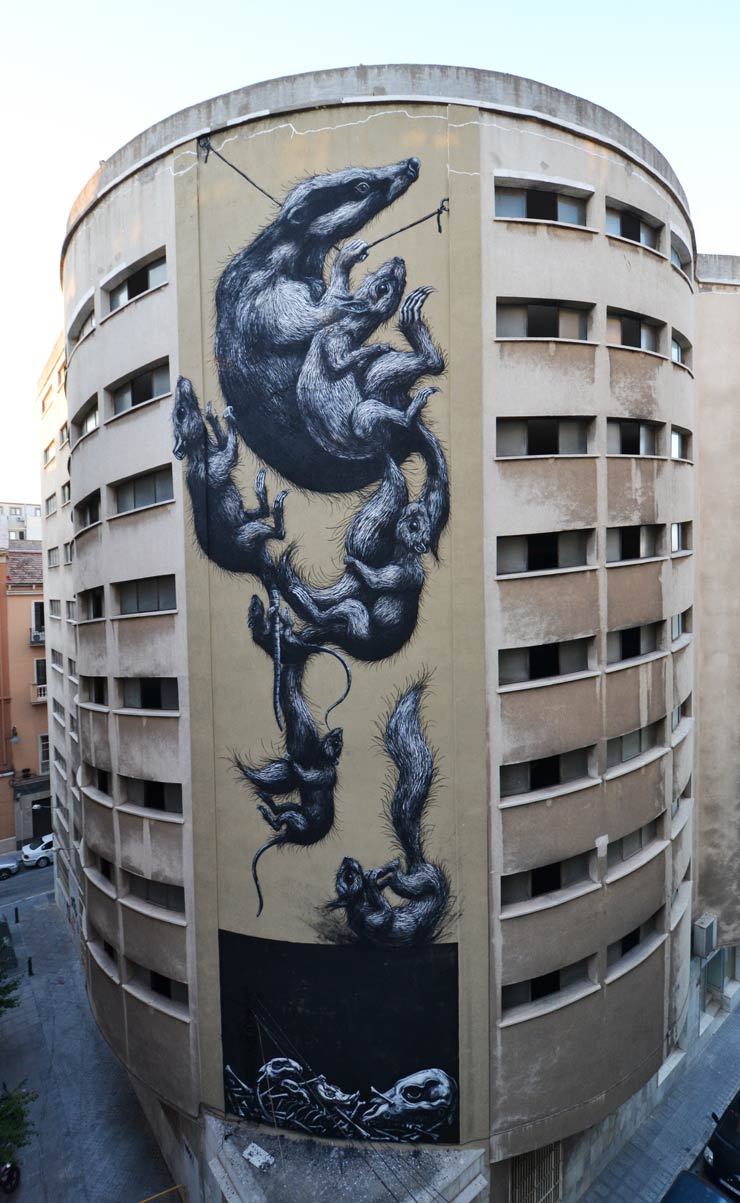 ROA. Malaga, Spain. (photo © Roa)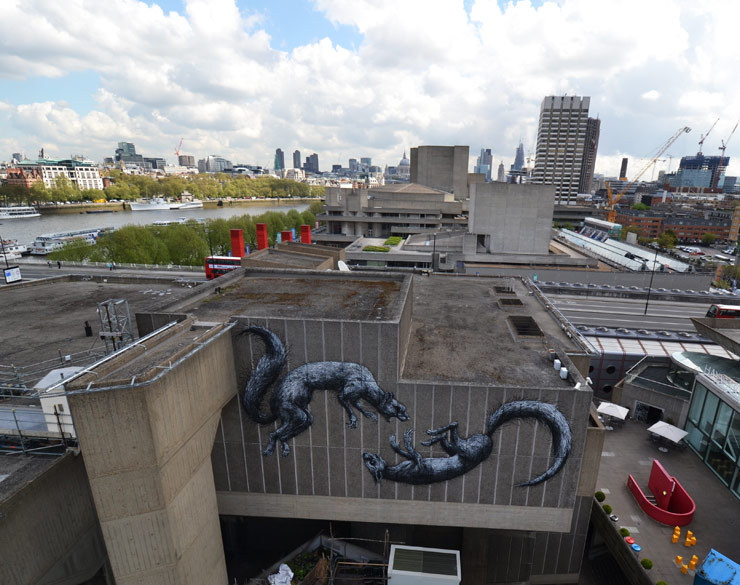 ROA. "Fighting Squirrels", Southbank, London 2013. (photo © Roa)
"If you have ever witnessed a squirrel fight, you might recognize the action," says ROA of these two enraged fellas in mid air. He explains that when the North American Eastern Grey squirrel (top) was introduced it caused the red native Squirrel (bottom) to lose habitat and population, so now the red one is protected by conservation laws.
ROA would like to thank the Southbank Centre at the canal.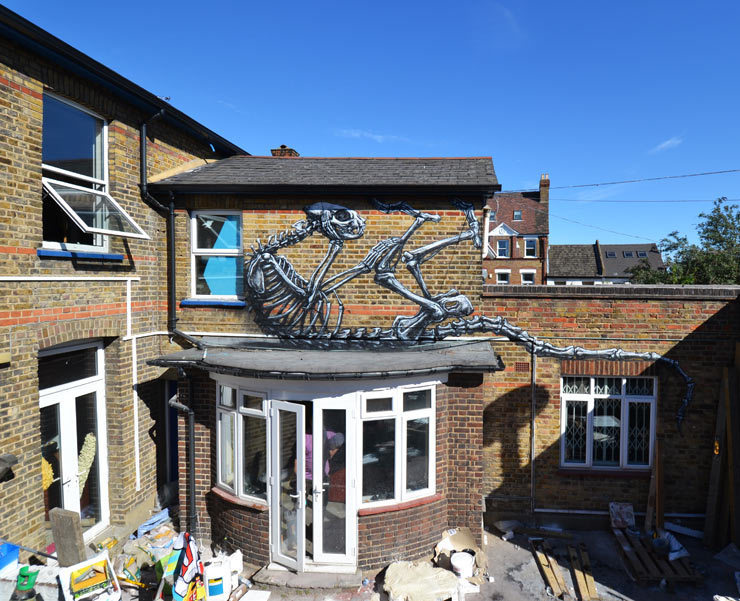 ROA. Dulwich, London 2013. (photo © Roa)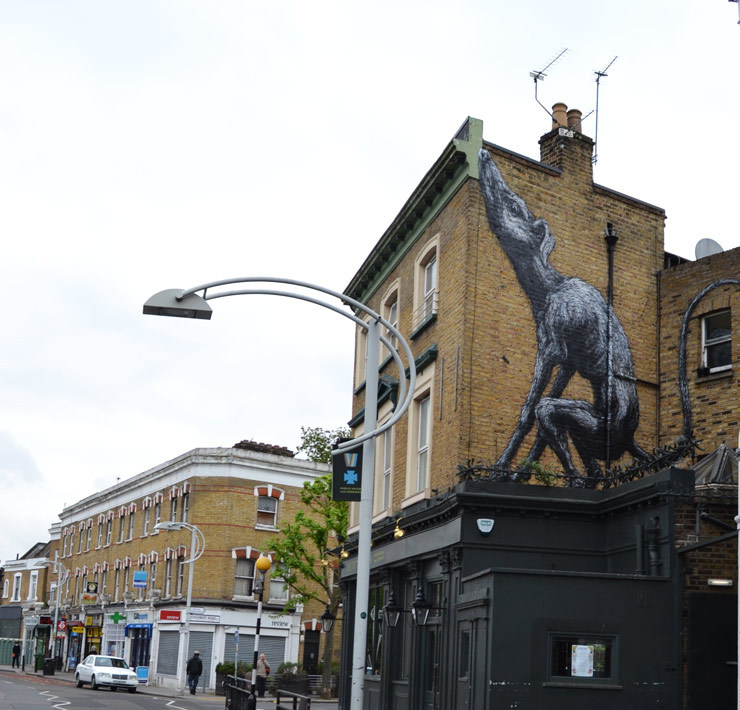 ROA. Baroque The Streets Festival. Dulwich, London 2013. (photo © Roa)
Regarding the dog above, ROA says :
"It took me a detailed search into the Dulwich Picture Gallery to find an animal expression that was involved with the daily life of the time and express on it's own a fragment of the ordinary life. My eye was caught by a pooping dog in a large scale hunting scene; I found that an interesting detail. The people of the museum told me they have more hunting scenes with this same curious detail, but those were currently not exhibited."
Dulwich: 'Baroque The Streets: Dulwich Street Art Festival' May 10-19, 2013. The festival was organized by Street Art London & Dulwich Picture Gallery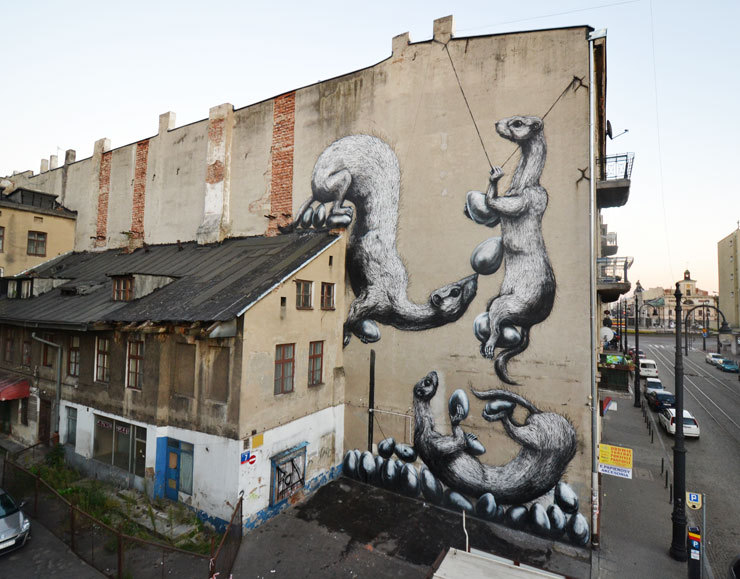 ROA. Urban Forms Festival. Lodz, Poland. 2013. (photo © Roa)
Roa wishes to extend his most sincere thanks to the following people:
In Southbank, London he sends thanks to the Southbank Centre at the canal.
In Linz, Austria he says thanks to Bubble Days Festival in Linz, and thanks to Poidle.
In Montreal, he says thanks to MURAL for all their good care and for the retreat in Quebec. Thank you also to Yan, Andre, Alexis and Nico!
In Malaga, Spain he says thank you very much Fer.
In Rochester he says thank you to Ian, Steven, Dan and Wise, who "made my stay excellent as usual."
In Lagos, Portugal he says thanks to LAC Laboratório Actividades Criativas.
In Stavanger, Norway he extends his thanks to the NUART festival.
In Lodz, Poland he says thanks to Michael and the crew.
And we here at BSA say thank you to you all, and of course to ROA for sharing all his travels with BSA readers.
<<>>><><<>BSA<<>>><<<>><>>><><<>BSA<<>>><<<>><> Please note: All content including images and text are © BrooklynStreetArt, unless otherwise noted. We like sharing BSA content for non-commercial purposes as long as you credit the photographer(s) and BSA, include a link to the original article URL and do not remove the photographer's name from the .jpg file. Otherwise, please refrain from re-posting. Thanks!
<<>>><><<>BSA<<>>><<<>><>>><><<>BSA<<>>><<<>><>

This article is also posted on Brooklyn Street Art.

Read all posts by Steven P. Harrington and Jaime Rojo on The Huffington Post HERE.

See new photos and read scintillating interviews every day on BrooklynStreetArt.com

Follow us on Instagram @bkstreetart

See our TUMBLR page

Follow us on TWITTER @bkstreetart