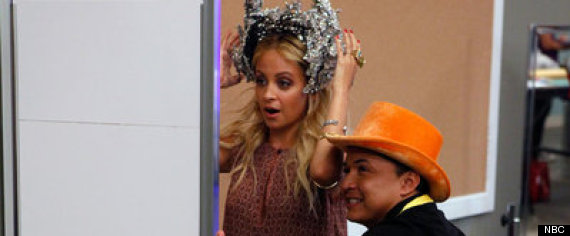 It's been more than eight years since Americans were introduced to Nicole Richie as Paris Hilton's shorter, equally spoiled sidekick on "The Simple Life." But it was Richie who wound up stealing the show, and now she may be stealing another one.
The adopted daughter of Lionel Richie wasn't even supposed to be Hilton's other half on "The Simple Life," which debuted in Dec. 2003 -- sister Nicky Hilton and a couple more socialites (Kimberly Stewart and the late Casey Johnson) were first choices. But Hilton found herself filming the Fox reality hit in rural Altus, Arkansas, giggling at Richie's hilarious antics (usually involving boys and/or pets). And so did viewers, who initially tuned in for the heiress, but stayed for the incredibly entertaining Richie.
"The Simple Life" lasted for five seasons and led to the deterioration of Hilton and Richie's friendship, but it helped launch Richie's career as an actor, TV personality, author and fashion designer. She has also started a family -- she's married to Good Charlotte frontman Joel Madden and they have two adorable children, four-year-old daughter Harlow and two-and-a-half-year-old son Sparrow.
Now with all of this life experience under her belt -- and infinitely better hair extensions -- Richie is ready to head back to the reality TV spotlight.
The socialite-turned-designer makes her debut on NBC's new "Project Runway"-esque series, "Fashion Star" (premieres Tues., Mar. 13, 9:30 p.m. ET). On the show, aspiring designers create clothes with restricted time, materials and theme, competing to have their looks sold in actual stores the following day after the episode airs. Richie is one of three celebrity mentors, alongside Jessica Simpson and designer John Varvatos, while model Elle Macpherson will play host.
Here are 5 reasons why I am glad to see Richie re-entering the reality TV sphere ... even if it also means the return of Simpson, queen of the great chicken vs. fish debate.
1. She's a trendsetter
Though Mary-Kate and Ashley Olsen have been named the pioneers of the adorably homeless-chic look, Richie did a great deal to make it mainstream as well. (And yes, I do realize celebrity stylist and reality TV star Rachel Zoe is also largely partly to thank/blame ... depending on how you look at it.)
2. She's a smart business woman
Richie has built quite the successful fashion career for herself in the past few years. She debuted her House of Harlow 1960 jewelry line in late 2008, then expanded to apparel, shoes and handbangs with Winter Kate. And she doesn't plaster her name all over the line -- instead, she uses her daughter's first and middle names, respectively, which I'm fine with because Harlow Winter Kate Richie Madden is just so adorable. (See no. 5)
3. She's not afraid to make fun of herself ... or others
She certainly poked fun at the non-socialites she encountered on "The Simple Life," but Richie is just as quick to point the finger at herself. And, in the photo above, she tries on a headpiece from adorable "Fashion Star" contestant Oscar, proving she's also not afraid to look silly.
4. She seems to genuinely want to help the contestants succeed
Watch Richie react to a very emotional Oscar (and his very orange hat) and tell me she doesn't care.
5. The hope that Harlow and/or Sparrow will make a guest appearance
Full disclosure: my soft spot for children (particularly well-dressed celebrity ones) knows no bounds; But Harlow's penchant for pretty pink tutus and pigtails and Sparrow's rockabilly hairdo and piercing blue eyes make them two of my favorites. I think they could provide some excellent inspiration for those looking to reach a younger demographic.
"Fashion Star" airs on Tuesday at 8 p.m. ET on NBC, beginning Mar. 13.