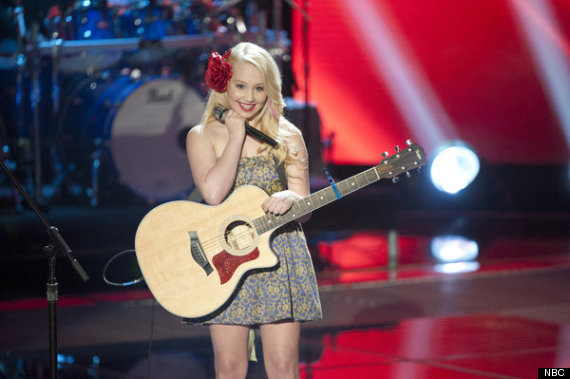 This is "The Voice." After reminding us what happened during Season 1 and showing a montage of many pushed buttons, the sophomore season of NBC's smash hit singing competition is finally underway. Now that we've reconnected with Christina Aguilera's boobs, been introduced to her heinous "Xtina" four-finger ring and seen the super cool new "I WANT YOU" engraved chairs (inspired by Dr. Claw), let's move on to the contestants.
RaeLynn
First up is RaeLynn (one name; don't wear it out). The 17-year-old blonde country bumpkin lives on a farm 45 minutes outside of Houston and has to get eggs out of the hen house, mow the grass, brush the horse's hair, etc. "Anything that my mom or dad tells me to do, I do it," the obedient hopeful explains. She's got a massive flower in her hair that would have made quite the pin for Carrie Bradshaw on "Sex In The City" when those were the rage. Luckily, it is for her mom who has a black one on her shirt. Twinning!
When Carson asks who RaeLlynn is most hoping turns their chair around she says Blake -- he and his wife, Miranda Lambert, are her favorite country artists. And thus, it's no surprise she goes with Lambert's "Hell on Heels." Carson tells her that someone performed Lambert's song last season and Blake was lukewarm to it. But the teenager assures him she "changed it up a lot and I don't sound like her."
So with that confidence, RaeLynn walks toward the stage with her guitar, some bright red lipstick and a "Thank you, Jesus!"
She sounds a little bit country, a little bit folksy and to me, a lot shaky at the onset of the performance. But Adam -- unlike last season, when he was typically the last to hit his button -- is first to turn his chair around for RaeLynn. Blake follows, probably after some mental coaxing from RaeLynn's very aggressive mom backstage.
Time to duke it out, boys. Adam calls RaeLynn's performance "amazing" and Blake can't wait for Miranda to hear her version. He tells her he can make her a country star. But Adam can do him one better: "Why would you just want to be a country star? Wouldn't you want to be bigger than that?" The diplomatic teen declares her love for Blake, but says Adam is beautiful and she loves him, too. Ultimately, she goes with Blake (of course) and then, "Party in the U.S.A." plays. Tons o' hugging ensues when RaeLynn goes backstage to hug her parents, who I think should ask her how her lipstick got so smudged!
Jesse Campbell
He's only the second contestant and we already have our first sob story of the night. Jesse's wife left him due to his struggling music career, making him a single dad. He slept in his car with his young daughter on his chest and eventually, his brother lent him a hand. Years later, with the support of his now pre-teen daughter, Jesse sings at churches and weddings, still hoping to make it big.
And it looks like he has a shot. After the first line of Leon Russell's "A Song For You," Cee Lo presses the button and then Adam and Christina quickly follow. Blake held out, but eventually gave in, making Jesse the first contestant to woo all four judges. By the end of Jesse's performance, everyone is on their feet (except for Blake, who apparently doesn't wholly believe the hype).
The judges sing his praises and then, it gets a bit uncomfortable. After Cee Lo says Jesse's like his brother, Christina takes things to the next level with, "I know I'm not the same color as Cee Lo ..." But the "Forget You" singer is quick with the comeback: "Everybody's the same color with the lights off." Cringe.
Somehow, Christina -- who is seriously channeling Snooki with her exposed cleavage and newfound obsession with the word "phenomenal" -- still ends up on top. Jesse goes with her because she said she'll fight for him. Christina's "Fighter" plays in the background as they hug and I scratch my head.
Juliet Simms
We know this 25-year-old Floridian is hardcore thanks to her cut-off vest and massive cross. Juliet "feels like music is the most beautiful thing in the entire world" and has been interested in singing since the age of four, and started touring at the age of 16. (Yeah, she's that type.)
Nevertheless, her rendition of The Beatles' "Oh! Darling" has Adam out of his seat. Seriously, the man cannot contain himself. He presses the button early on (in tandem with Cee Lo) and as his chair spins around, he is standing up, clapping and singing along. Apparently, this is something that the judges like to do this season since Blake did the same thing during RaeLynn's Miranda Lambert performance earlier in the show. Christina, who loved powerful, raspy ladies in Season 1 (ahem Beverly Shane), finally smirks herself into pressing the button at the last minute.
Christina says Juliet brought the house down and then mocks Adam's car salesman attitude before he can even get a word in. Adam fires back by telling Christina, "If selling a car means winning 'The Voice,' then I sell cars." Clearly, Adam will be using his victory from the former season as clout. We get it, Adam, you won. The two bicker and Adam zings Christina by telling Juliet, "Christina Aguilera is one of the best singers on earth. But I can assure you that she is not one of the best coaches." The blonde retorts by telling Adam that he's trying to be Justin Timberlake (huh?) and finally, Cee Lo calls out their "sexual tension, man." That whole schtick seems forced to me, but never we mind, back to Juliet.
Yet, somehow, perpetually sexually creepy Cee Lo manages to make it more uncomfortable by saying Juliet turns him on. And soon enough, she's the first to join Team Cee Lo. (Ew.) To be fair, it's probably either because A) Cee Lo is great with rocker chicks (cough cough Vicci Martinez cough cough) or B) Juliet was turned off by the bickering between Adam and Christina. Either way, Cee Lo, please stop being gross.
Chris Mann
Chris is a steely-eyed, suited-up singer who has been studying classical music since his teenage years and majored in Opera at Vanderbilt University. We first see this 29-year-old from Wichita, Kansas laughing and chatting with his parents, and then, he explains in a voiceover that he wants to win the show for his mom. Soon enough, the music changes to a sad piano melody, so clearly, waterworks will be commencing in five ... four ... three ... two ... Chris explains that his mom was diagnosed with pancreatic cancer, the same illness that claimed Steve Jobs' life, he notes. She wanted him to continue to follow his dream of being a singer rather than move back home to Kansas to help care for her. Hope you have some Kleenex!
Chris is willing to take a risk in choosing a difficult song in order to make his dreams come true: He takes the stage with Andrea Bocelli's "Because We Believe." Cee Lo is first to turn his chair around, followed by Christina. Apparently, Chris feels the need to point at her, late '90s boy-band style. Unfortunately, there were no choreographed mic stand moves, but Chris does pull out some very un-classical dance moves, hand gestures, and adds sounds of excitement in between verses ("WOOOO!"), which is confusing. Though I can't say opera is my thing, he is obviously talented.
When it comes time to choose a coach, Chris' piercing blue eyes start tearing up. He's grateful the show allowed him to be himself and find his voice, a word he uses many times (skillful advertising, NBC). Blake tells Chris that he is a very good singer, but he couldn't understand what he was saying. I'm not sure if this is a joke, because the song was largely in Italian. Let's hope it was a joke.
Chris dries his eyes and starts interviewing Christina and Cee Lo about what they can do for him. Cee Lo says if he wants to be himself, he should join Team Cee Lo and Christina asserts, "I know what to do with real vocalists."
Either that won him over or Chris likes people with names similar to his because he goes with the Christina. The latter is the only quasi-logical reason I can think of. Seriously, Jesse and Chris?! Why are so many contestants drinking the Christina Kool-Aid?
Daniel Rosa
Though this 20-year-old Californian's parents have told him he's a great singer, bowtie aficionado Daniel needs confirmation from the judges because his parents are, of course, biased. And then, he cries. Like, a lot. Within five seconds of appearing on screen, Daniel is wiping his tears beneath his Buddy Holly glasses.
I would imagine that Daniel is a "Glee" fan -- a Gleek, if you will -- since his outfit is so very Blaine and he sings "Animal" by Neon Trees (a Warbler classic).
His performance -- though heartfelt and adorable -- is subpar. He fails to impress the judges and no one's chair turns around by the time the song ends.
Therefore, Daniel cries some more. He tells the judges, "It's been a blessing just to be here in front of you guys" and seems really genuine. I will not lie, this is pretty painful, even though it doesn't seem too exploitative on the part of the show. (I'm looking at you, "American Idol.")
Daniel asks the judges what he could have done better and they mention focusing on pitch and control. Nevertheless, Christina is impressed he asked for the feedback. I cannot imagine this will be good for Daniel's quest for confidence. Christina comments that she feels bad after Daniel leaves the stage, because apparently, she's super empathetic in Season 2, you guys.
Tony Lucca
Though many know where former Mickey Mouse Clubbers Britney Spears, Ryan Gosling, Justin Timberlake, J.C. Chasez, Keri Russell and, of course, "The Voice's" own Christina Aguilera ended up, most probably don't recall Tony Lucca. (I, for one, did not.) He was an older member of MMC during Christina's stint and now, with a very enthusiastic son and supportive wife by his side, he's ready to get back into the business and audition in front of his former co-star.
With guitar in-hand, Tony takes the stage and wows the crowd with "Trouble" by Ray LaMontagne. It doesn't take long before all four judges turn around for him; but sadly for Tony, there's no "OMG! I know you!" look on Christina's face. Adam says he's going to have a great career; Cee Lo (who only pressed the button after some literal and metaphorical pressure from Adam) notes, "I was going to sacrifice you;" and Christina loves Tony's tone.
Presumably, because Adam pushed two buttons -- a first in the short history of "The Voice" -- Tony goes with Adam. At least, it's clear why he didn't go with the Christina (i.e. that awkward moment when someone recognizes you and can recollect many memories you shared and you have no effing clue who s/he is).
But as Adam curses gleefully about how good Tony is, a pensive Christina (yes, those two words are appearing next to each other) leaves the stage. Clearly, she "realizes" who Tony is and goes to find him post-hug-sesh with his family. Christina joins in on the embracing (beware the breasts and heavy jewelry, Tony) and tells him: "Britney had the biggest crush on you ... she would talk about you all the time." Tony's wife and kid seem okay with it. All's well that ends well, right?
Tune into the second blind auditions installment of "The Voice" on Mon., Feb 6 at its regular time, 8 p.m. EST on NBC.