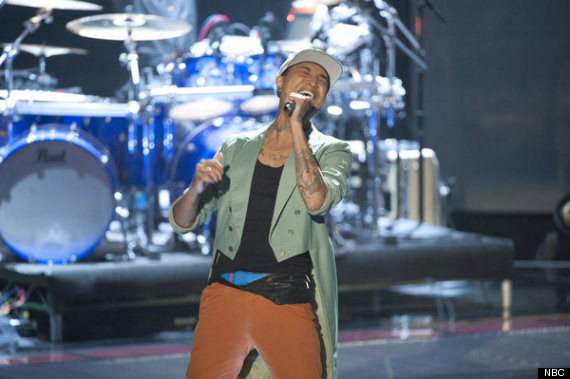 We're back for the second installment of "The Voice's" blind auditions. It's the first two-hour episode of Season 2 so if there wasn't enough of Christina's boobs, Adam boastfulness, or Cee Lo's studded attire last night, you are indeed in luck.
My sister, who will be recapping with me from this point forward, is looking for more of two things in particular: 1. Blake and 2. Cee Lo's kitty, who we've recently learned is named Purrrfect.
The show opens with Carson Daly's increasingly skinny head only introducing the judges and their Prince medley.
Chelsey: "‪Adam Levine's in a tank top and Cee Lo's in sequins, so all is right in the world‬."
Jaimie: "He's like Bedazzle-Me Elmo"
Chelsey: "‪Whenever Cee Lo doesn't wear sunglasses, I remember why Cee Lo wears sunglasses‬."
‪Cee Lo's fittingly sunglasses-inducing ensemble aside, Blake stars off shaky, which we can only attribute to his denim-on-denim ensemble. But things pick up when they get to "Kiss" with a twang.‬
‪Chelsey: "I‬ love Blake, really I do, but it shows that he doesn't have too much range if he only sounds good when they turn a Prince song into a country song."
Jaimie: "Sorry, I couldn't concentrate. I was waiting to see Christina Aguilera's nipple."
And speaking of boobs, onto the contestants ...
Kim Yarbrough
Immediately in the previews, we were drawn to Kim. Not only because she looks like Chaka Khan, but, as Chelsey notes, "She's giving Christina's cleavage a run for its money." In all seriousness, the 50-year-old songstress, who started performing at 18, has been trying to succeed in the music business for more than three decades: She's done security for Dave Matthews Band and she's worked in potato chip factory.
All Kim wants to do is "live, sleep, breathe, and eat [her] career." And when she starts belting "Tell Me Somethin' Good" by Rufus and Ms. Khan herself, we kind of lose it.
Jaimie: "‪OH MY GOD‬! SHES KILLING IT!"
Chelsey:  "‪STOPPPPPP‬"
Jaimie: "‪PRESS THE F---ING BUTTON‬, CHRISTINA! You're just jealous!"
Chelsey:  "‪Seriously‬! How has no one pressed the button?"
But soon enough, Adam caves into Kim's huge ... voice and finds himself literally getting up out of his big red seat. Christina turns around soon thereafter and then, it's a battle between "The Voice's" favorite bickerers. But Adam wins her over by saying he sees no limitations with her. And thus, Kim is going with Mr. Levine!
Jaimie: ‪"Good choice, Chaka‬."
Chelsey: "‪Chaka is one smart gal‬."
Jamar Moore
This heavily tattooed boy from the Bronx is a former meth addict who now spends his time volunteering to help HIV positive individuals, like himself.
Jaimie: "Neck tattoos tend to mean former drug addict."
Chelsey: "Here is the piano melody again. It's sob story time. (This is actually a nice story though.)"
Jaimie: "You're softening on me."
Chelsey: "It's because I like his hat."
And then, when Jamar hits the stage, we are both instantly in love due to his A) Outfit and B) Song choice, "Seven Nation Army" by the White Stripes.
Jaimie: "He is wearing a fanny pack."
Chelsey (a fanny pack enthusiast): "HE IS ACTUALLY MY SOULMATE."
Chelsey: "‪I fee like Cee Lo will like this‬."
Jaimie: "Yeah, he's diggin' it. Goatee stroking. Honestly, where do I get Jamar's blazer?"
Glitter-loving Cee Lo eventually presses his button and is ultimately the only one to do so, which is fine by Jamar since he has been a huge Cee Lo fan for years.  
But now, we start to notice a new trend with the judges this season, in which the non-button pushing judges/coaches continue to try to justify their decision of not turning their chairs around. Blake, Adam and Christina all defend themselves by telling Jamar that they did not push their buttons because they knew he was perfect for Cee Lo. We don't need the excuses. What's done is done. As our grandma would say, "Shit or get off the pot." So let Cee Lo and Jamar hug it out and move on.
Gwen Sebastian
Trying not to let her two-toned Kate Gosselin-esque haircut get to me first, longtime country singer Gwen Sebastian talks about how she hasn't gotten married or had children because of her career. But what she does have is a lot of funny things to say about her home state of North Dakota.
Chelsey: "G‪wen's got accent jokes‬."
Jaimie: "‪Don'tcha know‬ ... Why can't they get married?"
Chelsey: "I'm not really sure‬ ... Is it just the kids? Or the wedding? I don't get it."
Jaimie: "I‪ think it's the hair‬."
But as soon as she starts singing, Jaimie's tone changes. Her rendition of Sugarland's "Stay" is just on point in every way. But when it's over, she looses it a little bit. Yet, "even through the tears," as Chelsey notes, she shows "dedication to the North Dakota jokes."
Blake tries to tout himself as the "normal" one on the panel, noting he doesn't have "spikes" or "tattoos." Then, Blake adds, "I'm the country guy ... I'm your man."
Chelsey: "‪W‬hen Blake said 'spikes' it sounded like 'spocks' and I thought it was a 'Star Trek' joke."
Unfortunately, it wasn't. And also unfortunately, Adam has taken to begging.
Jaimie: "Adam has totally taken ‪the plea approach‬! He actually just said, 'Come with me. Let's do this. Yay!'"
Chelsey:  ‪Always. O‬f course Cee Lo is always slightly creepy
Jaimie:  "What worked on Juliet Simms ... Did not work with Gwen Sebastian"
Chelsey:  ‪"She's a country gal, don't ya know?"‬
She ditches the whiney Adam and Captain Cee Lo Spock and goes with Blake. Well-played.
Lindsey Paovo
Another favorite of the night was singing, songwriting and violin-playing Lindsey from Sacramento, CA. Lindsey, who has a rocker-chic half shaved haircut going on, has been musically inclined for years, but she has yet to play for a crowd larger than 40 people at a coffee shop. And girl, in case you didn't know, "This is 'THE VOICE'" so it's not your local Starbuck's. She fears that her nerves might get the best of her.
Jaimie: "Her and X-Tina's hair is the same."
Chelsey: "She's like Violet in 'Coyote Ugly.' A singer/songwriter who's afraid to sing."
Jaimie: "Where is LeAnn Rimes when you need her?"
Chelsey: "On the beach with Eddie Cibrian."
Jaimie: "Brandi Glanville is crying."
Lindsey hits the stage singing her take on Trey Songz's "Say Aah." We were intrigued, to say the least ... as was Adam, who listened passionately with eyes closed.
Chelsey: "Adam is FEELING it."
Jaimie: "Oh my god. Adam's face. I feel like I just walked in on something."
Chelsey: "She's kind of a combination of Xenia and Dia." [From Season 1.]
Jaimie: "SO WHY HASN'T BLAKE TURNED AROUND!?"
Soon enough, Blake, both Xenia and Dia Frampton's coach in Season 1, presses his button, as do Christina and Cee Lo. Noticeably absent in the button-pressing is Adam, who must have been feeling Lindsey's performance a little too intensely to take the time to press his button. 
As the three fight for Lindsey, Christina manages to outdo the ever-creepy Cee Lo and tells her that she "just want[s] to play with her." Gross. But Lindsey ultimately chooses Christina as her coach, which leaves both of us baffled yet again. The "Genie in a Bottle" seems to be cleaning up so far this season.
Angel Taylor
Our final favorite, and the final contestant of the night, was Los Angeles native Angel Taylor. It had been a bit since we had heard that tear-inducing violin medley, so cue Angel's backstory.
Angel is the youngest of five and comes from an abusive home. But she, her mother and siblings managed to escape her abusive father and continue to look for that light at the end of the tunnel. Angel finds solace in her music and chooses to perform Adele's "Someone Like You."
Chelsey: "I don't like when people sing Adele. I just feel like she should remain untouched."
Jaimie: "I agree. Have some respect."
Despite her shaky start and odd conductor-inspired hand gestures, we are both nonetheless pleasantly surprised with Angel's performance. As was Adam, who turned his chair around almost immediately. Almost as entertaining as Angel's performance is her family's amazing reaction to seeing Adam turn the chair around. We were really feeling the love.
Jaimie: "I'm Team Angel. Her family's reaction is my favorite."
Chelsey: "Yes. They're adorable. The sister with the glasses is awesome."
Jaimie. "I'm bowing. Thank you ... Carson's face is still scaring me."
Chelsey: "Yes. He needs a doughnut."
Eventually, Cee Lo and Blake both join Adam on the flip side, and all three commence their fight to have "The Voice" of an Angel on their team (elbow get it elbow). Adam goes with his "I won last year" argument. (Again, we get it, Adam. You won. Will we have to say this in every recap?) Cee Lo unsurprisingly hits on Angel by saying, "You look lovely tonight ... I also enjoyed your performance." And Blake uses his sex appeal, after Angel reveals she has a big crush on him.
Eventually, Angel falls for Adam's winning record and chooses to be on his team. We were both pleased. So pleased, in fact, that we actually said "YAY ADAM!" in tandem. Sisterly giddiness!
And here's a breakdown of the rest of Episode 2's "The Voice" performances:
Leiland and Hailey (a.k.a. Line)
The duo who started off with romantic interests, but who turned out to be more successful in a "writing relationship."
Song: "American Girl" by Tom Petty
Team: Blake
Chelsey: "Um, Leiland: If you compare yourself to brother and sister and an old married couple, I'm concerned."
Jaimie: ‪"Oh no, I just noticed Hailey's feather‬."
Chelsey: She's so trendy!!! (A year ago)
Neil Middleton
The father of two, who was in a severe accident eight years ago, if full of piercings, facial hair and seemingly inspiration from Slash.
Song: "Heard It Through The Grapevine" by Marvin Gaye
Team: None
Jaimie: "His children are adorable."
Chelsey: "The one looks like Nicky and Alex from 'Full House.'"
Pamela Rose
The 28-year-old with at the high waisted pants and amazing body had Cee Lo kicking himself, despite her "pitch problems."
Song: "Already Gone" By Kelly Clarkson
Team: None
Jaimie: "Cee Lo's going to be bummed he didn't press the button for her."
Chelsey: "B‪ecause he won't be able to hit on her? Big time‬ ... And there's the head shake."
Jaimie: "Did Adam really just say, '‪You're beautiful, so congrats on that'?!‬"
Chelsey: ‪"Congrats on being hot, but not talented." Well said, Adam."‬
Angie Johnson
This Air Force staff sergeant garnered YouTube fame and Carson Daly's attention after a video of her in her fatigues belting out Adele hit the web.
Song: "Heartbreaker" By Pat Benetar
Team: Cee Lo
Chelsey: ‪"'Carson Daily just called me hot!' What an honor.‬"
Jaimie: "I mean, this is man who once painted his pinky nail black."
Chelsey: "‪Never forget.‬"
Jaimie: "I'm seeing Fred Durst in my head now ... And Korn."
Dez Duron
While it was hard to focus on anything but the crooked helmet this college co-ed called hair, Dez was the adorable student who left Yale and playing football to pursue a music career.
Song: "I Want It That Way" By Backstreet Boys
Team: None
Chelsey: "H‪e's not good at all. T‬his sounds like bar karaoke."
Jaimie: "I ‪wish I were singing this at a bar right now‬."
Chelsey:  "‪Sometimes it seems like they're trying to find significant others for Cee Lo and Christina rather than looking for "The Voice."‬
Jaimie: "B‪ut, Chels, 'This is 'THE VOICE.''"‬
Chelsey: "‪Well, sometimes, it doesn't feel like it's 'The Voice.' ‬Sometimes it feels like 'This is THE BICKERING AND LOVE CONNECTION.'"
Hoja Lopez
The 27-year-old black sheep in her family was the anti-pop star. She went against the traditional educational path her relatives took, she said, "I want to paint stuff and make music."
Song: "Teenage Dream" By Katy Perry
Team: None
Jaimie: "She looks like Dora the Explorer all grown up."
Chelsey: ‪"Bangs and all."‬
Jaimie: "The judges did not sugarcoat anything for Hoja. They got blunt ... much like her bangs actually."
Jermaine Paul
The former back-up singer for Alicia Keys decided to audition for the show after his pre-teen daughter told him about it.
Song: "Complicated" By Avril Lavigne
Team: Blake
Chelsey:  ‪"Yeah, favorites of the night so far‬. He has swag because he wears a marf (male scarf)."
Chelsey: "H‪e just wants all of them to tell him how great he is‬."
Jaimie: ‪"Seriously‬."