by Manoj Jain
Tarla Dalal, the Julia Child of Indian vegetarian cooking and author of over 17,000 recipes and 170 cookbooks, died in her sleep this past week at the age of 77. My family and I knew her well and had recently shared a meal with her at her plush Mumbai flat overlooking the Arabian Sea. I recall feeling the rush of wind and hearing the crashing of waves through the large bay windows as we taste-tested another one of her new recipes: pomegranate juice with lemon and a hint of chaat masala.
Unlike Julia Child, Dalal was short in stature, but she was equally energetic, unabashed, and determined. Her career began in 1966 with cooking classes at her home. Her first book, The Pleasure of Vegetarian Cooking (1974), was an instant hit. Over the years, 3 million of her cookbooks have been sold. Most of her books are available in the United States and include everything from chocolate recipes to healthy food for toddlers to Mumbai roadside snacks.
Dalal is universally revered among Indian housewives and working women. Even today, India is a nation where women are often responsible for nearly all the household cooking. Before Dalal's books, cooking was thought of as a tradition passed down by word of mouth from generation to generation. Buying a cookbook was synonymous with openly admitting a deficiency in your cooking skills. With Dalal's books, it was no longer considered embarrassing to look up recipes.
Dalal and I worked together on numerous occasions. During every visit I made to Mumbai, we met or at least had a heart-to-heart phone conversation about her new travels, ventures, and recipes. Dalal was not traditional. She was innovative and daring, introducing to Indian cooking microwave recipes, meals made in 10 minutes, and healthy rotis and subzis made without any oil.
She travelled frequently while her son Sanjay ran the marketing end of the business. She did cooking demonstrations multiple times in the United States, Malaysia, Thailand, and even in the Middle East and Africa. In addition to writing books, she started a cooking magazine called Cooking and More, for which I have written several articles over the years. Moreover, she promoted the most visited Indian cooking website, www.tarladala.com, and a popular television cooking program with a large international audience, "Cook It Up with Tarla Dalal."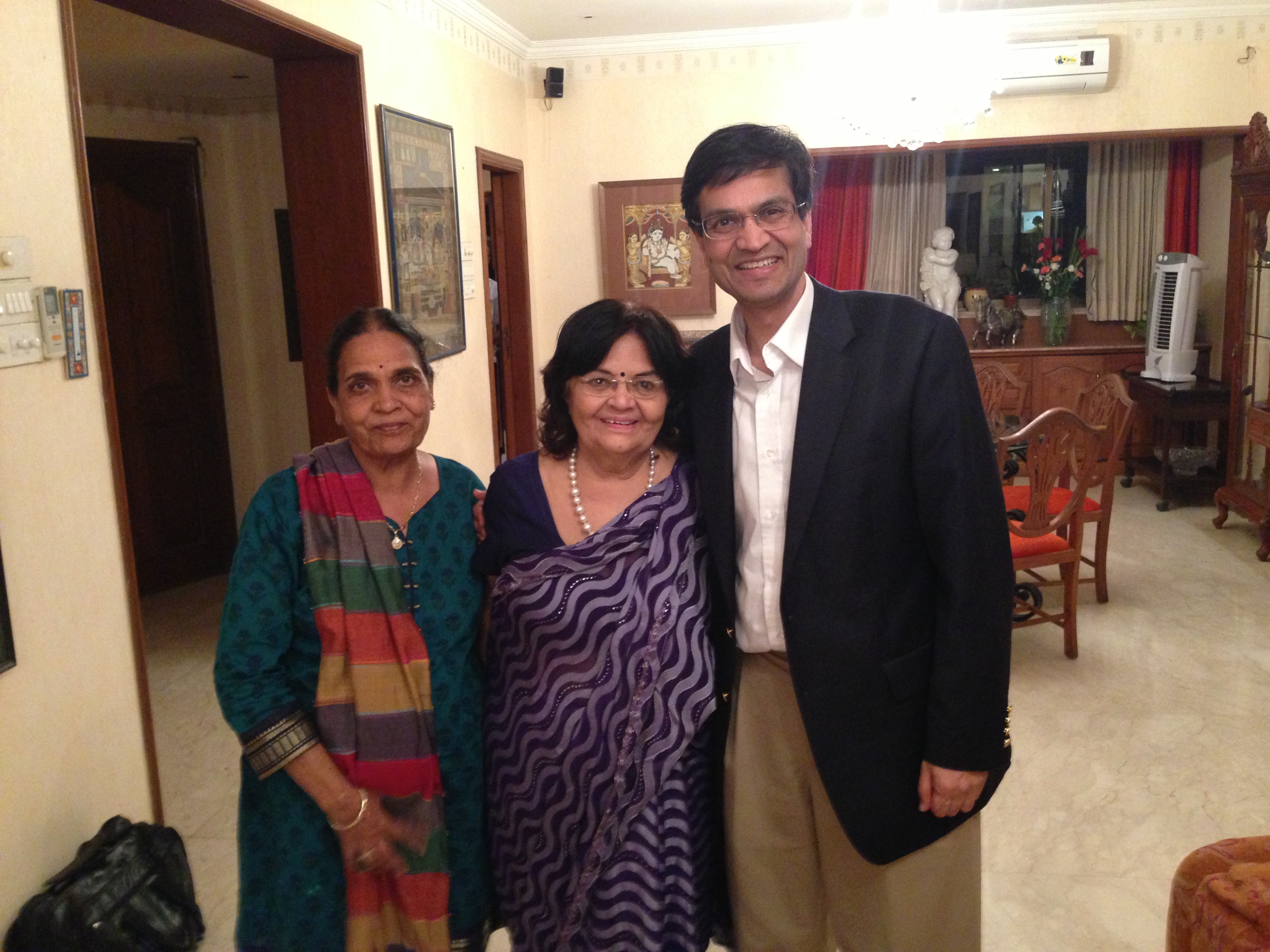 Laxmi Jain, Tarla Dalal and Manoj Jain (L to R)
Dalal's commitment to a vegetarian diet was unwavering. She was Hindu by birth, but she was influenced by the Gujarati Jain community, the same community that shaped Mahatma Gandhi.
Several years ago, I had the pleasure of co-authoring the cookbook Jain Food: Compassionate and Healthy Eating with Dalal. In addition to emphasizing the health benefits of a vegetarian diet, we expanded on the Jain philosophy of food in which mindful eating is as much a part of religious activity as prayers and scripture reading. Recipes in the book included traditional Gujarati dishes and innovative modern meals.
During the 2005 JAINA Convention in San Francisco, we conducted cooking demonstrations together. Dalal and my mother did the demonstrations, while I, as a physician, talked about the nutritional value of the recipe. One time, a volunteer who was helping cook on stage got distracted and stopped stirring a pot of vegetables on the stove. Dalal slapped her hand and rebuked her in a loving way, as if she was speaking to her own daughter or daughter-in-law.
I have often wondered what led to her success, because many Indian homes have a woman who can make authentic and delectable Indian food. Dalal's personality and presentations were captivating, but she also benefitted from timing. She began her cooking classes at the cusp of change in Indian culture. Less and less new couples were living in extended family situations, which meant fewer newly married brides were learning cooking skills from their mother-in-law, as was somewhat traditional in India.
Furthermore, a cross-pollination of regional dishes in Indian cooking began. The growing popularity of dokla from Guajarat , dal batti from Rajasthan, cholee bhature from Punjab, and idli sambar from South India enticed women to prepare recipes that their ethnically-limited family members could not teach them. Dalal provided recipes for these women.
Most importantly, though, Dalal demystified Indian cooking. She laid out recipes once regarded as complex and carefully-guarded secrets in simple steps.
Tarla Dalal was a woman with a mission to change the culture of Indian cooking. She never spoke loudly about this mission, but it was apparent even up to the day before she died, for she had just come back from travelling to give a cooking demonstration.
She was nothing short of a mother or mother-in-law to every housewife and working woman, teaching them how to cook many kinds of healthy vegetarian cuisine. I - and many vegetarian cooks around the world - will miss her.